Japan is a thriving country with a diverse economy, making it a leader in various industries. The automotive sector, in particular, has many of the largest companies whose products flood the global market. Japan is also at the forefront of business, technology, manufacturing, research, economy, and culture.
In addition, Japan values its cultural heritage and language. So if you want to live and pursue a career in Japan, it's crucial to be proficient in the language. Additionally, Japanese serves as our entryway to comprehending the magnificent and distinct Japanese culture.
Without further ado, are you searching for the best school to learn Japanese? We have the answer. In this article, we will introduce you to one of Tokyo's most popular Japanese language schools – the ISI Japanese Language School. In this article, we will introduce you to one of Tokyo's most popular Japanese language schools – the ISI Japanese Language School. Let's dive in!
You may require a comparison; therefore, we suggest reviewing some of the top Japanese language schools that may meet your needs. Please visit the link provided for further information!

Read more:
9 Best & Most Popular Japanese Language Schools in Tokyo
Akamonkai Japanese Language School, Tokyo
Tokyo Galaxy Japanese Language School

A Brief Overview of ISI Japanese Language School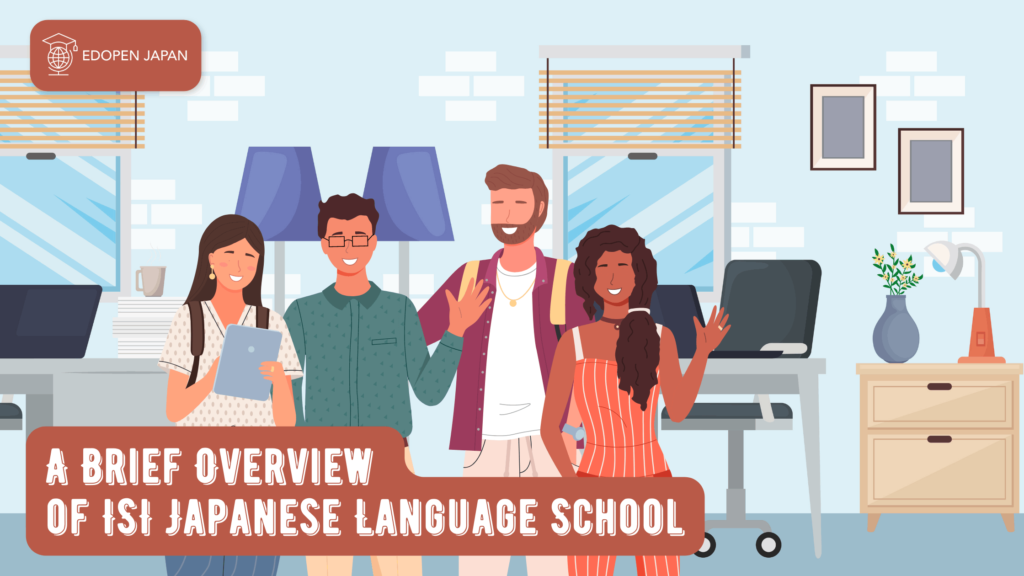 Since its inception in 1977, ISI Japanese Language School has been established as a private institution with the aim of realizing students' dreams while fostering a global learning environment. As one of the largest language school networks in Japan, ISI Japanese Language School (International Study Institute) is dedicated to furthering the development of the international community through education.
Additionally, the school can accommodate a total of 4,000 students across Japan. The school has three campuses in Tokyo, one in Nagano, and a new location in Kyoto. College and career prep programs are offered to students from different countries. The ISI Language School is an ideal institution for those who aim to pursue higher education in Japan.
Furthermore, the college preparation courses ensure that students are well-equipped for college entrance exams. This language school boasts a spacious and aesthetically pleasing building, making it the perfect place to learn Japanese and feel right at home.
School Location
The ISI Japanese language school operates 5 schools across Japan. Refer to the below information for specific locations.
(1) Tokyo – Takadanobaba
Takadanobaba is renowned as a thriving "student city" encompassing numerous universities, vocational schools, and preparatory schools, including the popular Waseda University. The area exudes a unique blend of old-school charm and youthful exuberance and is home to a hotly contested array of Japanese-style pubs and affordable ramen eateries boasting flavorsome cuisine. Making it perfect conditions for pursuing part-time employment for those of you who desire to earn more while studying.
(2) Tokyo – Ikebukuro
Ikebukuro ranks among Japan's top shopping areas. As an "art city," its notable features include an array of large and small theaters where people can enjoy diverse genres of art. Packed with subculture, it's a beloved destination for the youth, known as the holy land of Otaku. In recent years, it has also attracted many anime fans globally. In 2020, Toshima City, where Ikebukuro is located, was chosen as a "Future SDG City" and a "Model SDG City Project." As one of the premier SDG cities in Japan, Toshima Ward is committed to developing a sustainable city.
(3) Tokyo – Harajuku
Harajuku is a trendy district in Japan that has become the hub of pop culture. It boasts numerous fashion and candy stores catering to the youth. Moreover, the Harajuku/Shibuya vicinity is home to the opulent Meiji Shrine, the most potent site in Tokyo, and Yoyogi Park – an idyllic sanctuary to unwind after long periods of studying.
(4) Kyoto
The school also has a campus in Kyoto, the renowned historical city and former capital of Japan. The school also has a campus in Kyoto, the renowned historical city and former capital of Japan. Visitors can explore numerous ancient temples and shrines while immersing themselves in traditional Japanese culture. With over a millennium of history as an ancient capital, Kyoto is also renowned for its prestigious universities, making it a popular destination for students. The ISI Kyoto Campus provides unique programs for experiencing traditional Japanese culture and simultaneously learning the language.
(5) Nagano
Nagano is renowned not only for its majestic mountains and picturesque rivers, but also for its many museums and historical landmarks. It is also recognized as one of the premier outdoor recreation destinations in Japan, ideal for activities such as trekking, rafting, and paragliding. During the winter, the region transforms into a snow haven for ski and snowboard enthusiasts. This is the perfect spot not only to learn the language, but also to experience the hospitality of this charming castle town and appreciate the splendor of the four distinctive seasons of Japan.
Student Demographics
The students who come to study at ISI Japanese language school come from a variety of countries. The ratio is as follows:
1. Asia: 55% and
USA: 15%
2. Sweden: 10%, Spain: 5%,
Italy: 5% and other European countries: 10%
The Main Service and Facilities of ISI Japanese Language School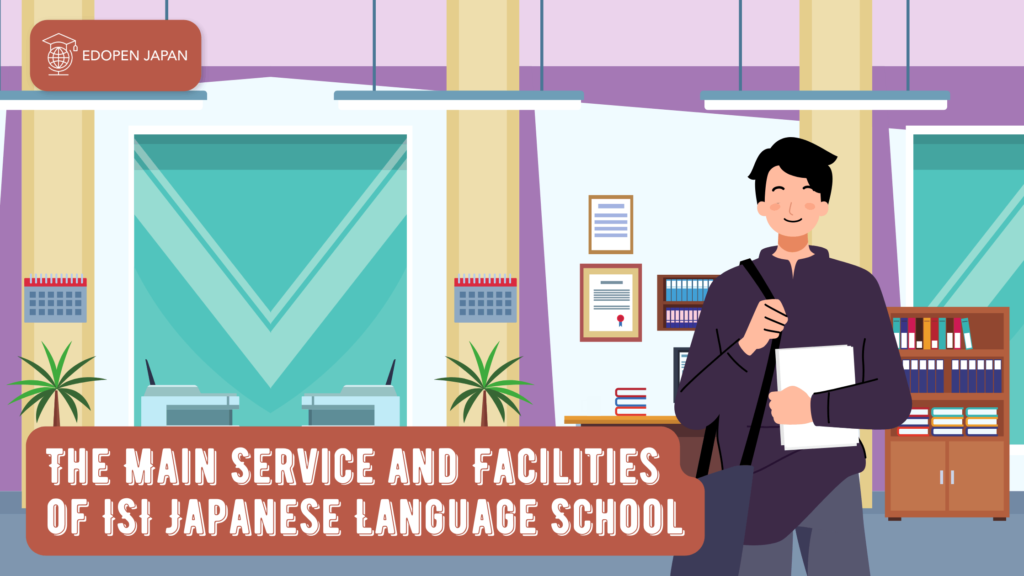 ISI 6 Main Features
The ISI Japanese Language School boasts 6 proud features. What are they? Check out some of the highlights below.
1. Improve your Japanese language skills
With ISI's distinctive education system, we provide a comprehensive curriculum customized to your objectives and proficiency level. Skilled Japanese language instructors deliver first-rate lessons on a daily basis. You can strive for achieving excellent results on the exams.
2. Practice your Japanese with extracurricular activities
Each school in the ISI group regularly hosts extracurricular activities to promote cultural and experiential exchanges. These activities allow students to interact with fellow students from other schools in the group and with prospective Japanese high school students, providing opportunities to learn Japanese outside of class.
3. Comprehensive Support from Enrollment to Graduation
ISI provides a comprehensive support system to assist students from enrollment through graduation, which includes the guidance of homeroom teachers and career counselors. These include homeroom teachers and career counselors who help students find post-secondary education and employment.
4. Highly rated and certified by external organizations
ISI has a high post-enrollment satisfaction rate. The school has received accolades from international accrediting bodies and is well-respected both within and outside the institution. Additionally, ISI has a proven track record of acceptance into distinguished universities.
5. Increase the effectiveness of learning with the latest facilities and equipment
Each school has study rooms, libraries, student rooms, cafes, Japanese rooms, prayer rooms, and complimentary Wi-Fi. ISI also provides ISI-affiliated housing for a rewarding student life beyond class hours.
6. Learning to be diverse in a global learning environment
Students at ISI come from a variety of countries, providing you with the opportunity to learn Japanese and experience both their multicultural values and those of your own country and Japan.
High-Quality Facilities
If you become a part of the ISI, what facilities and services will you receive? Please read the points below.
| | |
| --- | --- |
| Facilities | Details |
| (1) As Fit Your Needs | ISI offers a wide range of electives, as well as specialized courses, such as top college-preparatory courses. You will get the education you need to prepare for your future in Japan. Even if you have never studied Japanese before, you can start from scratch. |
| (2) Wi-Fi Available | Free Wi-Fi is available for students. |
| (3) Students' Lounge | Mingle with fellow students or get in some last-minute studying in the student lounge. |
| (4) Multilingual Staffs | English-speaking staffs are available to help you with any problems that may arise during your stay at the school. |
| (5) Part-time Jobs Finding Guide | The school offers support by posting available part-time jobs in the area and preparing you for interviews. |
| (6) Learn Directly with Japanese Students | You will have the opportunity to meet and interact with Japanese students at various events organized by the school. |
Please note that these are just a few examples of the exceptional facilities that ISI offers. The school is dedicated to providing high-quality, comfortable educational facilities for its students.
The Course and Price at ISI Japanese Language School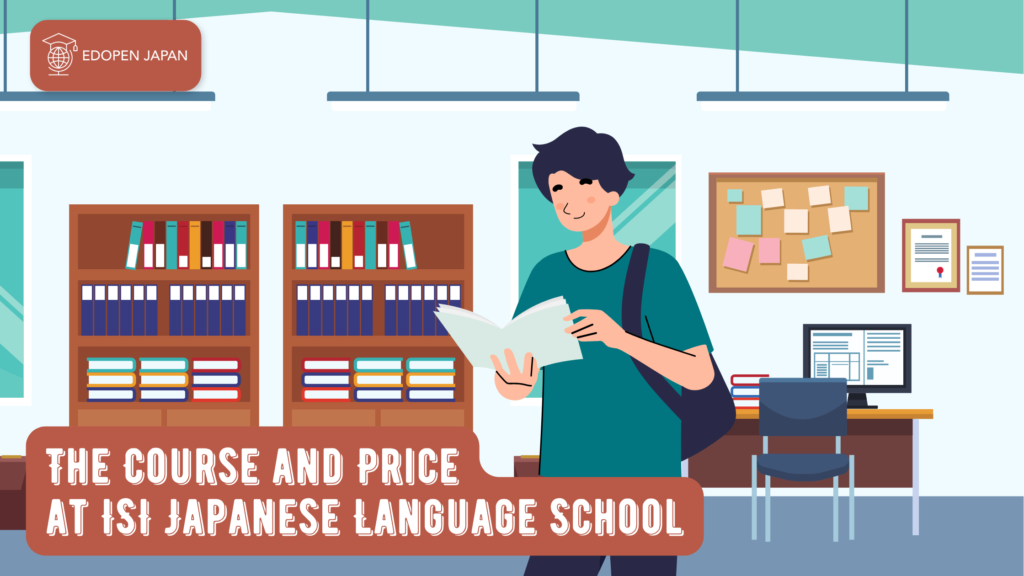 Courses
Basically, ISI divides the course into 2 parts. There are long-term and short-term courses. Here we provide some explanations for you guys!
Long-term Course
Academic/General Japanese (For Takadanobaba, Ikebukuro, Kyoto, and Nagano Campus): This is a course with a student visa. There are electives tailored to your goals and a special course for those who want to study in difficult universities.
Career Japanese (Only Harajuku Campus): This course specializes in helping those who want to find employment or start a business in Japan while improving their business Japanese skills to advance their careers.
A program to support the employment of skilled professionals (Nagano Campus only): This is a special program for those who want to work in Japan. Then, it provides detailed support as well from obtaining a Specified Skilled 1 visa to job search through intensive courses.
Short-term Course
Short Term General Japanese Course (Only for Takadanobaba, Ikebukuro, Kyoto, and Nagano Campus): A course of 2 weeks for students with visas other than a student visa. The curriculum is the same as the long-term course. So, it is ideal for those who want to study hard.
Short-term Career Japanese (Only for Harajuku Campus): This program is ideal for those who want to improve their Japanese language as well as their business skills while at the same time advancing their career in a short time.
The points above represent only a small sample of the courses offered at ISI. Visit the following link for comprehensive details.
School Fees
Moreover, the fee amount is based on the lesson duration. The school prioritizes cost-effectiveness and affordability for all students while still maintaining professional and high-quality services. In summary, the estimated total course fees for one year at ISI Japanese language school are listed below:
| | |
| --- | --- |
| 1. Academic Japanese | ¥849,000 ($6,514) |
| 2. Career Japanese | ¥872,000 ($6,690) |
| 3. General Japanese | ¥823,000 (6,315 USD – Kyoto) & ¥763,000 ($5,854 USD – Nagano) |
Please go to the following link for detailed information.
Review
According to the information we have gathered, the ISI Japanese Language School has received a rating of four stars or above. What are the advantages of this school? Reviewers have mentioned the following points:

1. Teachers and staff are professional and supportive.
2. The school location is wonderful as well.
3. This school has very comfortable and high-quality facilities.
4. The class is interactive and also very well prepared.
5. The housing for students is very nice.

Furthermore, what are your thoughts on the subject? Have you had any experiences, learning Japanese at this institution? We would greatly appreciate it if you could share your review with us. Kindly leave your feedback in the comment section below.
FAQ about Learning Japanese at Japanese Language School
Can I go to school in Japan to learn Japanese?
At ISI Japanese language school, we offer a range of programs including short-term, seasonal, and year-long options. While online classes are available for those unable to attend in-person, we highly recommend face-to-face learning for the best experience.
How much will it cost to study Japanese in Japan?
In general, a short-term course will cost around $2,000-$4,000. The cost may vary depending on the program, duration, and location of the school. However, scholarships are usually available, and the school can assist you in finding additional part-time job.
Can I learn Japanese in 2 months?
The two months is merely sufficient for a beginner level (which typically requires 4-6 months) with no prior knowledge of basic Japanese. Two months is only suitable for learning basic Japanese greetings, sufficient for traveling purposes.
How long is Japanese language school?
The typical Japanese language school aims to achieve a passing score on the JLPT N2 exam within a 2-year timeframe. However, obtaining JLPT N1 will necessitate extra time.
Conclusion
In conclusion, I kindly request that you reconsider the aforementioned points. Please share your thoughts on the presented information and feel free to provide comments and suggestions for future improvements. We hope you gained valuable insights on the ISI Japanese Language School.