Japan has been ranked as the second top country among other countries in Asia for most students looking for a rewarding study abroad experience, low tuition fees, a high number of government scholarships given specifically to international students, and positive employability prospects both in Japan and overseas after graduation.[1]
In addition, Japan is currently also home to approximately 140,000 international students from all over the world. This is excellent news for those of you who wish to pursue higher education in the Land of the Rising Sun.
As you may further realize when you decide to study abroad, you need to carefully arrange the financial aid and support in your destination country. To help you succeed in your plan and realize your dream of pursuing higher education in Japan, please let us show you the most desirable and applicable scholarships for international students.
Then, please also read carefully the terms, conditions and announcements provided on the scholarship website about the Covid-19 situations! Here are the top 11 global and Japanese scholarships to get you started.
In addition, if you are currently looking for information about studying in Japan, please read some of our interesting discussions about studying in Japan below:
Read Also:
Top 10 Universities with the Best Arts Program in Japan
TOP 10 Medical Universities in Japan
Why Study Abroad in Japan?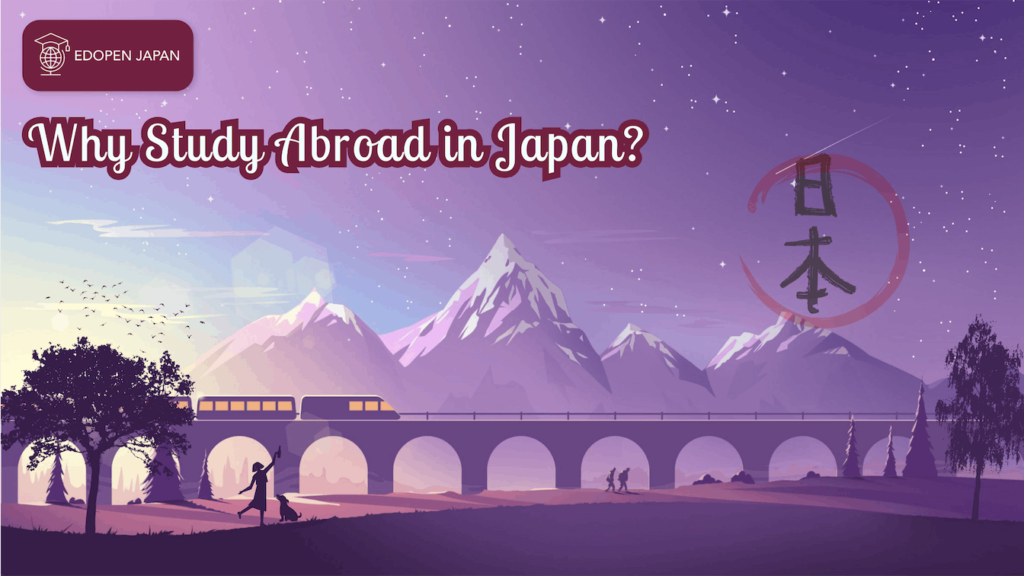 Japan is one of the most popular countries for international students to study. The phenomenally interesting Japanese culture and language have always been an attraction. In addition, Japan is a country known for its safety, high quality of education, technological innovation, and various other amenities that are difficult to find in other Asian countries.
What are the advantages that can be a strong basis for you to choose Japan for education abroad? You can consider the following reasons:
Affordable tuition fees compared to Western countries.
Full scholarship opportunities to cover tuition fees.
High quality education system that is recognized worldwide.
Opportunity to study and enjoy the beautiful nature and culture of Japan.
Personal growth, independence and networking.
Opportunity to work part-time to earn extra income and experience the Japanese work culture.
Wide range of job opportunities.
Career growth.
Ability to experience and enjoy various innovations and technological advancements.
Opportunity to enjoy healthy Japanese food.
In addition to the 10 points above, other benefits such as the opportunity to learn more about the Japanese language will also improve your skills and quality after graduating from one of the best universities in Japan. Many foreigners end up becoming permanent residents and marrying Japanese citizens because they truly fall in love with the land of sakura.
11 Most Popular Scholarships to Study Abroad in Japan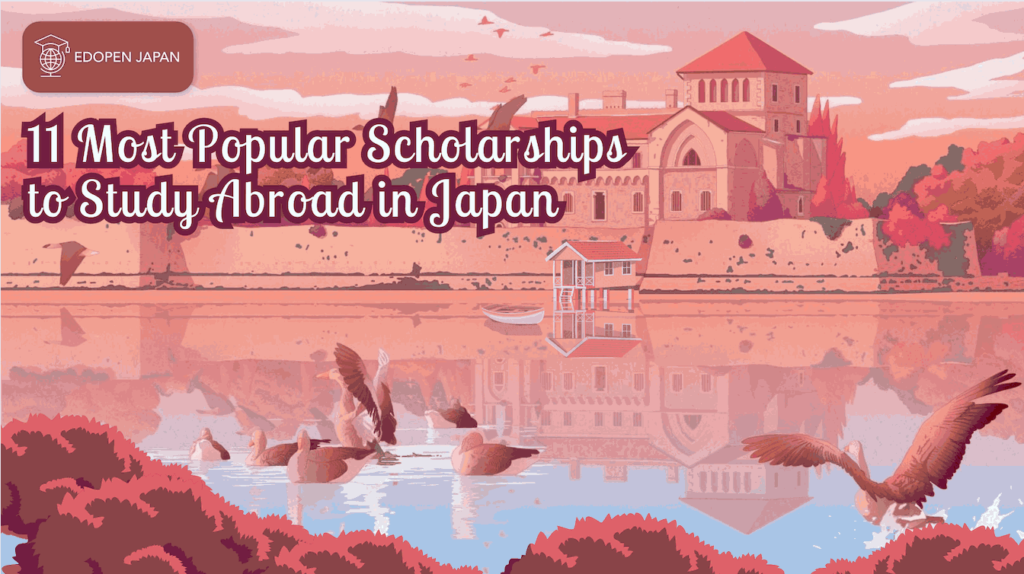 Here is a list of the 11 most popular scholarships for studying abroad in Japan that you should check out. We hope that the information we have compiled will broaden your understanding of scholarship opportunities in Japan.
1. Diversity Abroad Scholarships
The Diversity Abroad Scholarship is a scholarship in partnership with the AIFS Foundation. This program offers $500 scholarships for the fall, spring, and summer semesters. There are 5 scholarships available for each semester and 2 scholarships available for the summer. This program is also available not only for studying but also for internship program for you to try first living in the country you dream of.
This program is open to community college and undergraduate students. According to their website service, students who are going abroad for the entire fall, spring, or summer semester are eligible to apply. In addition, economically disadvantaged students, first-generation college students, students with disabilities, and ethnically and racially diverse students are strongly encouraged to apply. Please visit the following link for application details and additional information you may need:
Please research and proceed all the information carefully so that you can make a to-do list for preparing your application. If you are interested in studying in Japan, please learn more about the IES Abroad Diversity Scholarships at the following link as well:
2. The Critical Language Scholarship (CLC)
If you have a strong interest in studying a language for a short period of time while experiencing life in the country you admire, this scholarship is for you. The Critical Language Scholarship (CLS) program is a summer study abroad opportunity for American college and university students to learn languages essential to America's engagement with the world.
According to its website, the CLS program is part of a U.S. government effort to dramatically increase the number of Americans who study and master critical foreign languages. Students from a variety of disciplines and majors are encouraged to apply. Participants are expected to continue their language study beyond the scholarship period and to use their critical language skills in their future careers. It is super awesome!
Then, if you are interested in this program, please visit the following website for more details about the application process and details about the participants who joined the program. Hope you find it fruitful!
3. The Harry S Truman Scholarship
If you are a student who has an interest in government, this scholarship is highly recommended for you. Applying for this scholarship and becoming the awardee of this honorable scholarship program would give you a chance to attend the graduate school in the country you dream of. You could also strengthen your leadership skills.
Truman Scholars would receive up to $30,000 for graduate or professional school, participate in leadership development activities, and have special opportunities for internships and employment with the federal government. It is stated that the award may be used only for tuition, fees, books, room and board, or other specifically approved expenses.
If you are interested in this scholarship, please visit the following link to get more details:
4. The Boren Scholarship
The Boren Scholarship is specifically designed for undergraduate students to study languages in non-traditional regions for a summer, semester, or full academic year. As a Boren Scholar, you can study a wide range of critical languages, including Japanese. Boren Scholarships are available to students of all proficiency levels who are committed to improving their skills in critical languages.
Please note that Boren Scholars are required to work in a U.S. government-designated position for one year after acceptance of the award. Please visit the following link if you are interested in this scholarship program.
5. The Japan Society for the Promotion of Sciences (JSPS) Fellowship
The Japan Society for the Promotion of Sciences Fellowship (JSPS) is Japan's premier research funding agency, which would be the best for you if you want to be a researcher in Japan. This funding agency actively supports researchers to enhance cooperation in the global scientific field by funding research and encouraging researchers. Students in all fields of science, including the humanities, are strongly encouraged to apply.
It is stated by this agency that JSPS carries out various programs that include funding scientific research, nurturing young researchers, promoting international scientific exchanges, and supporting the reform and globalization of universities. As JSPS works vigorously in carrying out this program, it focuses on supporting researchers in a way that provides them with a stable and sustainable environment for advancing their work in research life.
As the JSPS Fellowship is a leader in promoting young researchers for the next generation of researchers, they offer several programs. If you are interested in becoming one of their fellows, please visit the following website to know more details:
6. MEXT Scholarships
The Ministry of Education, Culture, Sports, Science and Technology (Monbukagakushō: MEXT) is one of the eleven ministries of Japan that form part of the executive branch of the Japanese government. MEXT's goal is to improve Japan's development in relation to the international community.
MEXT scholarships are one of the most popular scholarships for international students as they cover undergraduate and graduate studies and even offer Japanese language training for students to prepare before entering university or college to study. Here are the details of this scholarship.
Age: 17-21 years old (undergraduates), under 35 years old (graduate and research students)
Subjects: Natural sciences, social sciences, humanities, technology, and many others for undergraduate, and similar or related to previous study in home country for graduate.
Stipend: About ¥117,000/month for Undergraduate (varies depending on the city where you live) and about ¥143,000/month for Master-Doctoral, Research Student and other non-degree courses.
Duration: 4-5 years (undergraduate), 2 years (master), and 3-4 years (doctoral).
Application Procedure: Apply through the embassy, designed university to university program with the special recommendation.
Please check more details at the Japanese Embassy Website of your home country. Here is the website of the Japanese Government (MEXT) Scholarship Program for U.S. Citizens:
7. JASSO (Japan Student Services Organization) Scholarships
JASSO is a well-known professional organization that provides information to international students about studying in Japan in order to create a financially stable environment for international students to study. JASSO provides very valuable financial support and information. JASSO offers 2 types of scholarships for international students:
JASSO offers "Monbukagakusho Honors Scholarship for Privately Financed International Students" for international students who are accepted by a Japanese university, graduate school, junior college, college of technology, specialized training college, university preparatory course designated by Monbukagakusho: MEXT, or a Japanese language institution.
JASSO offers scholarships to qualified international students who are accepted by a Japanese university, graduate school, junior college, college of technology(3rd grade or above), or vocational training college(hereafter referred to as "Japanese school")under a student exchange agreement or other short-term student exchange arrangement of 8 days to one year between the Japanese school and their home institution of higher education outside Japan.
In addition, JASSO provides monthly scholarships of 80,000 yen (approximately $735) for the Student Exchange Support Program during 1 year period. In case for privately financed internationals, JASSO provides 48,000 yen (approximately $441) monthly for those who are eligible to apply for this program. For more information about the JASSO Scholarship Program, please visit the following link:
8. The Toshizo Watanabe Study Abroad Scholarship Program
If you are looking for a scholarship for undergraduate and graduate study, then this scholarship is the best one for you! According to the information written on their website, the Toshizo Watanabe Endowed Scholarship Fund provides financial assistance to undergraduate and graduate students for a semester or year-long study abroad program in either the United States or Japan.
A generous gift of $10 million from Mr. Toshizo (Tom) Watanabe to the U.S.-Japan Council makes it possible to award scholarships to students who would not be able to study abroad without financial assistance.
The scholarship provides up to the full cost of attendance at the study abroad program of the applicant's choice. The scholarship program awards scholarships in amounts based on financial need and other qualifications. 2020 marks the third year of support for American students studying in Japan and the fifth year for Japanese students studying in the United States.
If you are interested in applying for this scholarship, please visit the following link for more information:
9. Japan Educational Exchanges and Services – Mitsubishi Corporation International Scholarship (JEES Sponsor-Crowned Scholarship)
Although this scholarship is only for you who are already becoming a student at a university in Japan, we would still like to share this scholarship as another reference since this scholarship is well known as very welcome to internationals.
According to the information provided, the purpose of the scholarship is to provide support for outstanding foreign students studying at Japanese universities; it is hoped that this will both help alleviate financial concerns and enhance the learning effectiveness of the scholars. For your information, the main donor of this scholarship comes from a renowned company in Japan, namely Mitsubishi Corporation.
The eligibility requirements for this scholarship are as follows:
A student who is a citizen of a country other than Japan and who pays his/her own expenses.
One who intends to study in Japan as an official undergraduate, graduate, or doctoral student.
This scholarship only requires submission through university recommendation without interview and Japanese level including any major course in Japanese university.
Scholarship Amounts
Undergraduate: ¥100,000/month
Graduate / Doctorate: ¥150,000/month
Scholarship Period
(1) Undergraduate: From April 2018 until completion of bachelor's degree (maximum 2 years)
(2) Graduate: From April 2018 until obtaining Master's degree (Maximum of 2 years)
(3) Doctoral: From April 2018 until obtaining the doctoral degree (maximum 3 years)
In addition, please note that since the scholarship is university recommendation type, the policy is provided at each academic affair of university in Japan. Please contact the academic affair of the university you intend to attend and apply through them.
10. Honjo International Scholarship Foundation
Honjo International Scholarship Foundation is also highly recommended for you to apply as it is also one of the top scholarships offered by the Japanese foundation. If you are planning to pursue a master's or doctoral degree in Japan, this scholarship is for you!
According to the guidelines provided on their website, applications can be submitted from abroad as long as an applicant has been accepted to a Japanese graduate school. So please find your target university first and get the acceptance letter from your university. All nationalities and fields of study are welcome. Applicants may apply directly to the Foundation without pre-selection by the university.
Please note the important opening date for this scholarship below:
Fall Scholarship: April 1– April 30
Spring Scholarship: September 1 – October 31
The scholarship will be paid monthly for the minimum period required to complete the degree. The amount of the scholarship will vary based on the time period as shown below:
¥200,000 per month for 1~2 years degree
¥180,000 per month for 3 years degree
¥150,000 per month for 4~5 years degree
Here is what you need to do to apply:
Please carefully confirm that you are eligible to apply for this scholarship.
Enter the web application system provided by the Foundation. Then fill out the application form and upload the required documents.
Once the documents are submitted, an application number will be assigned to you and a PDF version of your application form will be created. Please save the PDF file carefully as you will need it when the result is announced on our website.
In addition, please be aware of and carefully read all the information provided on the web application system and the full guidelines. Please go to the following link to check more details about this scholarship:
11. Rotary Yoneyama Memorial Foundation Scholarship
The Rotary Yoneyama Memorial Foundation Ambassadorial Scholarship is one of the most sought-after scholarships for international students to study and/or conduct research in Japan. By becoming a Yoneyama Scholar, you will be able to experience Japanese culture and customs firsthand and build bridges between your home countries and Japan.
As stated on its website, this scholarship emphasizes three attributes:
(1) academic excellence
(2) intercultural understanding
(3) communication skills.
As a Yoneyama Ambassadorial Scholar, you will not only receive financial support during your studies, but you will also enjoy the warm fellowship and encouragement of your host Rotary clubs and counselors. Ambassadorial Scholars are selected on the basis of recommendations from their host universities. This scholarship is a typical university recommendation. For more information about this scholarship program, visit the following link:
This is good news for you! Please note that this scholarship provides financial support for international students at the undergraduate, master's, and doctoral levels. Please read the details below carefully:
Undergraduate Course
Scholarship Amount: 100,000 yen per month
Eligibility: 3rd and 4th year undergraduate students, 5th and 6th year graduate students in the fields of medicine, dentistry, or veterinary medicine. Those who are or will be enrolled in a designated school as of April 2022. Duration: 1-2 years (please see terms and conditions for more information)
Master's Course
Scholarship Amount: 140,000 yen per month
Open to 1st and 2nd year master's students.
Doctoral Course
Scholarship Amount: 140,000 yen per month
Eligibility: Open to 2nd and 3rd year graduate students and 3rd and 4th year doctoral students in medicine, dentistry, and veterinary medicine. Duration: 1-2 years (Please check the link above for more details).
Summary
These top 11 great scholarship opportunities present preferences to study abroad in Japan with a fully funded scholarship possible for you.
These top 11 highly recommended scholarships are the key for you to study abroad in Japan for free.
Surely, these excellent 11 list of outstanding scholarships would erase any hesitation in your mind and heart to be one of the international scholar in Japan.
Reference
1 Top 10 Places in Asia to Study Abroad – 2023. Education.com. Retrieved 10 December 2021.