To study in Japan and learn its language and culture is the dream of many young people. Add to that the opportunity to live in the bustling capital city of Tokyo, which is famous for its advanced technology, and the chance to enjoy safe drinking water treated with the latest purification technologies.
Add to that the opportunity to live in the bustling capital city of Tokyo, which is famous for its advanced technology, and the chance to enjoy safe drinking water treated with the latest purification technologies. That's a winning combination. Tokyo is a city with lower air pollutant emissions per unit area than other Asian cities.
Therefore, let us acquaint you with one of Tokyo's leading Japanese language schools through this article – the Akamonkai Japanese Language School, Tokyo. For more information, please continue reading below!
In addition, if you are currently seeking in-depth and trustworthy details regarding other language schools that teach Japanese in Tokyo, please also refer to our recommended reading exclusively for you.
Read also:
SNG Shinjuku Japanese Language Institute
KAI Japanese Language School, Tokyo
Intercultural Institute of Japan
A Brief Overview of Akamonkai Japanese Language School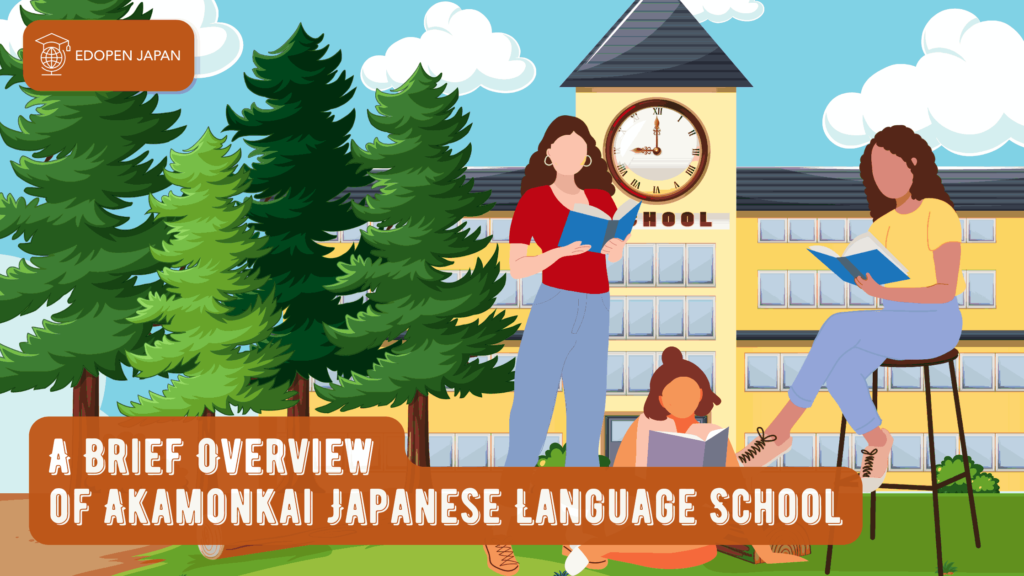 Akamonkai was founded in 1985 near the "Akamon" area. It is right near one of the best and oldest universities in Japan, the University of Tokyo. Akamonkai is one of the largest Japanese language schools in Tokyo. The school offers a wide range of courses to suit your needs. Akamonkai has been an accredited legal education institution since 2005.
What's more? Akamonkai has educated more than 20,000 graduates from more than 80 countries. The graduates are scattered and active throughout the world, including in Japan. As well as their home countries. Currently, about 1,800 students from various countries are enrolled at Akamonkai. This school also offers a complete Japanese language program for students who wish to study or work in Japan.
School Location
Akamonkai is located in the Nippori area of Tokyo. Nippori is a very interesting area with very modern and spectacular views. It is a shopping area in the heart of Tokyo called "Yanaka Ginza". Visitors can still catch a glimpse of the area, the "Yanaka Cemetery". Especially, with its beautiful cherry blossoms. Also, the "Tonyagai Arts" area, where people who want to work in the fashion industry gather.
Near the school's building, you can see Nishinippori and Mikawashima train stations. From these stations, both downtown Tokyo and the suburbs are easily accessible. There are several train connections, including the JR Yamanote, Keisei Main Line, and many more. It only takes 36 minutes to get from Nippori Station to Narita International Airport! Awesome right!
Student Demographics
About 1,800 students from different countries are currently enrolled in Akamonkai. As of April 2019, the nationality of the students is composed as follows:
29% Chinese and 10% from Taiwan & Hongkong and
21% Vietnamese, 20% of South Koreans and 15% Westerners
5% from other countries
The Main Services & Features of Akamonkai Japanese Language School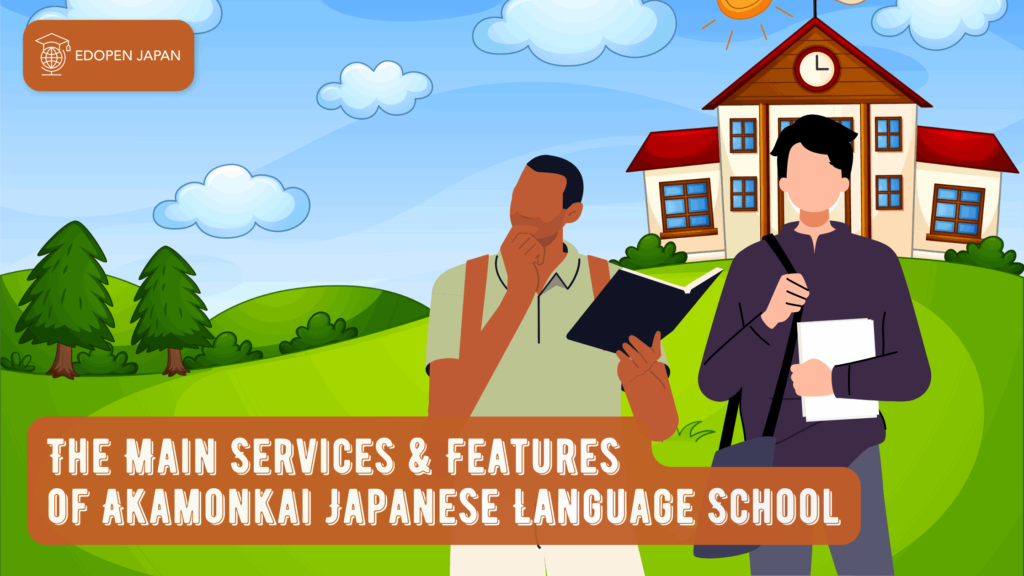 What kind of facilities you can get by enrolling in Akamonkai Japanese Language School? Please see the following table!
| | |
| --- | --- |
| Facility | Remarks |
| 1. Wi-Fi | Free internet access for all students studying at the school. |
| 2. Library | A variety of reading materials are available for study or relaxation. |
| 3. Apprenticeship | Gain hands-on experience in a Japanese work environment. |
| 4. Career Support | Find the perfect job after you graduate. |
| 5. Accommodation | Help find the right room for you. |
| 6. The Lounge | A space for students to study, relax or pass the time. |
| 7. Activity | Experience Japanese culture with cultural experiences and activities. |
| 8. School Transfer Support | Transfer to a degree program at a Japanese school. |
| 9. Support for part-time work | Practice Japanese and earn some extra money while doing the study. |
| 10. Student Residence | The school operates several dormitories not far from the school. This dormitory is a very affordable option for any student on a budget. |
The Main Features of Akamonkai Japanese Language School
Akamonkai has two school buildings. It is in Nippori for the main campus and the Nippori campus building. The Nippori campus building was built in 2003. On the other hand, the main campus building was renovated in 2012. Both campus buildings have been fully earthquake-proofed.
(1) Accredited and Certified
This school has successfully received accreditation as well as certification from 3 Institutions of the Japanese Government as follows:
1. Bureau of Immigration as a school of excellence
2. Ministry of Education, Culture, Sports, Science, and Technology in the college preparatory curriculum
3. Ministry of Justice as a school that meets the criteria for notification of Japanese language education
This school is really professional and has been officially recognized even by the Japanese government
(2) Comfortable Learning Environment
Students can choose the class. The teachers have extensive experience in teaching Japanese and diverse backgrounds. This school helps students develop their Japanese language skills comprehensively. With the right balance of reading, writing, speaking and listening. In addition, the school strives to enable students to pass the Japanese Language Proficiency Test (JLPT). Especially, with high scores through this special method.
(3) Strong Support Before & After Graduation
This school has a wealth of experience in sending students to many schools. Including top universities and graduate schools throughout Japan. Class instructors and professional staff provide students with specific advice on how to continue their university education. The school also cooperates with more than 20 private universities and 25 vocational schools. This makes it easier for you if you want to continue your education in Japan.
In addition, students can take courses for the Japanese University Entrance Examination for International Students (EJU) if they wish. The same is true for students with professional goals. Students can receive individualized advice. Such as specialized faculty in job search, resume writing, and interviewing skills. As well as recommendations and references for companies in Japan. The school is proud that more than 90% of the students find jobs each year after graduating.
(4) 24-Hours Study Room with Manga
The basement of the main campus has 20 free computers and 3,000 manga books. It is available 24 hours a day. In addition, there is a meeting room on the first floor and students can use Wi-Fi on all floors.
(5) Excellent Support Systems
You can get excellent support systems. Such as dormitory, skillful staff, scholarship, Part-Time Jobs, and many more. Staff members speak Chinese, Vietnamese, Korean, English, and Japanese. They help students and advise them on various administrative procedures and so on. Akamonkai dormitory can accommodate more than 400 students. Each room has an Internet connection at a very reasonable price.
Additionally, all dormitories are located near the main campus and Nippori campus. As well as Nippori Station on the Yamanote Line JR. Which is convenient! It is not only for studying but also for purposes other than studying Japanese.
Fortunately, there are occasional scholarships for students with outstanding performance. Then, it is without the obligation to repay the scholarship. The school also has a connection with a group of companies. Such things would eliminate or shorten many of the procedures for finding a job.
The Course and Price at Akamonkai Japanese Language School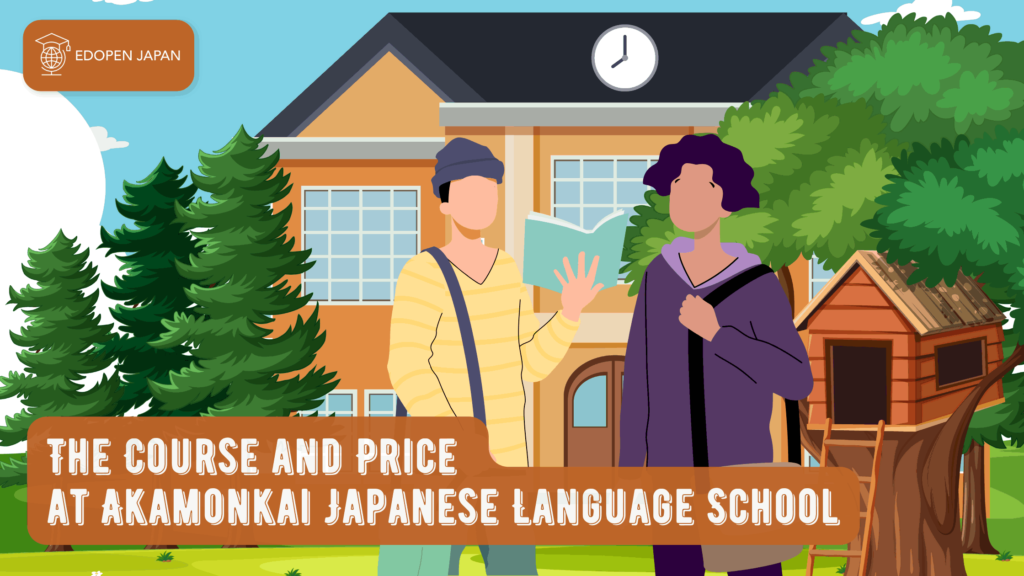 This school mainly provides 4 types of courses. They are Regular courses, Special Employment Programs, Short Term Courses, and Online courses. Please read below for detailed information about the Regular Course.
(1) Regular Course
In this course, you will receive Japanese language instruction. Also, support, according to the student's learning objectives. A curriculum is available to continue studies to graduate school/ university/ professional school. As well as developing a career in Japan, and improving skills/experience of Japanese culture.
Moreover, teachers will help students with the right balance of reading, writing, speaking, and listening. In addition, the school also focuses to enable students to pass the Japanese Language Proficiency Test (JLPT) with good grades. In this way, students acquire Japanese language skills that are useful in various situations and in their desire to work in Japan. Please look for detail about the regular course in the following table.
1. Admission Periods
January, April, July, October
2. Course Length

Long-term
3. Class Length
45 mins/lesson
4. Class Time
① 9:00 – 12:30
② 13:00 – 16:30
5. Learning Content
① Comprehensive Japanese
② Preparation for the JLPT
③ Preparation for the EJU
6. In Total Course Prices

Course Duration:
① 1 year: ¥778,000
② 1 year 3 months: ¥ 953,000
③ 1 year 6 months: ¥ 1,128,000
④ 1 year 9 months: ¥ 1,303,000
⑤ 2 years: ¥ 1,478,000
Notes for the additional fee

¥10,000 for the enrollment fee
¥20,000/year for the class fee
Textbook costs are included in the tuition
If you want to know more about the other course, please refer to this website, please click the following link!
Reviews of Akamonkai Japanese Language School
When combining information from various sources, Akamonkai Japanese Language School (赤門会日本語学校) has received ratings above 4 stars out of 5 stars. According to alumni, the most outstanding and interesting aspects of this school are the following:
1. Great staff, facilities, and a very helpful learning system that makes your travel and study in Japan comfortable and very enjoyable.
2. Staffs, as well as teachers, are very supportive to help students in finding jobs.
3. However, some still expect improvements in the materials used, which have not been updated, such as the old books still used. Also, there are those who criticize the lack of opportunity to speak in class.
Despite these challenges, the school has successfully maintained its reputation. Additionally, they are continuously developing their educational system. We welcome your thoughts and experiences in the comments section.
FAQ about Learning Japanese at Akamonkai & Other Japanese Language Schools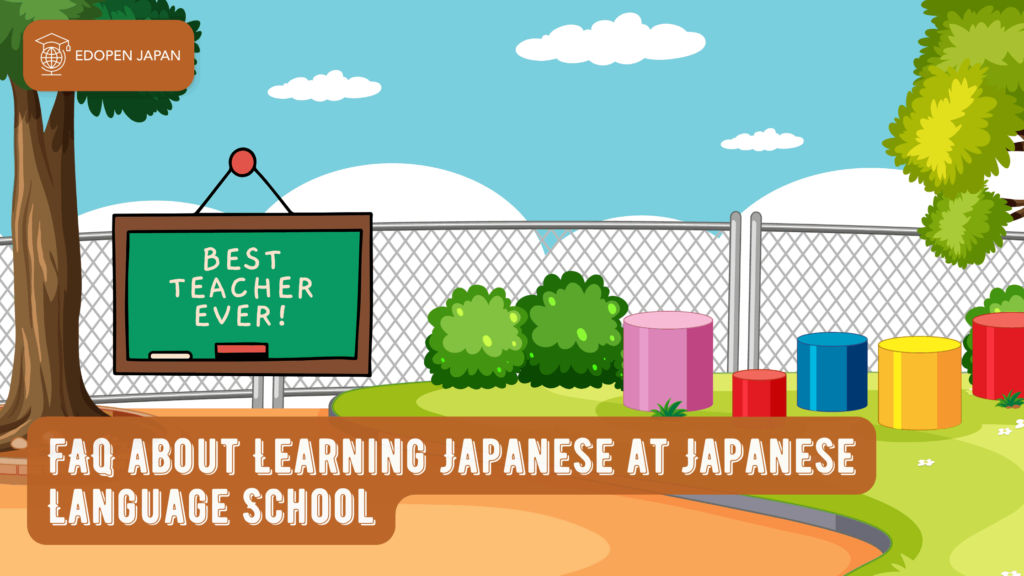 Below, we offer a discussion on possible questions that may arise and cause confusion when it comes to studying Japanese at a language school in Japan. Please review the following points for further information.
How much does it cost to study at a Japanese language school?
In Akamonkai, fees vary based on the type of course and duration selected. Please refer to the information provided above for specific pricing details.
Can I learn Japanese in 1 year?
Of course. At Akamonkai, there are courses available for even longer durations of one year or more. Please refer to the information provided above for specific pricing details.
Can I study Japanese for free?
Of course. You can access free Japanese courses via apps, websites, and YouTube. However, for more thorough learning with lasting results, we strongly suggest taking special Japanese courses at a Japanese language school such as Akamonkai.
Do you have any other questions? Please let us know if you need any further clarification. We hope the information provided has been helpful for you.
Conclusion
In conclusion, we kindly request that you reconsider the aforementioned points. Please share your thoughts on the presented information. We appreciate any feedback and suggestions to enhance our services. We hope you gained valuable insights about the Akamonkai Japanese Language School. That's all for now! Let's meet again in the next article! See you!