The ability to speak Japanese can present numerous opportunities. Firstly, it can lead to obtaining a high-paying job in Japan. Additionally, learning Japanese may enable you to immerse yourself in the distinct and prominent Japanese culture. Such as experiencing anime, manga, and influential Japanese history.
What an incredible prospect to learn Japanese directly in Tokyo! In this article, we would like to introduce you to SNG Shinjuku Japanese Language Institute – one of the leading Japanese language schools in Japan. Please find further information below.
In addition, for students seeking a wider reference, it's beneficial to review some of the top Japanese language schools available for comparison. Please find further information and refer to the link provided below.
Read also:
9 Best & Most Popular Japanese Language Schools in Tokyo
10 Most Popular Japanese Language Schools in Kyoto
9 Most Popular Japanese Language Schools in Osaka
About SNG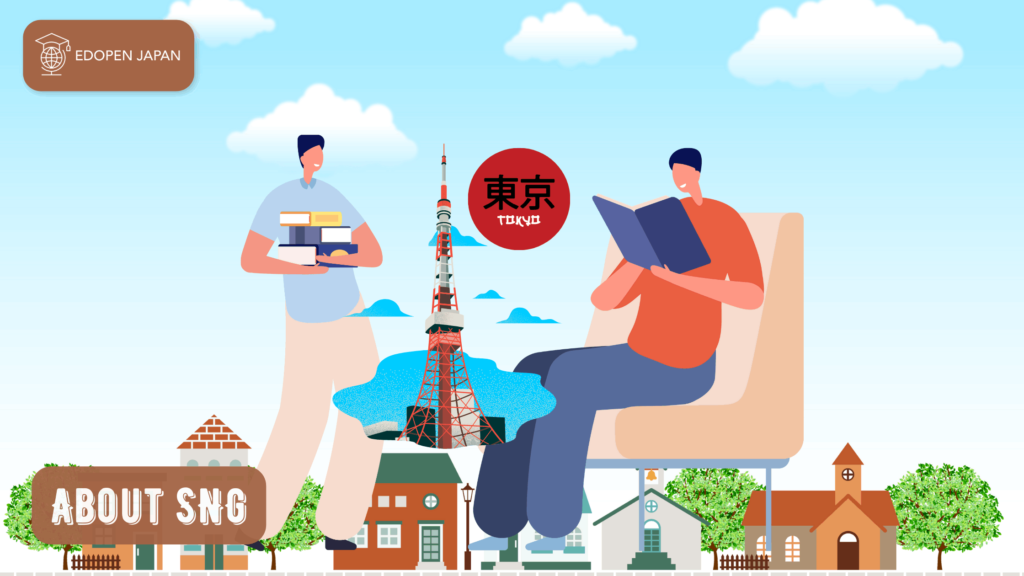 There are many reasons to study at Shinjuku Japanese Language Institute or SNG. Shinjuku Nihongo Gakko (SNG) in Japanese can be found below.
The school has over 45 years of experience teaching Japanese. This school will surely help you with everything. To enter a Japanese university or to work in Japan.
They use the Ezoe teaching method. An original, unique, and visual learning method for teaching Japanese to foreigners.
SNG offers many extracurricular activities throughout the year that go beyond classroom learning.
Students would have opportunities to get out of town. Doing the trips to the famous Mount Fuji, hikes, and barbecues. Also, the rare chance to participate in local festivals. As well as exchange meetings with other students.
Location
SNG is located in Takadanobaba, just two stops north of Shinjuku Station on the Yamanote Line. It is approximately a five-minute walk from the nearest Takadanobaba Station. Harajuku and Shibuya are a few stops south, while Ikebukuro is just two stops north. Takadanobaba is best known for its close proximity to Waseda University and is primarily a student-centric area.
Here you can find numerous affordable dining and drinking options. Even if you are not a Waseda University student, you can access their amenities, like their study areas and cafeteria. This prestigious private university provides an excellent opportunity to meet new people.
Student Demographics
With its significant contributions to the development of Japanese language teaching, there is no doubt about SNG's experience. Students from diverse countries attend SNG, and according to the demographics for 2022, the following are represented:
1. Vietnam: 22%
2. China: 20%
3. Taiwan: 18%
4. Hong Kong: 11%
5. France: 6% and others: 23%
The School Facilities of SNG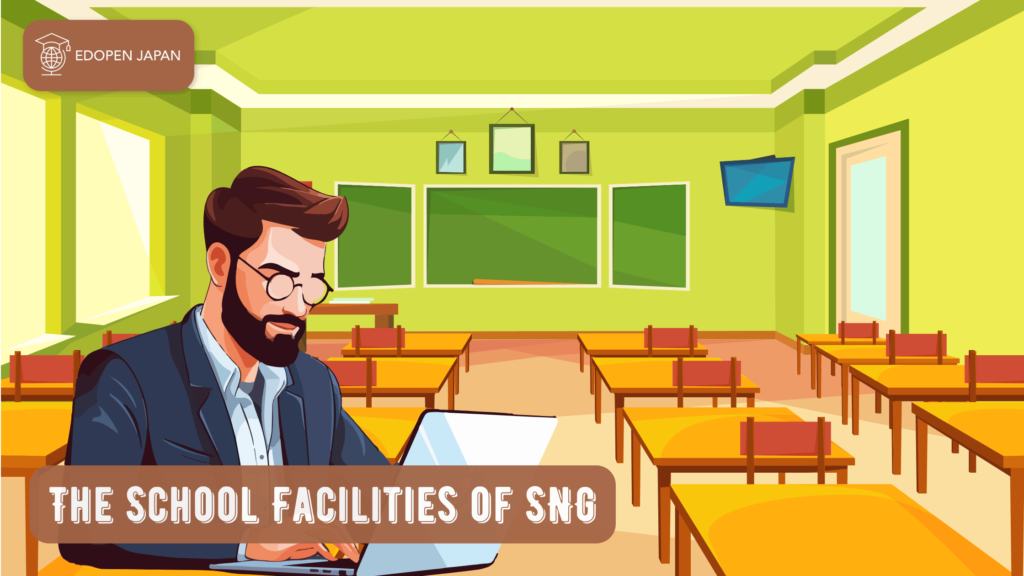 School Main Services
What facilities does this esteemed language institute provide? Kindly refer to the table presented below. In case of any queries, please leave a comment in the designated column.
| | |
| --- | --- |
| Facility | Details |
| 1. Wifi | Free Wi-Fi is available to students. |
| 2. Student Lounge | You can hang out with your fellow students or study last minute in the student lounge. |
| 3. International environment | You can get to know each other internationally. |
| 4. Exclusive tools and resources | Using special and digital teaching methods. |
| 5. Long history | A very long history of teaching Japanese, so don't doubt it. |
| 6. Efficient method | With a method that was created famous, it will be very efficient in helping you learn Japanese. |
| 7. Recognized Japanese Language School | Recognized by the government. |
| 8. Multi-lingual | The staff can speak several foreign languages. |
| 9. Strong Higher Education | This school has the power for those of you who want to continue to get into the higher education level in Japan. |
| 10. Excellent Teacher Training | All teachers are very experienced and certified. |
| 11. Perfect Location in Tokyo | Located in a Megapolitan city, so everything you need will be available. |
| 12. Helpful Employment Support | All staff and students are families. |
School Features
(1) State-recognized language school
As previously stated, SNG is recognized by the Ministry of Education as a college preparatory school and is also certified by the Tokyo Metropolitan Government as an educational foundation. Additionally, this school has received 11 official certificates from various institutions, elevating its status above that of many other language schools in Japan.
(2) The Ezoe Method
SNG is distinguished from other schools by the Ezoe method. The Ezoe method uses cards and gestures to help students learn Japanese grammar easily and quickly. Students are taught how to put these cards together with kanji, hiragana, katakana, as well as Romaji. Similar to Legos to form grammatically correct and natural Japanese sentences. The Ezoe Method has been taught for more than 40 years. It has proven successful in improving the speaking, reading, and writing skills of hundreds of international students.
(3) Learning Japanese with VLJ
"Visual Learning Japanese (VLJ)" (created in collaboration with one of Japan's largest communications companies, NTT Communications). VLJ enables learners to master the language quickly and efficiently. The smartphone/tablet app improves accessibility and maximizes exposure to the language, which SNG says is essential for learning any language.
VLJ (Visual Learning Japanese) is a native language blended learning system. It is available to all entry-level students. This system is a combination of online and offline content and in-class instruction that allows you to learn the language efficiently. Smartphone and tablet applications, as well as an LMS (Learning Management System), allow students to access class content at any time. As well as to practice and review lessons as needed.
(4) Deaf education
This Japanese language school goes one step further. SNG not only teaches international students in Tokyo. This great school also devotes its time and resources to educating the deaf. In order to contribute to their development in Japan. Since the Ezoe method uses many visual elements, it has been used in several schools for the deaf throughout Japan.
There is also a collection of textbooks published based on the Ezoe SNG method. This textbook and DVD set titled "Nihongo bunpou no oshiekata" (How to Teach Japanese Grammar) is specifically for deaf children.
(5) SNG Japanese teachers
To become a teacher at this school, you must meet at least the following requirements in addition to being a native Japanese speaker:
Passing the Japanese language teaching competency test
Completion of the Japanese Teacher Training Course (420 hours)
Bachelor's degree with major/minor in Japanese language teaching
Is there something lacking in terms of quality? Tell us your thoughts!
The Courses & Prices at SNG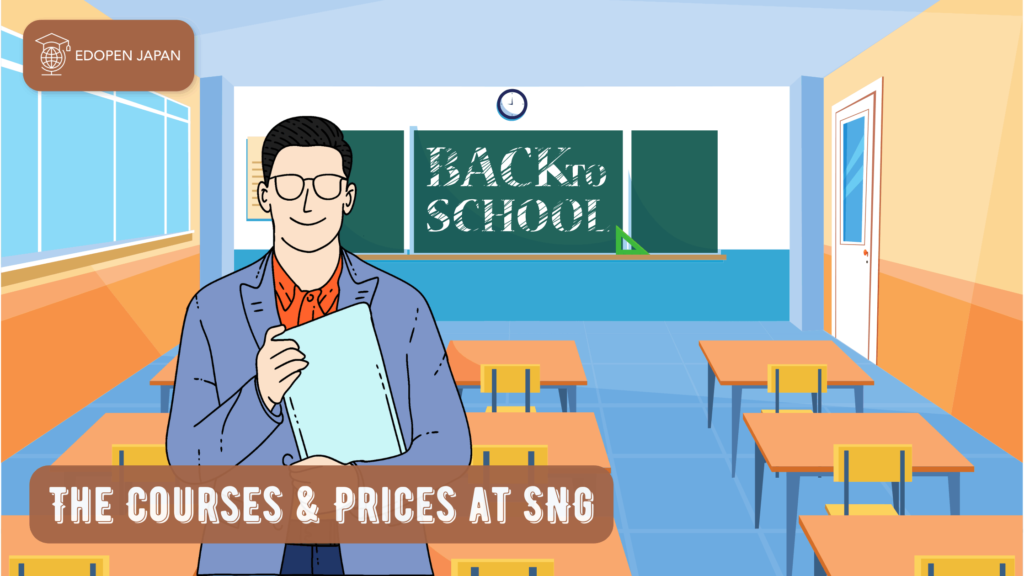 Courses
The Shinjuku Japanese Language Institute provides courses for all levels of proficiency. Typically, students enroll in weekday classes, which consist of 20 45-minute lessons per week. Allow us to give you a quick summary of the courses offered below:
1. Long-term course
This is the most popular program where students can study Japanese intensively for one to two years on weekdays. The classes for the intensive Japanese learning program are held on weekdays. Courses commence in April and October, however, obtaining a student visa in advance is necessary prior to the start of the program.
2. Short-term course
Students on other visas, such as a 90-day tourist visa or work and travel visa, are eligible for three-month weekday courses. The application process for this program is expedited. Start dates are available in January, April, July, or October.
3. Summer Course
The school provides a 4.5-week summer program that includes a variety of activities and excursions to optimize your time in Japan.
4. Exam Preparation
This course is designed as a preparation program for the Japanese Language Proficiency Test (JLPT) and the Japanese college entrance exam for international students (EJU).
5. Other Courses
SNG offers teacher programs, Kanji courses, evening and weekend courses, private Japanese lessons, and online courses.
Prices
Broadly speaking, the cost of SNG can be broken down into four categories. We have outlined them here for you. For more detailed information on fees, please follow the link below.
School Fees for Student Visa Applicants
| | |
| --- | --- |
| Duration | Fee |
| 1. 1 year | ¥800,000 |
| 2. 1.5 years | ¥1,165,800 |
| 3. 2 years | ¥1,530,000 |
School Fees for Visa Holders
| | |
| --- | --- |
| Duration | Fee |
| 1. Less than 3 months | ~ ¥35,000 |
| 2. 3 months | ~ ¥215,000 |
Saturday classes
| | |
| --- | --- |
| Duration | Fee |
| 1. Registration Fee | ~¥15,000 (one-time payment) |
| 2. Tuition | ~¥68,000 (lump sum payment) |
Evening class
| | |
| --- | --- |
| Duration | Fee |
| 1. Tuition fee for 3 months: 20 classes | ~ ¥68,000 |
| 2. Registration fee | ~ ¥15,000 |
Reviews
According to the information we have received, SNG has received a rating of four stars or higher. This leading school offers several advantages, including:
1. The Ezoe method and VLJ are very helpful and facilitate the learning process.
2. Very helpful and professional teachers.
3. The staff was very helpful and friendly.
4. Flexible lesson plan.
However, there are some criticisms of the old learning materials and inadequate facilities. Do you have any opinions or experiences to share? We would be delighted to hear your stories.
FAQ About the SNG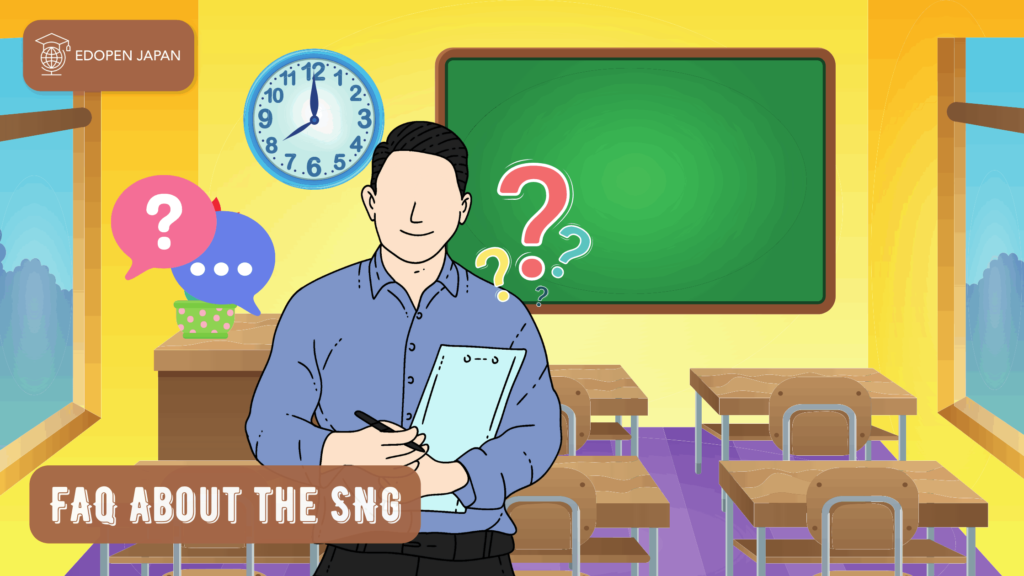 Below we categorize some of the most frequent questions that foreign students, who want to study and enroll in a Japanese language school in Japan, often ask.
Where can I study Nihongo in Japan?
There is no fast track to proficiency. There are several options available, including SNG school. It's crucial to understand the programs and benefits the school offers, such as scholarships.
Can I learn Japanese in 2 months?
It's impossible to gain proficiency in Japanese within a two-month window, particularly if you lack prior knowledge of the language. This is especially true if your goal is to do more than exchange simple greetings during your trip to Japan.
Is 5 years enough to learn Japanese?
The time frame stated above enables you to attain a JLPT N1 certification. Nonetheless, several learners continue to extensively study Kanji. The aforementioned time can help you develop Japanese proficiency, provided you maintain strict discipline.
What is the age limit for language school in Japan?
There is no limit to learning a foreign language, including Japanese. However, most Japanese language schools accept individuals in their twenties. However, there are also specialized Japanese language schools for children.
Well, this is the FAQ we've designed to help you select a school and enhance your initial understanding before diving into learning Japanese.
Conclusion
In conclusion, we kindly ask you to review the aforementioned points and share your feedback on the presented information. We appreciate all comments and suggestions for future enhancements and hope that you have gained valuable insights into SNG Shinjuku Japanese Language Institute.