Japan has long been a place of interest for foreigners. Due to its safety, high quality of life, and technological advancements, Japan is a leading study destination. Afterward, Tokyo became the capital city and the seat of the Japanese government. Tokyo is a globally recognized metropolis. Tokyo consistently appears on the list of the most popular cities for foreign students and workers. Who wouldn't want to study, live, and work in this highly populated metropolis?
To live comfortably in Japan, familiarity with the Japanese language is necessary. Perhaps you are already familiar with it. That's why we're presenting you with details of one of the top-rated Japanese language schools in Tokyo. The school we are referring to is Tokyo Galaxy Japanese Language School. Read on to discover more about this school!
Moreover, if you are currently seeking information on other Japanese language schools in Tokyo and other cities in Japan, be sure to check out the comprehensive recommended reading tailored specifically for you below!
Read also:
Toyo Language School (TLS)
KAI Japanese Language School, Tokyo
SNG Shinjuku Japanese Language Institute
About Tokyo Galaxy Japanese Language School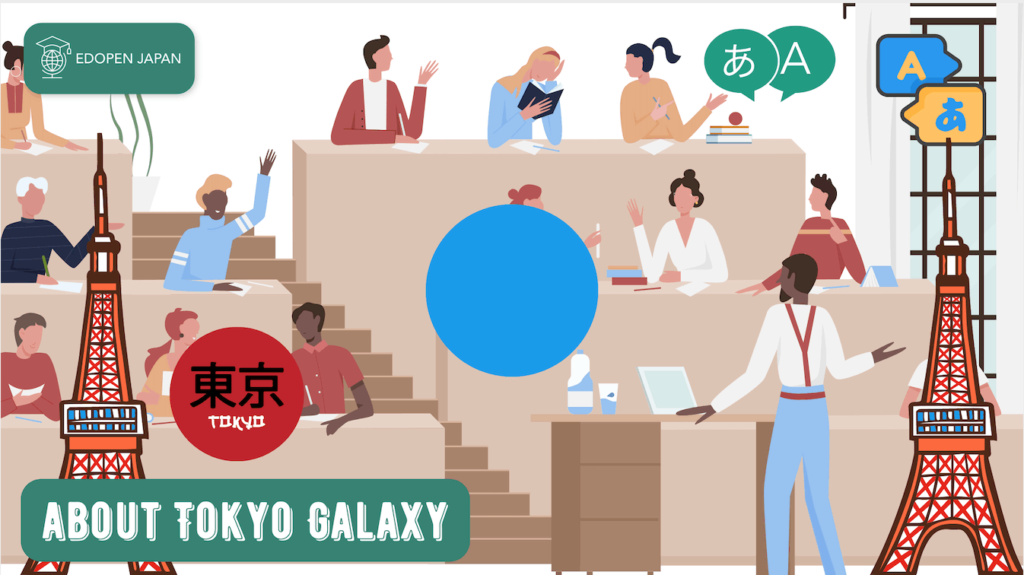 In 1986, "Tokyo Galaxy Japanese Language School" was officially established. It was under Japanese law and selected by the Japanese Ministry of Education, Culture, Sports, Science, and Technology. It has carefully managed schools and trustworthy educators. The school is committed to students' right to education and the right to learn.
Moreover, the hallmark of this school is its diversity. As it prioritizes the curriculum and nationalities of diverse students, this module will help you with your specific needs. Such as admission, employment, and cultural experiences. This school's main goal is to make students' futures as bright as the stars in the universe. Regardless of the purpose of learning Japanese, the school does its best to support students' success.
Also, the teachers in this school are very passionate about teaching and supporting students. In terms of learning as well as facing the working life. There is also a unique course called "Elective Course" designed to promote the full potential of the language. Thus, Tokyo Galaxy Japanese Language School provides the best and most efficient learning environment.
School Location
Located in the Shinkawa Chuo-ku area, Tokyo Galaxy is in the heart of the cultural and economic district of the Megapolitan city, Tokyo. It is surrounded by the beachfront area "Nihonbashi", the very famous bridge. Then, near the Edo Five Route, "Ginza", as well as the world-famous shopping street district, "Kabutocho". Realy guaranteed! You'll never run out of things and spirits to do after class.
Student Demographic of Tokyo Galaxy
The demographic of students studying at Tokyo Galaxy Japanese Language School is diverse. Students come from the following countries:
1. Korea: 30%, China: 30% and Taiwan: 10%
2. Vietnam: 5% and Sri Lanka: 5%
3. Europe, USA: 4% and others: 16%
The School Facilities of Tokyo Galaxy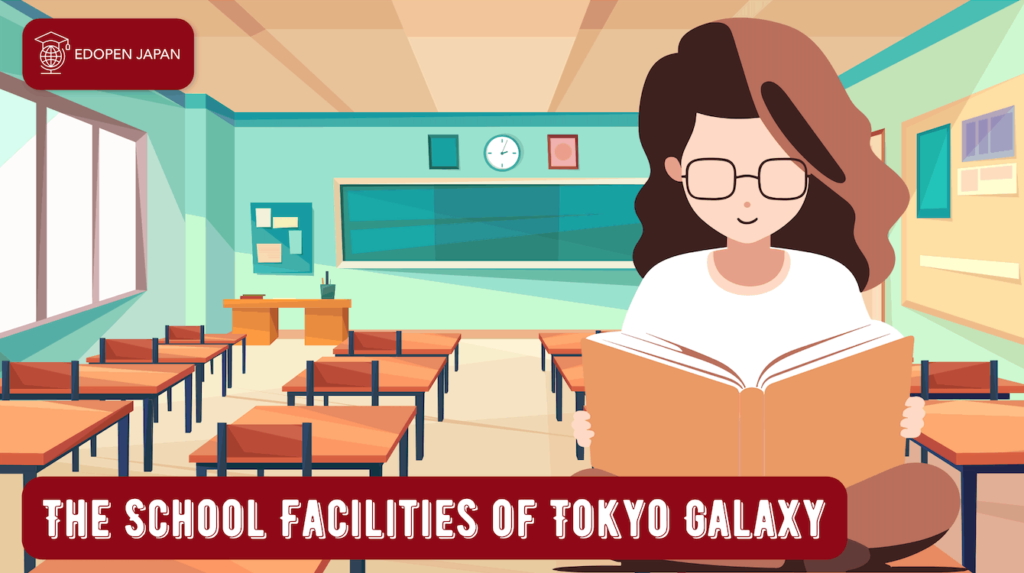 This school is recognized as one of the leading language schools with more than 30 years of experience. What are the exceptional facilities you will get when you enroll in this school? Please read some points below:
| | |
| --- | --- |
| Facilities | Detail |
| 1. Customizable Learning | Tokyo Galaxy offers one of the most customizable experiences to get the most out of your Japanese experience no matter where your destination is if you want to succeed in Japan. |
| 2. Free Wifi | Free WIFI is available for the students. |
| 3. Student Room | Mingle with fellow students or get in some last-minute studying in the student lounge. |
| 4. English Speaking Staff | English-speaking staffs are available to help you with any problems that may arise during your stay at the school. |
| 5. Support for Finding A Full-Time Job | From job interview preparation lessons in proper business Japanese, this school offers support when you are ready to enter the Japanese working world. |
| 6. Part-Time Support | The school offers support by posting regularly the available part-time jobs in the area and preparing you for interviews. |
What's more? In addition, you will also get various opportunities to participate in interesting events. This school offers many activities that give you the opportunity to interact, practice Japanese, and learn about the culture of other countries. Not only that, but you can also join exchange activities with Keio University students as well.
Then, the school has its own apartment that is owned by the school. Therefore, you can live and study here safely. You will also be charged an affordable housing fee in the super-expensive city of Tokyo. There are many more facilities owned by the school as well. Such as drink vending machines, computer labs, Japanese language learning rooms through Mango, and others.
The Main Features of Tokyo Galaxy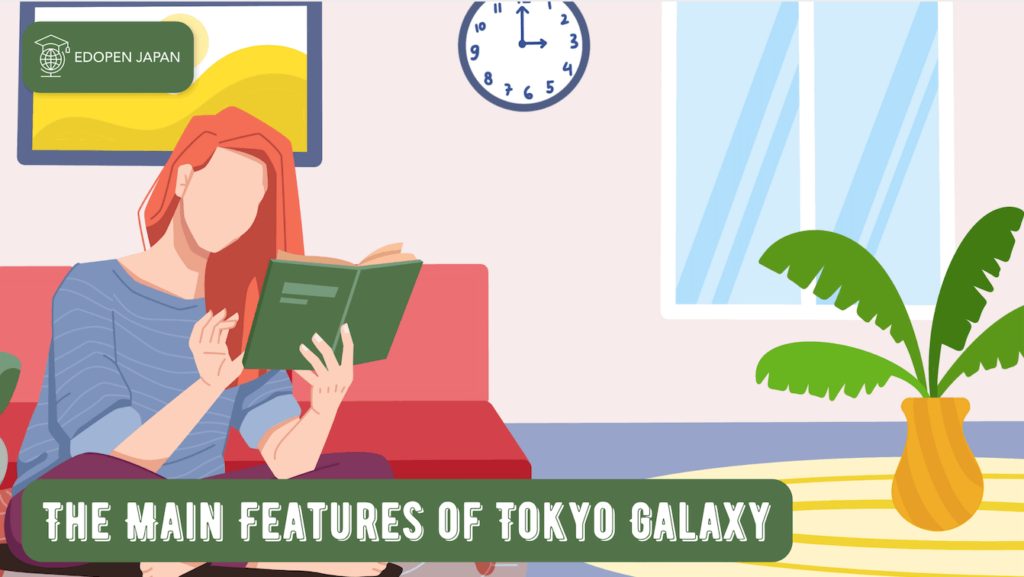 This institution boasts a slogan that exceeds your expectations. Tokyo Galaxy Japanese School caters to the unique requirements of its students. The school offers a range of diverse curricula and extracurricular programs. Additionally, it assists students in the following procedures:
1. Admission to Japanese universities and the graduate schools as well as to professional schools
2. Employment in Japanese companies and many more.
Here we describe some of the main features of the Tokyo Galaxy Japanese school, as follows
(1) Educational Environment
The first point, is to a safe and friendly environment and the economic and cultural center of Japan. Where the Japanese Ministry of Education, Culture, Sports, Science, and Technology is also located. This Chuo-ku is famous as a cultural and economic center for safe and excellent educational infrastructure. The school's excellent curriculum and learning environment will reflect your academic excellence
(2) Excellent Curriculum
Secondly, the school has developed a variety of learning methods. Based on an excellent curriculum and high-quality teaching, Tokyo Galaxy Japanese School is the first institution in Japan to offer various training courses as follows:
1. Elective curriculum, special preparatory courses & Japanese business courses
2. Accelerated intensive training as well as cultural and academic courses
(3) Your Study Design
Third, by selecting design study modules, this school wants to bring diversity to your studies. This method is according to the introduction of the design degree in 1998. The method has allowed students to choose modules that meet their own goals and interests.
(4) Student assistance
Tokyo Galaxy provides students with college counselors, class instructors, as well as staff. They provide instruction on college and career guidance as well as lifestyle advice. The goal is to create an infrastructure that makes it easier for students to live abroad. Furthermore, you can even get scholarships for those who really have a strong desire and great learning performance.
The Courses & Prices at Tokyo Galaxy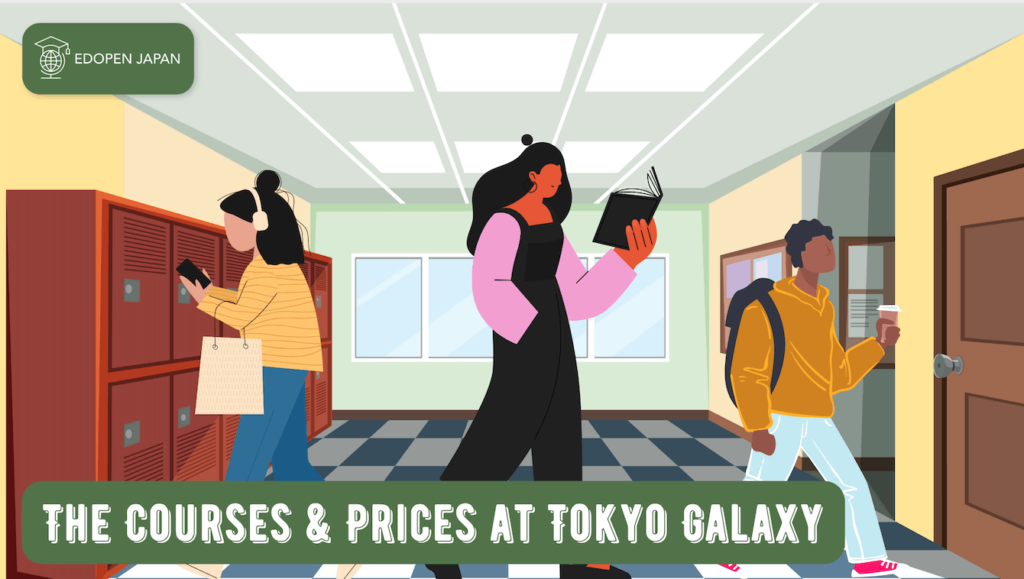 What types of courses are offered at Tokyo Galaxy Japanese Language School? Then, how much does it cost to enroll in the courses offered? Thus, please read the full information below.
1. General Japanese Course
This course covers the Basic level – Intermediate level. Basic grammar is learned through practice exams. Listening, speaking, reading, and writing is taught, including kanji. You will also learn vocabulary that is very useful to communicate in daily life. The advanced level in this course covers the basic skills needed for undergraduate or graduate school, as well as mastery of the Japanese language at work.
1.1 Course Lengths
Program
Detail
Without a student visa
3 months
With a student visa
6-24 months
Class time
Morning classes: 9.20-12.40
Afternoon classes: 13.10-16.30
1.2 Course Fees
| | |
| --- | --- |
| Duration | Fee |
| (1) 3 months | ¥195,000 |
| (2) 6 months | ¥440,000 |
| (3) 12 months | ¥800,000 |
| (4) 18 months | ¥1,160,000 |
| (5) 24 months | ¥1,520,000 |
2. Courses for Advanced Studies
Courses for those who want to continue their studies in universities. This course has obtained permission from the Ministry of Education. Those who take these courses can continue their studies in universities in Japan even after graduating from high school in 11 years. You will learn not only Japanese, but also English, math, social studies, and science for the EJU exam.
2.1 Course Length
Program
Detail
With a student visa
6-12 months
Class time
Morning classes: 9:20-2:45
Afternoon classes: 1:10-5:20
2.2 Course Fees
| | |
| --- | --- |
| Duration | Fee |
| 6 months | ¥460,000 |
| 12 months | ¥840,000 |
3. Business Class
This course prepares students to study all aspects of Japanese business. Starting from debates to company visits, as well as presentations. The course also includes instruction from guest lecturers to give students the opportunity to learn practical skills. Each student is also assigned a career advisor to help them navigate the world of work.
3.1 Course Length
Program
Detail
With a student visa
6-12 months
Class time
Morning class: 09:20 to 12:40
Afternoon class: 3:10 to 16:30
Course hours
20 hours/week
3.2 Course Costs
| | |
| --- | --- |
| Duration | Fee |
| 6 months | ¥440,000 |
| 12 months | ¥800,000 |
4. Acceleration Learning Class
This course involves drastic homework and planned and efficient study. Students will be able to learn Japanese at twice the speed of the regular course. It is best suited for students who want to achieve their goals in a short time. Such as pursuing a university degree or finding a job.
4.1 Course Lengths
Program
Detail
With Student Visa
6-12 months
Class time
Morning class: 09:20 to 12:40
Afternoon class: 13:10 to 16:30
4.2 Course Costs
| | |
| --- | --- |
| Duration | Fee |
| 6 months | ¥440,000 |
| 12 months | ¥800,000 |
Please visit the following link to know more detailed information about the courses and costs.
Reviews of Tokyo Galaxy
Tokyo Galaxy Japanese Language School has received a rating of 3.5 stars or higher based on the information we have collected. What are the benefits of attending this school? These benefits include:
Good learning method, comfortable facilities as well as good curriculum.
In addition, what is your opinion? Have you gained any experience studying Japanese at this institute? We would greatly appreciate it if you would provide us with your feedback directly. Kindly share your comments in the section designated for comments below.
FAQ about Tokyo Galaxy Japanese Language School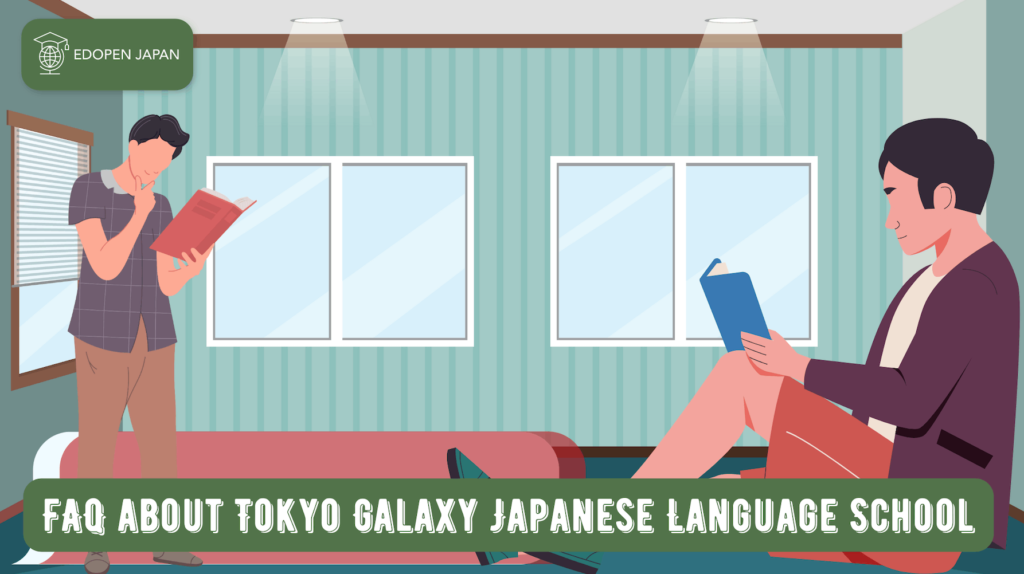 Here are some common questions that you might have about learning Japanese and Japanese language schools. We hope that you find our discussion to be helpful as a reference. We hope that you find this information useful!
How much is Japanese language course in Japan?
The cost will depend on the course type and length of the program you select. A 3-month program's least expensive option falls within the ¥100,000 to ¥200,000 range (or approximately $900 to $1,800). The highest fees for 2-year programs are within the ¥1,500,000 to 2,000,000 range (or around $10,000 to $14,000).
How long does Japanese language school take?
The minimum duration is 3 months, while the maximum is 2 years.
How to join Japanese language school in Japan?
You may adhere to the procedures specified by each school. All information on Japanese language school application procedures is available on their website.Follow the procedures set by each school accordingly.
What is the cheapest Japanese language school with visa sponsorship?
If you obtain a scholarship from the Japanese Government (MEXT), a Japanese company, or foundation, you will typically have the chance to study Japanese for free at a Japanese language school for at least six months as a preparatory program.
Can I get scholarship in language school Japan?
Yes, You have the opportunity to receive a scholarship at a Japanese language school by demonstrating outstanding academic performance. Bear in mind that not all schools offer scholarships. Scholarships are granted at specific schools only.
What is your opinion? Do you have further inquiries that you would like addressed? We hope that the above-discussed ideas and outcomes can assist you in any way needed.
Conclusion
To conclude, We would appreciate your feedback regarding the above points. Please inform us of your thoughts on the presented information. We would also be delighted to receive any comments. Additionally, we welcome suggestions for further improvements. We hope you gained valuable insights about the Tokyo Galaxy Japanese Language School.
Additionally, if you're interested in learning about other highly-regarded Japanese language schools in Tokyo, please follow the link below!