Have you heard of Nagoya? Nagoya is one of the three major urban centers in Japan. This beautiful city is home to 2.26 million people. This place is also known for being close to various beautiful natural landscapes. In addition, this city offers a variety of very educational tourist attractions.
This is a highly recommended place to learn and enjoy Japanese culture. And most importantly? Nagoya is also a manufacturing center with several automobiles, aircraft, and robotics industries. And Japanese is your passport to live easily in this great city.
We explain some bucket lists for those of you who have a strong desire to learn Japanese directly in Nagoya. From the list presented, you can choose wisely according to your main purpose of learning Japanese and also according to your conditions.
We also provide some lists of the best schools in Japan with different cities, both from the learning atmosphere and the natural atmosphere that will add to your interest in learning, check it out!
Read also:
10 Great Places to Learn Japanese in Yokohama
9 Most Popular Japanese Language Schools in Osaka
6 Most Popular Japanese Language Schools in Hokkaido
A Brief Introduction to Nagoya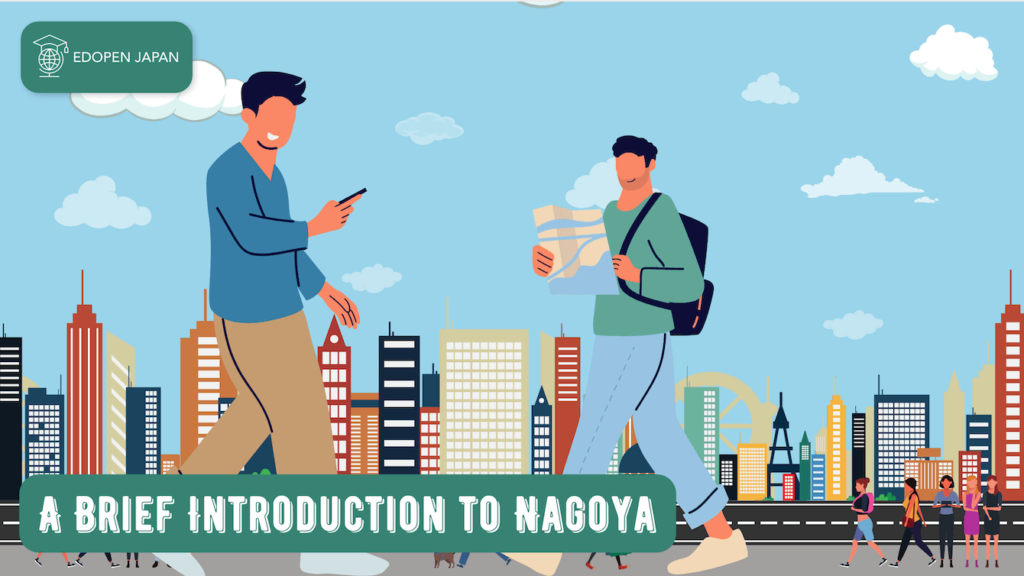 Nagoya is the capital of Aichi Prefecture and one of the centers of Japan's automotive industry. With a demographic of more than 2.3 million people and a mix of people from all over the world, making this city the third most populous in Japan with a very central location that facilitates transportation access between several major Japanese cities (Tokyo, Osaka, and Kyoto).
Nagoya's economic vortex has become the third largest in Japan, so the city is very potential for economic activity, arts, education, and tourism industry. There is nothing wrong if you want to stay in Nagoya for a long time, you will feel the mix of culture and technological advances typical of Japan.
Where is Nagoya
Nagoya is a city located in the southern region of the main island of Honshu in Japan. Nagoya, they have a humid subtropical climate, which means during the winter it has a mild temperature. Nagoya is located on Tokoname on an artificial island in Ise Bay, 35 km (22 miles) south of Nagoya.
One of the most visited and famous landscapes in Nagoya is Mount Togoku. It is located in the Mount Togaku Fruit Park. Mount Togoku is located in the northern part of Nagoya, making it an attraction for tourists from both inside and outside Japan.
Why study Japanese in Nagoya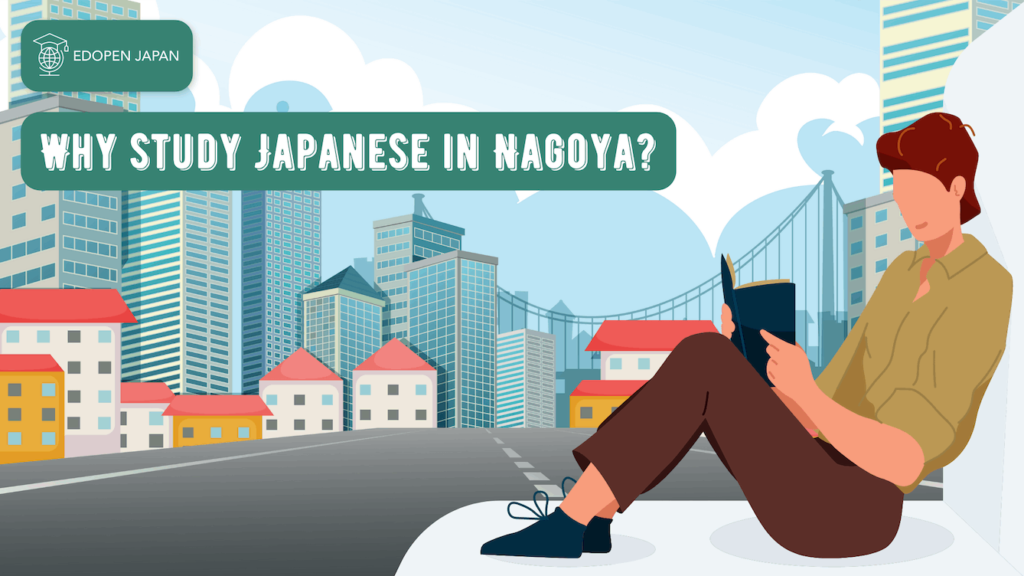 Of the many references to choose the best place to study Japanese, students should pay attention to several factors that will be taken into consideration and new things that students will face, we summarize Nagoya as your consideration in choosing the best place to study in Japan bellow:
Nagoya has become a perfect blend of urban and cultural heritage that attracts foreign workers and students to live in Japan without having to live in busy and expensive Tokyo.
Here you will find a large but well-managed city by the local government with an even population density and you will be refreshed to be able to enjoy an afternoon walk and enjoy the cityscape after studying or outside of it.
There are many interesting attractions available in Nagoya, so whether you like cars, trains, culture, or Japanese food, Nagoya has something you are looking for, not just learning about one thing.
Not to be missed as the technological core of the world, Nagoya is the center of the important automobile industry, the big name Toyota, various science museums, and the largest planetarium is located here, so you will learn many things later.

10 Great Places to Learn Japanese in Nagoya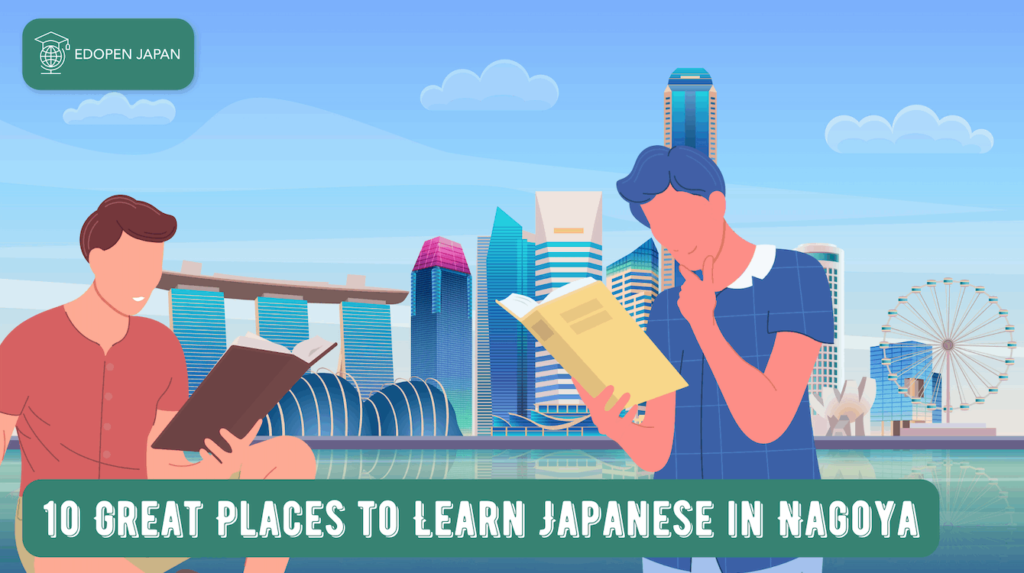 1. Nagoya Management and Accounting College (NMAC)
This school was established in 2010 as a Japanese language school. Additionally, it was originally affiliated with the Ozu Scholarship Society, Nagoya Business Accounting College (founded in 1986). This college is also a Japanese language school. They are very active to organize Japanese language classes. Mainly as initial training and career guidance for universities and vocational schools for foreign students. Especially for students who want to enroll in Japanese universities and vocational schools.
In addition, the language school welcomes international students who want to study at state, public or private universities and various vocational schools in Japan with prerequisite training, additional courses in basic subjects required for college entrance, and advice on applying to graduate schools, universities, and vocational schools. since this school is a food institute, if you pass this course for two years, you'll receive the title "diploma." Excellent teachers give lessons with the "direct teaching method."
Nagoya Management and Accounting College (NMAC) Features:
1. The classes are held in small groups. All classes are taught according to the level of the students. Thus, you don't have to be ashamed to study together because you're at the same level as your study friends.
2. Many events are organized to get in touch with Japanese students (ex; bowling parties, bus trips, etc.).
3. This school is also a vocational school officially approved by Aichi Prefecture.
4. You can also choose to continue your education at this school, as it's a college where you'll not only learn Japanese, but also other academic subjects.
2. Advance Academy of Japanese Language
Since its establishment in 1990, the Advance Academy of Japanese Language has begun to serve students who want to learn Japanese. Also for those who can contribute to the international community. Many institutions and companies in Japan have confidence in this school. For this reason, they belong to this school and close cooperative relationships have been established with other Japanese professional institutions.
Advance Academy of Japanese Language Features:
1. They hold Japanese language seminars to prepare students for various examinations. Such as the Japanese Language Proficiency Test, the Japanese University Admission Examination for international students, university entrance examinations, etc.
2. This school also offers Japanese language courses in which students first learn the four basic skills. From listening, speaking, reading, and writing. Then develop their specific skills in reading comprehension, written expression, and oral expression.
3. The goal of these courses is to help students master the Japanese way of life as well as cultural and social factors.
4. This school offers various types of help and support.
5. A class advisor is appointed for each class. Students may contact these advisors for advice on various topics. Related to the courses, their own studies, and personal economic issues. Such as obtaining scholarships, and the various problems that arise in student life.
3. I.C.Nagoya Japanese Language School
I.C.NAGOYA Japanese Language School was founded in October 1982. The school believes that the character of Japanese culture is to teach the Japanese language. Which should convey the thoughts and values behind the words respecting the relationships with other people. This school's main fundamental is the recognition of the personality. As well as the provision of an appropriate environment to achieve the goals.
I.C.Nagoya Japanese Language School Features:
1. This school provides instruction according to the various learning goals of students. Especially for those who want to study at their school. Such as applying for college/college, job search, and corporate training.
2. A learning support system according to individual learning progress.
3. Improving students' actual language usage skills through off-campus learning.
4. This school has also successfully sent Japanese teachers to schools in Brazil.
4. North River Japanese Language School
This school has been in existence for more than 20 years, promoting human resources with a global perspective as an international person, as well as the Japanese language needed for communication and progress in everyday life.
North River Japanese Language School Features:
1. The school's mission is to contribute to international exchange in Japan. Through the Japanese language.
2. The school supports you to be accepted to the school you want to go to.
3. Refers to the full concentration, and lecture system, which corresponds to the exam. As well as about how to support the student who wants to study abroad in Japan.
4. Regarding the Japanese language proficiency test, the lecturers are very good. They are the Japanese native language. They will surely guide your success in study.
5. Nagoya College of Child Welfare, Care Worker & Business
This school has been in existence since 1991. The school provides an ideal educational system that guides all students. Especially for those who aimed to enroll in the school. In order to improve their academic skills through daily learning. As well as passing various difficult examinations; national examinations, civil service examinations, and teacher recruitment examinations.
Nagoya College of Child Welfare, Care Worker & Business Features:
1. This school wants students who are not good at learning to develop into excellent human resources and have a bright future after graduation.
2. This school strives to make significant contributions to society as a school with higher educational capabilities.
3. Besides learning the Japanese language, this school also provides other benefits in the fields of nursing, social work, and business.
4. It is worth a try for those of you who want to learn Japanese as well as other disciplines in the spirit of a Japanese cultural approach.
6. Nagoya Fukutoku Japanese Academy (NFNG)
This school already has a long history of teaching the Japanese language. The goal of this school is for supporting students to attend the ideal schools at all of Japan's leading universities. Therefore, this school provides comprehensive guidance for further education. It helps each student find the most suitable school. As well as the aid in applying for a study visa. With a slightly restricted part-time work visa for prospective students.
Nagoya Fukutoku Japanese Academy (NFNG) Features:
1. The advantages of this school are that it offers "EJU lecture preparation", "JLPT lecture preparation", essay writing, and interview guidance.
2. The school helps students better immerse themselves in Japanese culture, events, and activities. Such as trips, kanji calligraphy, flower arranging, and other international cultural exchange opportunities.
3. The school will ensure that each student truly adapts to life abroad. Then develops into a socially gifted person.
4. The school not only provides tips on social etiquette and social norms but also gives advice on personal problems. Also, any difficulties such as (daily life, part-time work, visa extension, and many more).
In addition, this school ensures that the relationship between students and teaching staff is very close.
7. Aichi International Academy
This school has been providing Japanese language instruction to all students around the world since 1990. The school provides its students with the best skills necessary for living in Japan. As well as useful Japanese academic skills as a foundation for study and research.
Especially, in technical universities and colleges. The school also teaches various Japanese customs, traditions, and cultures, and educates people who can contribute to the international community.
Aichi International Academy Features:
1. The school offers a curriculum for the EJU (Japanese University Entrance Examination for International Students).
2. Students are expected to acquire advanced and comprehensive Japanese language skills sufficient to enter university studies.
3. Teachers at this school use the one-on-one method with students, examining each student's condition and providing instruction that takes care of all students so that all students can be admitted to the school of their choice.
8. Nagoya Sky Japanese Language School
Nagoya Sky Japanese Language School is in the Shin-Sakae district of Naka, the heart of Nagoya City. It has been operating for more than 10 years. Nagoya SKY supports students who want to improve their careers in the Japanese language.
Nagoya Sky Japanese Language School Features:
1. The school offers special lessons in general Japanese to prepare for the JLPT and EJU exams.
2. All teachers in Nagoya SKY meet the standard required by the Association for the Promotion of Japanese Language Education and have knowledge and skills.
3. The teachers have proficient professional experience. Thus, the students can learn Japanese efficiently.
4. Although this school is not a big school, this school can supervise all students in detail.
5. When the students find it difficult about living in Japan, the school will support them quickly.
The positive outlook is that each year, certain students from SKY Japanese schools are awarded the "Honors Scholarship for Privately Financed International Students" by the Japan Student Services Organization (JASSO) via the Association for the Promotion of Japanese Language Education. With such distinction, you too may qualify for financial assistance through a scholarship!
9. Kamiyama Gakuin Japanese Language School
Kamiyama Gakuin was founded in 2010. The school has already taught Japanese to more than 300 international students. The school is very warm, friendly, and welcoming to anyone. Where all students receive personal attention. This school also offers several classes at the same time to accommodate different language levels.
Kamiyama Gakuin Japanese Language School Features:
1. The goal of this school is to bring the students' Japanese language skills to a sufficient level. Especially to support students until successfully being enrolled in higher educational institutions in Japan.
2. Kamiyama Gakuin has a connection to a local dormitory. The school can take care of students during their stay. Thus, students can focus on their studies.
3. Amazingly, this school awards internal scholarships with conditions for Students who achieve perfect attendance (no tardies, absences, or early departures) and high academic performance.
4. The student possibly receives 20,000-50,000. Even a scholarship of 20,000/month is available for up to 6 months.
10. ECC Japanese Language Institute
ECC is an educational group in Japan with decades of experience since 1962. Its goal is to provide education that enables dreams to be realized through the Japanese language. Under the slogan "Beyond Japanese", the main goal is to help students realize their dreams beyond mastering the Japanese language.
ECC Japanese Language Institute Features:
1. The study program is very comprehensive. There are EJU preparation courses for students who go on to university. Also, preparation courses for students who want to work.
2. This school provides complete learning. Such as listening, speaking, reading, and writing. These four skills are learned through a fixed curriculum.
3. The school supports students to acquire Japanese skills faster and brings them to a higher level.
In addition to Japanese, this school teaches how to write papers and job interviews, and provides individual tutoring for those who are serious about studying at a Japanese university.
FAQ about Japanese Language School & Study in Nagoya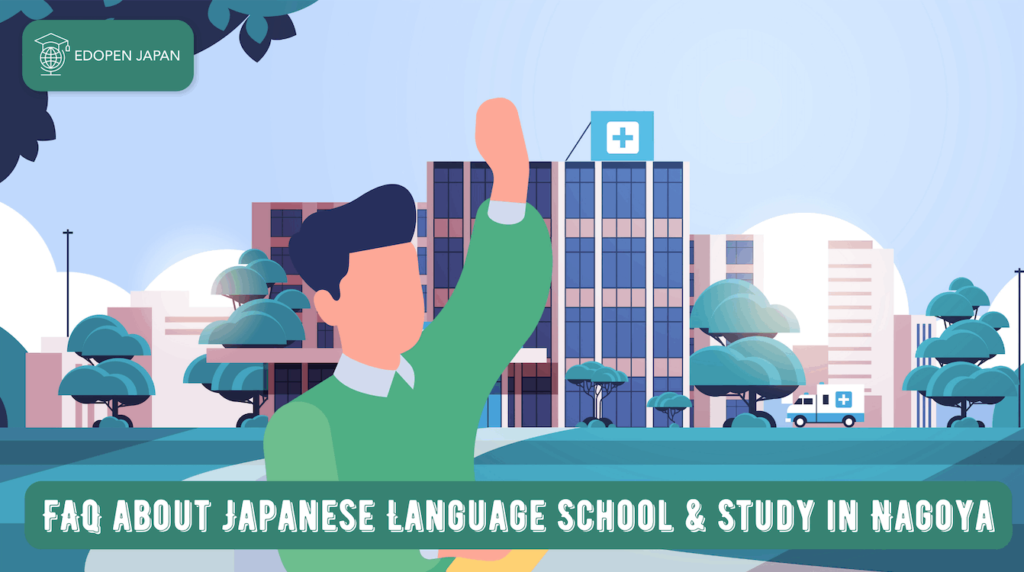 In this last session, we try to help compile some questions from various students about studying and choosing a Japanese language school, especially in Nagoya, please see the FAQ below:
What is the benefit of studying Japanese?
Good for your memory, good for your health, and good for your future. Your analytical and mental powers will be enhanced as you learn one of the world's most complex languages.
Is Nagoya good for international students?
A wise choice for students, you will find that this large city is organized but not as busy as the nation's capital, Tokyo.
What is the best Japanese language school in Nagoya?
We researched and summarized the top 10 schools in Nagoya above. You just need to choose according to your conditions and goals in learning Japanese.
We'd love it if you'd take the time to respond and share your thoughts by leaving a few sentences in the comments below. If you have any questions, let's discuss them!
Conclusion
Allow us to conclude by addressing a few key points:
Among several other cities, Nagoya is a fantastic place to explore. As one of Japan's three major urban centers, Nagoya offers a unique cultural experience. Additionally, the cost of living in Nagoya is relatively low, and there are ample opportunities for part-time employment.
There are 10 schools for learning Japanese that you can investigate. Kindly share your preferred one!
Please leave your comments and feedback regarding this article. We look forward to hearing from you in our next piece.