Choosing the appropriate city for studying Japanese or pursuing advanced studies, such as in college, holds paramount importance. Selecting the right location to reside brings along the prospect of experiencing Japanese culture and enhancing your Japanese linguistic abilities. Of course, Tokyo provides everything one needs for a complete experience.
We can find everything in Tokyo. Tokyo is the hub of industry, commerce, education, and culture in Japan, particularly in business and education. This makes Tokyo an ideal location to study Japanese language and culture.
In this article, we are introducing ARC Academy Japanese Language School, one of the renowned language schools in Tokyo. ARC Academy has been welcoming students from diverse countries since 1986. Intrigued? Keep reading!
In addition, if you are currently searching for information on other reputable Japanese language schools in Tokyo, you can read our previous discussions below.
Read also:
SNG Shinjuku Japanese Language Institute
Human Academy Japanese Language School
Akamonkai Japanese Language School, Tokyo
A Brief Overview of ARC Academy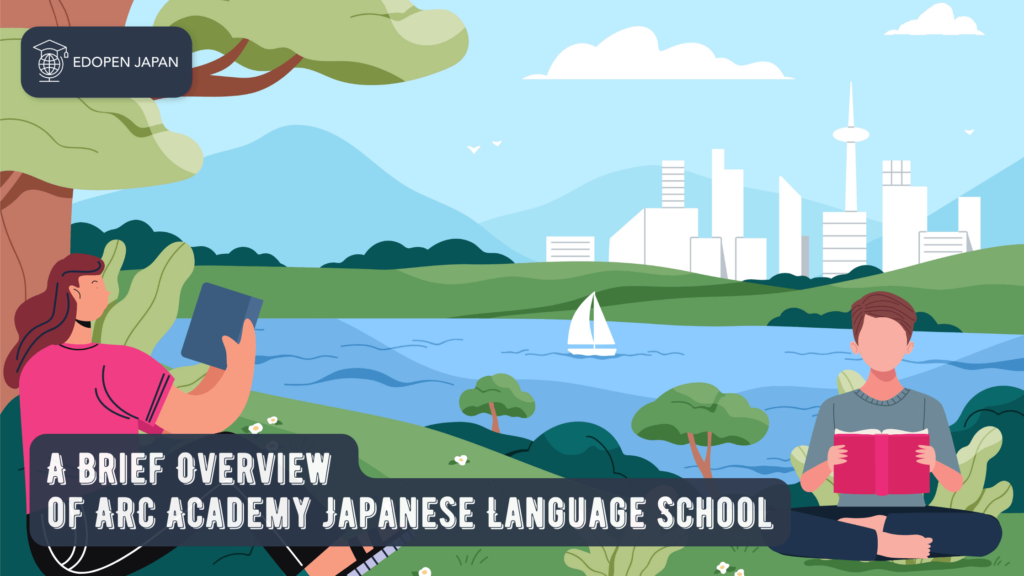 The ARC Academy has welcomed students from numerous countries worldwide since 1986. Multinationalism, multiculturalism, and diversity are the assets of this esteemed language school. Since its inception, ARC Academy has continuously researched and updated its programs and materials to adapt to global developments and changes.
Moreover, ARC Academy places significant emphasis on learning elements that foster communication skills and critical thinking. You have the opportunity to learn Japanese through a variety of intriguing topics. As the name suggests, this institution aims to be a bridge that enables you to contribute to society and the world on a global scale.
The Location of ARC Academy
ARC Academy operates two schools in Tokyo: the ARC Tokyo Japanese Language School located in Iidabashi and the ARC Academy Shinjuku School located in Shinjuku.
(1) ARC Tokyo Japanese Language School
This school is conveniently located near Iidabashi Station, which runs alongside the Outer Moat of the Imperial Palace. It's a renowned area for its fascinating cherry blossom season. Additionally, this school is situated in the midst of Tokyo's tourism hub, making it an ideal spot to explore popular attractions such as Tokyo Dome City and other notable sights. For more information, please refer to the details below.
(2) ARC Academy Shinjuku School
This school is situated near Shinjuku Station, renowned as Japan's busiest transportation hub with the most daily passenger traffic. In addition, the school's location offers an abundance of large department stores, bookshops, cafes, and dining options, providing the ideal environment to unwind after classes. For more information, please refer to the details below.
The Features & Services at ARC Academy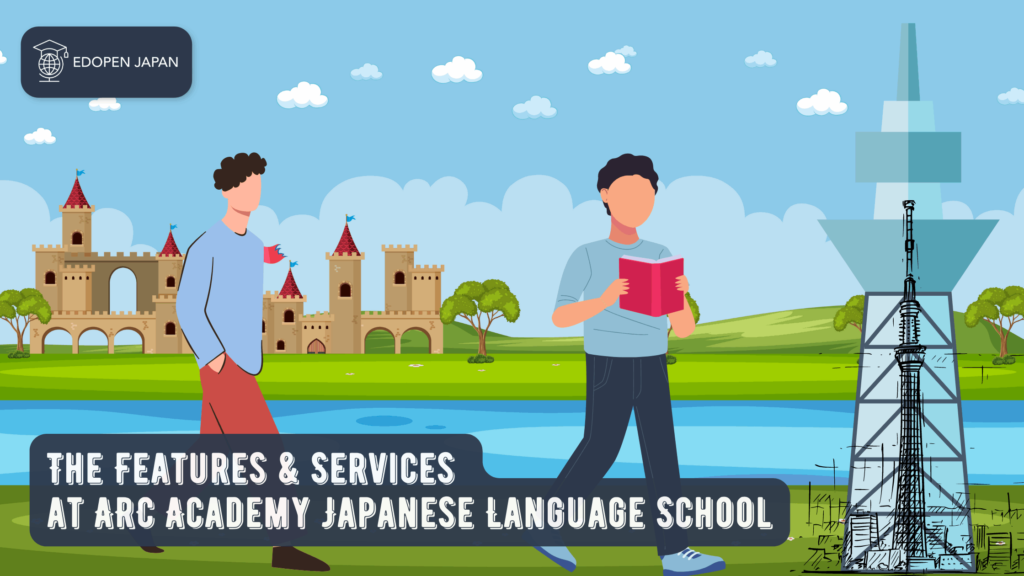 What are the outstanding features of ARC Academy? Here are some key points we have researched.
(1) Multicultural, international, and diverse environment
ARC Academy has welcomed students from over 30 countries who come from diverse backgrounds. Attending our academy offers more than just learning Japanese; it provides an immediate opportunity to experience the multicultural beauty and rich traditions of Japan.
(2) Tailored support for learning needs
ARC Academy, with over 30 years of experience, offers a comprehensive curriculum that can cater to and assist diverse students in achieving their goals. Each teacher will monitor their students' individual needs to ensure that their goals are met. Assessing individual development then supports the fulfillment of individual objectives.
(3) Communication skills training: Over 90% of the satisfaction rate
ARC Academy places great emphasis on developing the communication skills of its students during Japanese language learning. ARC Academy places great emphasis on developing the communication skills of its students during Japanese language learning. In addition to mastering the four primary language skills, including reading, writing, listening, and speaking, ARC Academy also prioritizes enhancing students' critical thinking abilities to enable them to analyze and process information effectively.
(4) Post-graduation career support
Most students who graduate from ARC Academy each year go on to attend a Japanese graduate school, university, or vocational school. To facilitate this process, ARC Academy provides a comprehensive learning program that includes obtaining information about entrance exams, and preparing application materials, as well as exam simulations to master the specific academic Japanese language required for higher education.
The Services of ARC Academy
What benefits do you receive as an ARC Academy member? Please review the key points below.
| | |
| --- | --- |
| Services | Details |
| 1. Great facilities | ARC Academy has very convenient facilities to support its students. |
| 2. Supportive teachers and helpful staff | The teachers will really help you master the lesson. The staff at this school will help you anytime. |
| 3. Guidelines for several options for accommodation | This school will help you find the best place to live by introducing their accommodation partners. |
| 4. A very exciting and interesting event. | Students will have the opportunity to do field trips, sports festivals, and a variety of other interesting activities. |
| 5. Scholarships | There are 2 types of scholarships to support students financially. The Monbukagakusho Scholarships and Lee Soo-Hyun Scholarships. |
| 6. Health Support | The school will help you to get health services if you get sick, have an accident, and other health-related matters during your studies. |
| 7. Part-time Job Info | To get extra income and experience implementing directly the Japanese language you have studied, you can take part-time jobs. The Academy will provide you with appropriate information depending on your Japanese proficiency. |
| 8. Career support | The school provides sufficient and detailed career advancement information for each student. |
What is your opinion? If you have any questions or suggestions, please write them in the comment column below! Thank you!
The Courses & Prices at ARC Academy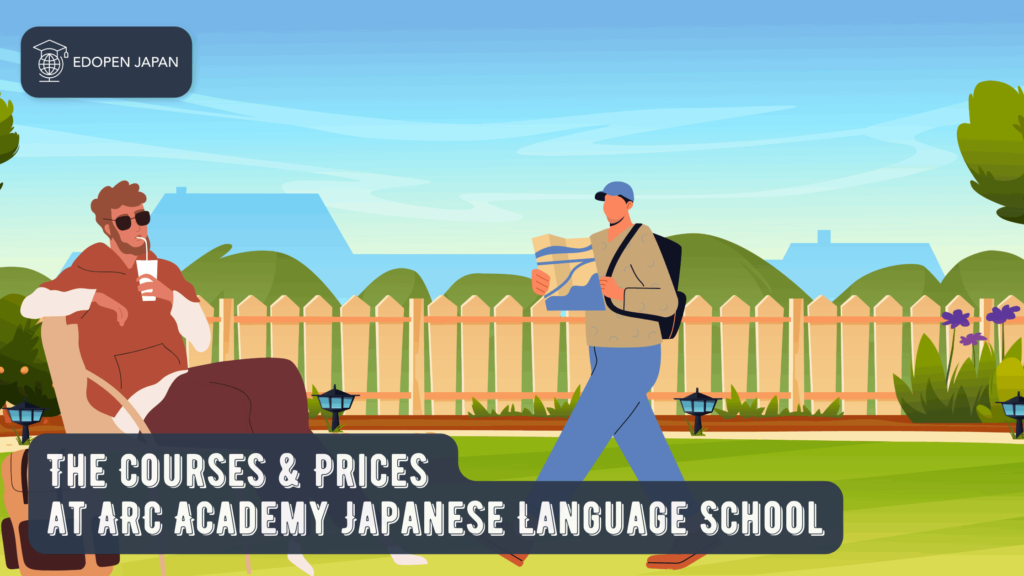 ARC Academy offers a selection of five courses and classes. Please review the information below.
(1) Long Term Course with Visa
This program is a standard study abroad program that includes a visa. The program lasts for 2 years and is comprised of progressive school semesters, each lasting three months. Students systematically learn from the basics. Emphasized aspects include communication skills, mutual understanding, independent learning, and support for students' goal achievement.
(2) Short Term Course without Visa
This school provides 3-month intensive courses for individuals aiming to learn Japanese quickly. Participating in this program allows students to acquire functional Japanese skills and briefly explore Japanese traditions.
(3) Special Preparatory Class
This course is designed for students who wish to pursue postgraduate studies in Japan. You will gain knowledge on how to plan research, prepare for an interview, write a concise essay, and comprehend academic dissertations. Additionally, this program includes lessons on language skills, critical and logical thinking, problem-solving techniques, and research basics.
(4) Business Japanese Class
This course caters to those seeking employment with Japanese companies, whether in Japan or overseas. It addresses the challenges posed by the industry's increasing reliance on foreign graduates. The program emphasizes two key areas: comprehension of Japanese business culture and advanced communication skills.
(5) Private Lessons
If you want to intensively learn Japanese one-on-one with a teacher, then consider our private program. The curriculum, schedule, and learning materials will be customized to your availability and skill level. This program will cater to your learning stage.
The Prices for Courses at ARC Academy
The cost of each program varies based on the duration and lesson specifics. The fees include the Application fee, the Registration fee, and the Tuition fee (textbook not included). Generally, the associated costs are as follows.
(1) Long Term Course with Visa
| | |
| --- | --- |
| Duration | Fee |
| 1. 6 months | ~(starting from) ¥460,000 |
| 2. 1 year | ~ ¥820,000 |
| 3. 1 year 3 months | ~ ¥1,000,000 |
| 4. 1 year 6 months | ~ ¥1,180,000 |
| 5. 1 year 9 months | ~ ¥1,360,000 |
| 6. 2 years | ~ ¥1,540,000 |
(2) Short Term Course without Visa
For the three-month intensive course program, the fee is approximately ¥190,000 ($1,300). For a breakdown of the costs of the other programs, please visit the link provided.
The Reviews of ARC Academy
According to our research, ARC Academy has received ratings of 4 stars or higher in the following areas.
1. The school is very strategically located.
2. The facilities are very comfortable.
3. The quality of teaching is very good.
4. The teachers and staff are very professional and helpful.
5. The school fees are proportionate to the services requested.
6. The accommodation in the school is very comfortable.
And not just that, ARC Academy consistently seeks to enhance the quality of its services to better facilitate international students in improving their Japanese language proficiency and building successful careers.
FAQ about ARC Academy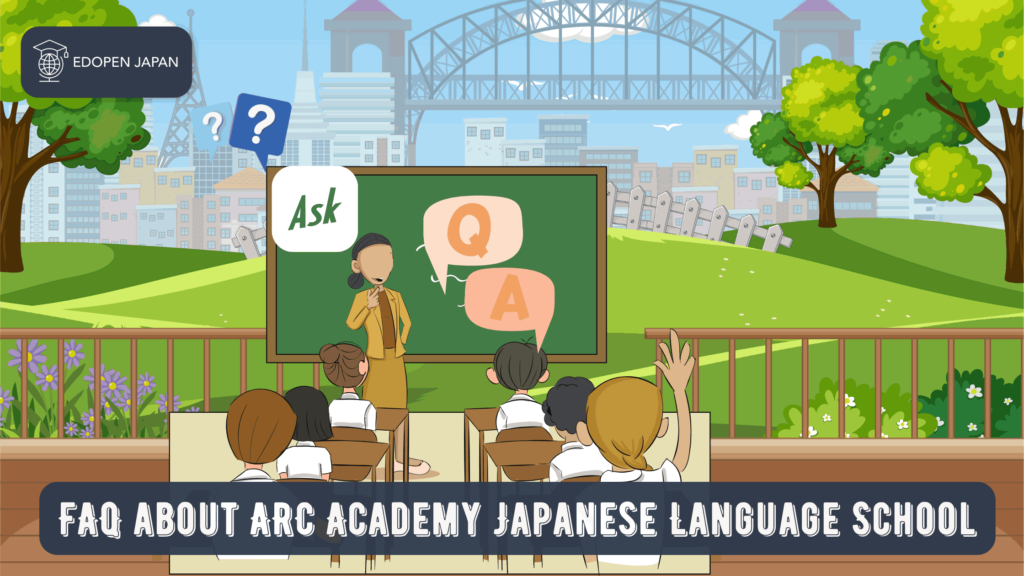 In this section, we will address common inquiries about learning Japanese at ARC Academy. Please read on to broaden your knowledge.
What is the specialization of ARC Academy?
ARC Academy specializes in both long-term and short-term courses, all with the main goal of developing students' fluent communication skills for creating a successful future in Japan.
How much are Japanese classes in Tokyo?
Prices for an intensive 3-month course typically range from ¥150,000 to ¥200,000. At ARC Academy, the fee is ¥190,000 including a ¥10,000 application fee and ¥180,000 tuition fee.
Can I go to school in Japan to learn Japanese?
Of course. You can enroll in a reputable Japanese language school in Tokyo, such as ARC Academy. Learn about it above!
Where is the best place to learn Japanese in Japan?
You may opt for a major city such as Tokyo or Osaka. Notably, ARC Academy in Tokyo is renowned for its expertise in teaching Japanese since 1986.
Is 1 year enough to learn Japanese?
Everything is relative and depends on your ability to consistently learn. One year is an ideal timeframe to master basic to intermediate Japanese.
Do you have any further questions about learning Japanese at ARC Academy? We sincerely hope that the information we've provided has been helpful to you.
Conclusion
In conclusion, we kindly request that you review the aforementioned points. Please share your thoughts on the information presented, including any comments or suggestions for our future enhancements. We hope you found valuable insight into ARC Academy Japanese Language School.