Japan has the world's 3rd largest economy and is renowned for its captivating This part of the world is a fascinating blend of natural and cultural beauty. Japanese people are renowned for their creativity, hard work, and inspiring innovation as tinkers, designers, and engineers. Their devotion to precision, diligence, and culture gives their country a distinctive character.
However, fluency in Japanese is a necessity for those seeking to live and work in this developed nation. In this article, we will present one of Tokyo's most renowned Japanese language schools. the ALA Academy of Language Arts. As Tokyo is the hub of the Japanese economy and government, gaining expertise in the language is crucial. What are the vital details you must be aware of before enrolling? Continue reading to find out!
As we aim to expand your knowledge on the topic, we have compiled a list of references for some of the top Japanese language schools especially located in Tokyo. These resources may be helpful in selecting a school in the future.
Read more:
9 Most Popular Japanese Language Schools in Osaka
10 Most Popular Japanese Language Schools in Kyoto
10 Great Places to Learn Japanese in Nagoya
Brief Overview of ALA Academy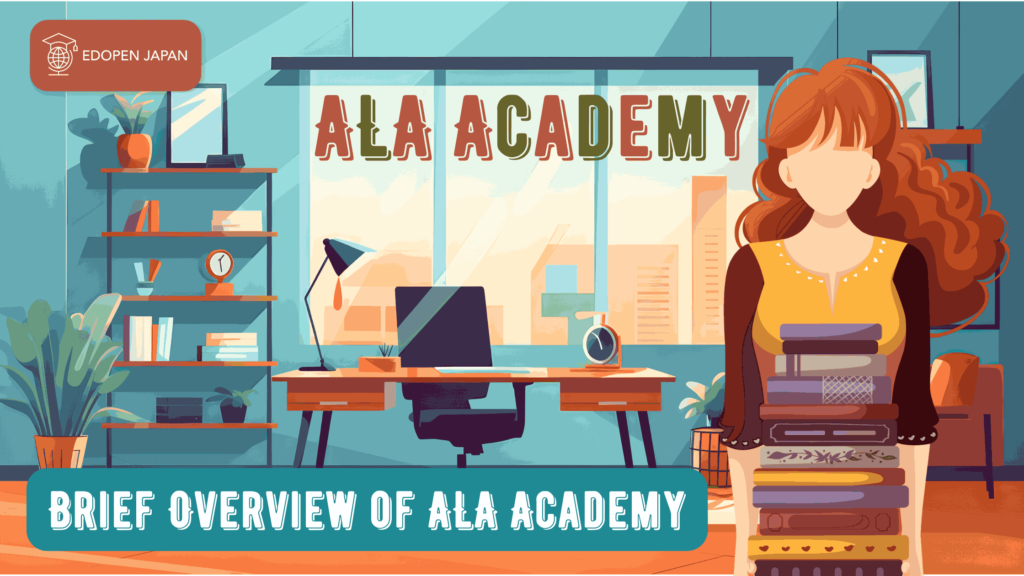 This academy was founded in 1984 and has been dedicated to enhancing the Japanese language proficiency of many students over the years. The school welcomes students from various parts of the world and is renowned for its amiable ambiance and convivial vibe, which draws students from over 30 countries.
What sets this school apart is its appeal as an ideal destination to learn Japanese. This academy provides small group classes with about 12 students per class. This allows for intensive learning in a personalized setting, where teachers are able to closely monitor each student's progress. With this method, students are able to enhance their conversation skills with the teacher's undivided attention. At the end of every course, students have an opportunity to hold conversations to discover and receive guidance on their future plans.
School Location
The ALA Academy is situated in the Shinjuku district, a mere 3-minute walk from Iidabashi Station, which is the closest train station. This location provides students with ease of access to Shibuya, Shinjuku, and Akihabara making it an ideal spot to reside and study in Japan.
Additionally, the area boasts a wonderful historical view that adds to its allure. Just minutes from the Imperial Palace in the heart of Tokyo, Iidabashi is an ideal location to unwind and concentrate with minimal interruptions. It is also a practical neighborhood for discovering accommodation options and flexible employment opportunities.
Student Demographics
According to September 2023 data, ALA Academy is a Japanese language school with over 250 students from around 40 countries. Students from diverse backgrounds study together daily at ALA Academy with a shared goal of improving their Japanese language skills, socializing, and expanding their networks. The school's student demographics are as follows:
The Ratio of Student Demographics at ALA Academy (September, 2023)
1. Europe and America: 65.6%
2. China: 10.5%
3. Philippines, Vietnam, Indonesia, Mongolia, Myanmar: 7.6%
The Main Features & Services at ALA Academy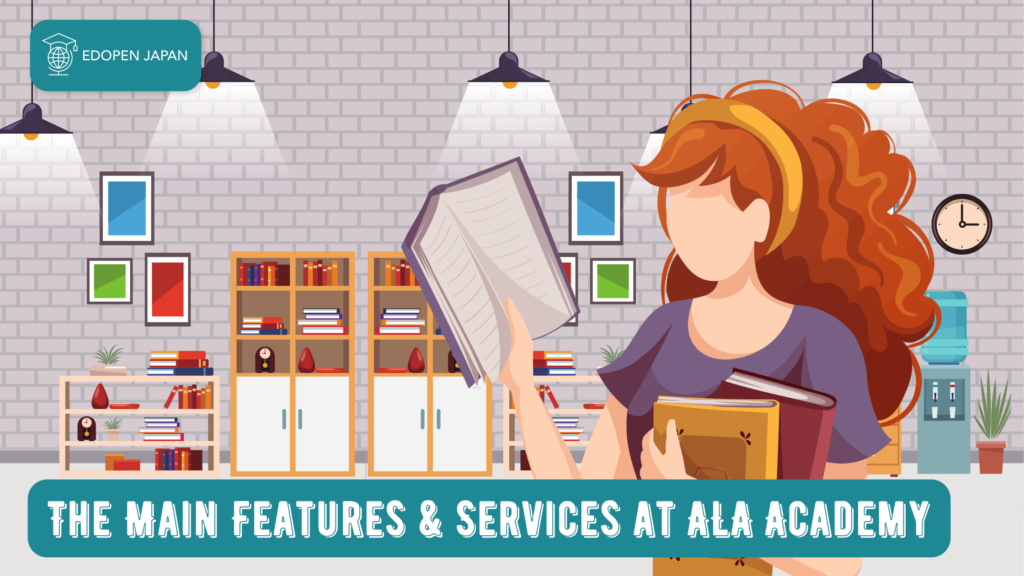 The Benefits of The ALA Academy
The ALA Academy of Language Arts has been in operation for over 35 years. The academy's commitment to experience and quality is undeniable. Take a look at some of the benefits of the ALA Academy listed below.
(1) USABLE Japanese Learning
At ALA Academy, you'll acquire practical Japanese that you can immediately use. We provide valuable learning material that is applicable in real-life settings, so you can promptly apply the knowledge and skills you've gained.
(2) Students from Many Nations
ALA Academy has over 250 learners studying Japanese. These students hail from approximately 35-40 countries globally and come together daily for both educational and social purposes. Students are encouraged to utilize the Japanese language skills they have acquired, while also gaining insights into the rich and varied cultures of Japan and other nations.
(3) Gracias Support
At this academy, you will receive ample support from competent and dependable staff. Therefore, there is no need to worry about anything as you commence a new chapter, gaining fresh experiences in Japan. The staff will assist you with various tasks, including visa applications, job searches, insurance, bank accounts, and other administrative aspects. Additionally, communication is available not only in Japanese but also in English, Chinese, Korean, and Vietnamese.
(4) Daily Talking Skills Preferred
Improving students' conversational skills has been the primary educational goal of ALA since its inception. In their general conversation course, students learn in a multinational environment. Classes mainly include conversation exercises under real-life conditions. Therefore, the students can acquire practical communication skills in addition to the necessary knowledge.
ALA Academy Main Services
In addition to the benefits provided by the features, we want to highlight the services offered by ALA Academy. This serves as your reference to learn more about the academy's offerings. So, what types of support and services are available to you as a member of this academy? Review the following list for more information.
| | |
| --- | --- |
| Services | Details |
| 1. Free Wi-Fi | Free internet access for all students studying at the school. |
| 2. Activity | Experience Japanese culture with cultural experiences and activities. |
| 3. School Transfer Support | Transfer to a degree program at a Japanese school. |
| 4. Accommodation in dormitories and housing | Help to find the right room for you. |
| 5. Career Support | Find the perfect job after graduation. |
| 6. Part-time Work Support | Practice Japanese while earning a little extra cash. |
| 7. Free consultation | ALA has well-experienced staff with knowledge of International matters who provide attentive advice to each student. |
| 8. Visa Support | ALA will help you apply for a COE at the Tokyo Immigration Office on your behalf. |
| 9. Student Insurance Arrangements | ALA will help you apply for international student insurance at the school at the time of enrollment. |
| 10. Signature Stamp (HANKO) | The school staff will be happy to assist you in creating a genuine signature stamp with your name on it. |
In addition, this academy takes excellent care of their students. This academy is genuinely invested in the success of its students' future goals. If students need assistance applying for jobs or searching for part-time opportunities, ALA is there to help.
Additionally, ALA provides support with writing a Japanese resume and preparing for interviews. Best of all, ALA actively assists students in finding employment in Japan. Would you like to discover more about the ALA Academy of Language Arts? They are incredibly proactive in sharing their great activities on Instagram. Feel free to visit their Instagram account using the following link!
The Course and Fee at ALA Academy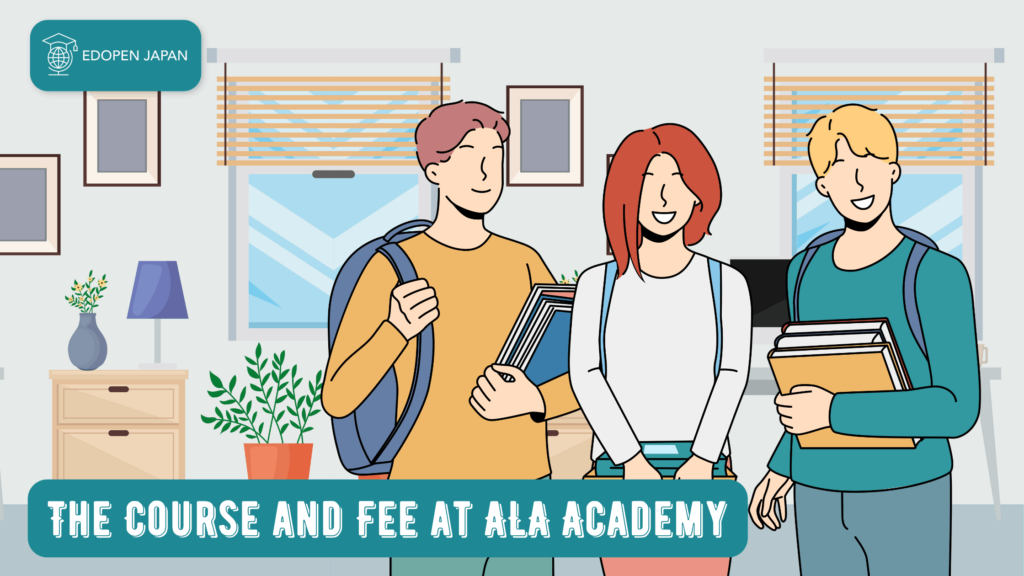 There are two types of courses offered at ALA Academy: group lessons and private lessons. Further information on these courses is provided below.
(1) Group Lessons Course
In this course, you can join fellow learners from across the globe in studying Japanese. The course provides a rigorous curriculum for those pursuing higher education in a Japanese university or seeking employment opportunities.
This course is divided into 2 trimesters as follows:
| | |
| --- | --- |
| 1. Short term | 3 months – 6 months |
| 2. Long-term | More than 6 months |
Additionally, most Japanese language schools in Tokyo offer a 50-day term, but ALA provides 52 study days per term. With these two extra days, you will have more opportunities to study Japanese in Japan. If you're interested in taking this course, please share your feedback in the comment section below.
Private Lesson
This lesson course type enables you to design your own Japanese learning experience. ALA Academy will then provide customized, high-quality courses that cater to your preferences, including lesson content, timing, and location. Sign up for free registration! For more, below you will find some points about private lessons:
1. Lessons are held at aa time as well as a place of your choosing (Mon-Sat).
2. A free 60-minute trial lesson is offered.
3. Lessons are held at a time and location of your choice (Mon-Sat).
4. The school's classrooms are available for private lessons.
Courses Fees
As for course fees, here's a brief overview. The fees vary depending on the course type and duration. Please refer to the following points for more information:
First, for the Group Lesson (The fees are in total) as follows:
| Duration | Fee |
| --- | --- |
| 1. 6 Months | ¥441,400 ($3,380) |
| 2. 1 year | ¥769,000 ($5,890) |
| 3. 1.5 years | ¥1,109,200 ($8,495) |
| 4. 2 years | ¥1,441,000 ($11,036) |
Next, the following is the fee for the Private Lesson:
| Duration | Fee (Per Person) |
| --- | --- |
| 1. 60 minutes | ¥6,600 ($44,8) |
| 2. 90 minutes | ¥9,636 ($65,4) |
| 3. 2 hours | ¥12,760 ($86,6) |
| 4. 3 hours | ¥19,140 ($130) |
Review
According to the information we gathered, the ALA Academy of Language Arts received a rating of 4 stars or higher. What are the benefits of attending this school? Reviewers noted the following advantages:

1. Teachers and staff are very supportive and passionate.
2. The school location, which is in Iidabashi is wonderful.
3. Part-time jobs, as well as full-time job search assistance, can be quite beneficial.
4. The class is easy to understand.

Furthermore, what are your thoughts on the matter? Have you had any experience studying Japanese at this institution? We would greatly appreciate it if you could provide us with your review directly. Kindly share your feedback in the comments section below.
FAQ about Learning Japanese at ALA Academy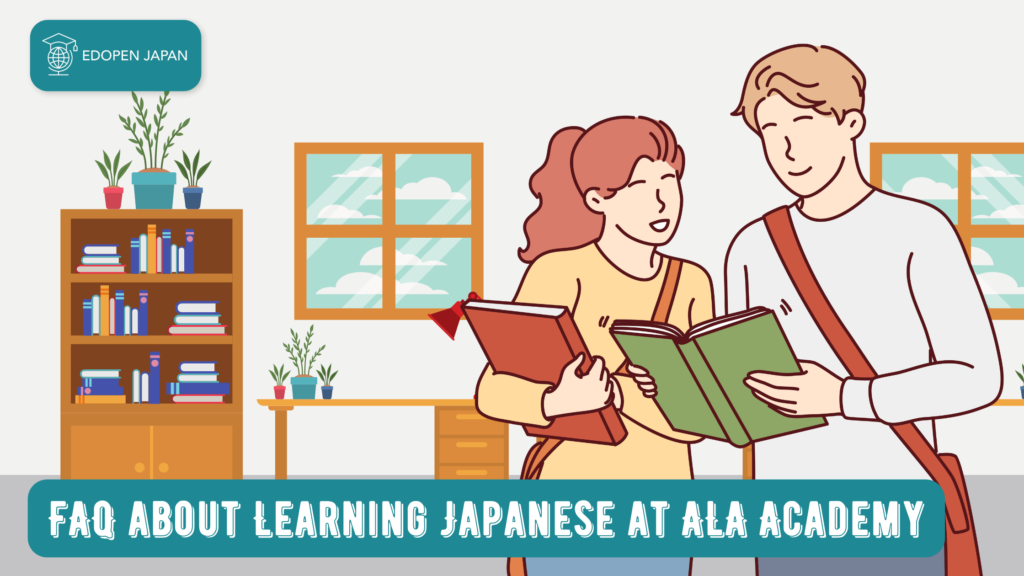 Below we have compiled some frequently asked questions that students, particularly beginners, may have while learning Japanese or selecting a school appropriate for their needs. Please review these for guidance.
What do you learn at Japanese language school?
A fundamental aspect is that you will acquire vocabulary, grammar, Kanji characters, reading, writing, listening, and speaking skills. In addition, numerous schools also provide tailor-made programs for conversation courses or abbreviated courses for laborers and tourists.
Is language school in Japan worth it?
This is the optimal method to receive organized instruction, increase your level of self-discipline in learning Japanese, and acquire a valuable part-time job to enhance your resume for future employment opportunities in Japan.
Which institute is best for Japanese language?
Japan has a balanced education standard, so don't stress over selecting the perfect language school. The key is to align your goals and situation with the school, and ALA Academy is among the best options for you to consider.
What is the specialization of ALA Academy of Language Arts
This school employs the method of small intensive classes to benefit its students. The aim is to ensure that students have a clear understanding of the lessons. ALA Academy's three decades of experience places it among the premier Japanese language schools.
Some information has been gathered about students' questions. Hopefully, this information will be helpful. If there are any remaining inquiries, please don't hesitate to bring them up for discussion!
Conclusion
In conclusion, I kindly request you reconsider the highlighted pointers. Please do share your thoughts on the presented information and feel free to provide any feedback or suggestions for future improvements. We hope you found valuable insights on the ALA Academy of Language Arts.