In today's globalized world, fluency in a foreign language is a highly valued skill. Pursuing academic or language studies in a foreign country can provide a shortcut to success. Studying in Japan, for example, could enhance one's education or proficiency in Japanese, given the nation's reputation for world-renowned technology and telecommunications firms.
Additionally, Japan is widely recognized for its uniformly high standards of safety and morality. Studying in Japan and pursuing a career there can be an unmatched experience.
We would like to introduce the Adachi Education Group, which has been a leading institution in Japanese vocational education since 1958. The Adachi Education Group has helped over 500 international students achieve their goals every year. The Group has 17 vocational schools and one Japanese language school spread across four major Japanese cities – Tokyo, Osaka, Nagoya, and Fukuoka.
Also, if you wish to conduct further research on vocational schools in Japan, please click the button below to read our articles about other vocational schools across the country that are organized by Japan's major companies and corporations in this beautiful cherry blossom country.
See more:
Yokohama Design College
Yamano College of Aesthetics
GLOBIS University
A Brief Overview of Adachi Education Group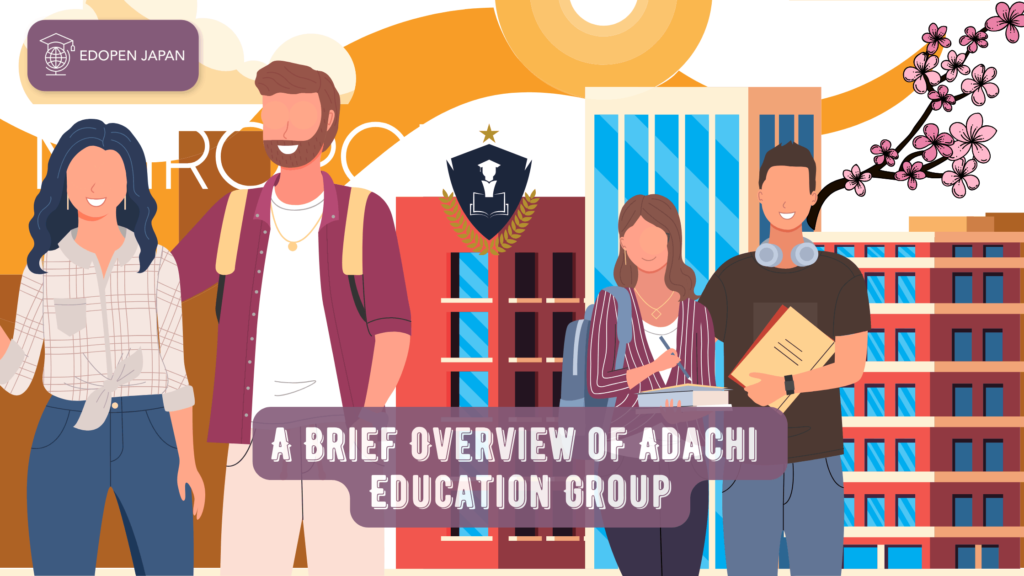 The Adachi Education Group runs 17 vocational schools and one Japanese language school across Tokyo, Osaka, Nagoya, and Fukuoka. The school's motto is to provide a rich time and secure future for its students. Impeccable educational conditions with state-of-the-art equipment, a one-of-a-kind curriculum, and excellent teaching staff aid the Adachi Education Group in developing professionals with high skills and imagination to support their students' ambitious goals.
Adachi Education Group has been a prominent leader in the vocational school industry since 1958. The group's 5 schools in Tokyo boast the highest number of students. The schools welcome around 500 international students annually. Adachi Education Group should take pride in the impressive history and achievements of their vocational schools which enable countless graduates to achieve their dreams.
Additionally, Adachi offers Japanese language courses for international students to guarantee their proficiency in Japanese for future employment opportunities in Japan. Adachi's diverse curriculum allows students to learn Japanese based on their interests and obtain the essential skills needed. By seizing this opportunity, students can open doors to prospective careers in Japan.
School Location
As previously stated, the school has 17 schools throughout Japan: throughout Japan, including Tokyo, Osaka, Nagoya, and Fukuoka-Kyushu. Please refer to the following list for specific campus names.
(1) Tokyo
Since 1603, Tokyo has served as Japan's de facto government center. The city is renowned for its iconic landmarks like the Tokyo Sky Tree and Shibuya Crossing. It is also celebrated for its cherry blossoms, temples, rich culture, and world-class transportation system. Tokyo offers a distinct blend of Japanese culture and state-of-the-art technology. The Adachi education group operates six schools within this bustling metropolis.
(2) Osaka
Osaka has long been a star in Japan's cityscape. It boasts of a vast port and is known as a commercial hub of Japan. The city showcases modern architecture, picturesque historical landmarks, and gardens adorned with plum, peach, and cherry blossoms. Moreover, this exquisite city is home to various temples and shrines alluring tourists worldwide. In Osaka, Adachi Education Group manages four schools, which are as follows:
(3) Nagoya

Nagoya, located in the center of Honshu, is the capital of Aichi Prefecture and a prominent manufacturing and shipping hub. The city boasts charming modern architecture and beautiful streets. Thanks to its strategic location between Tokyo and Kyoto, Nagoya has emerged as a top destination for tourists. Additionally, the city has an extensive subway system. This also enables us to visit other nearby cities in just a day.

The city is an excellent option for both living and studying in Japan. The Adachi Education Group operates four schools, which are as follows:
(4) Fukuoka
Fukuoka is a prominent Japanese port city that has emerged as a commercial, industrial, administrative, and cultural hub. Additionally, it boasts a thriving fishing port and efficient connectivity with the western cities of Kyushu. Kyushu College, a significant academic institution, is also located here. Furthermore, Adachi Education Group operates four schools in this city, as follows:
Student Demographics

The Tokyo Adachi Japanese Language School attracts students from diverse countries. Refer to the list below for the other nationalities represented in the school. Nevertheless, the majority of students are of Vietnamese or Chinese origin. The other students are coming from America, Russia, South Korea, Taiwan etc.
The Main Features and Services of Adachi Education Group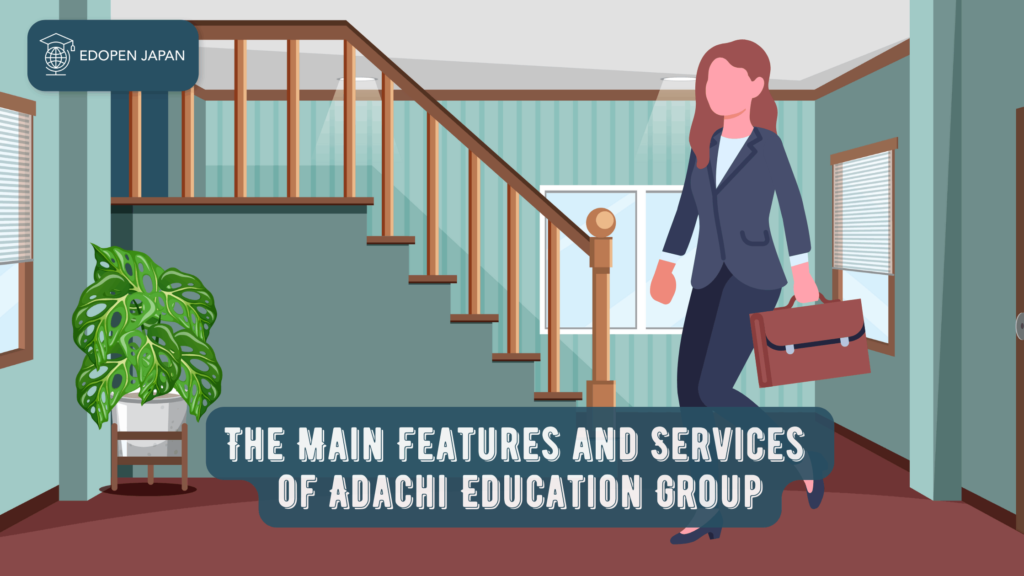 School Main Features
The Adachi Education Group has provided vocational education for Japanese and international students in Japan for over six decades. Its extensive experience, unwavering dedication, and exceptional quality are indisputable. Please take a moment to explore some of the notable features of this outstanding institution.
(1) Internship program (corporate training)
The school is proud to introduce an Internship Program (Corporate Training) that allows students to pursue a professional fellowship with top companies across any industry while still enrolled. Adachi Education Group students have been widely accepted by many companies. Moreover, some various opportunities and benefits can pave the way towards job opportunities.
(2) Foreign language support
The Adachi Education Group has established a Japanese Language Education Center and collaborated with English-speaking educational institutions in America. The goal of this center is to aid foreign students in improving their Japanese language skills and finding employment. It is expected that this center will attract more foreign students. Even if the students are not fluent in Japanese initially, the staff will provide support until they gain fluency.
The school provides an English support program for those seeking to enhance their language proficiency and confidence in English communication through reading, speaking, and listening. Additionally, studying abroad offers numerous opportunities to sharpen both Japanese and English skills.
(3) Life support
This school recognizes that international students who have recently arrived in Japan require time to adjust. To facilitate their academic and social integration, the school provides extensive support to its international students. For details on the available assistance, please refer to the following list.
1. Housing support system
2. Part-time job introduction
3. Japanese support system
4. International student support staff
(4) Support before registration
If you wish to pursue your education at one of Adachi Education Group's schools, rest assured that administrative tasks will not be a concern. For instance, whether it's managing your visa or other related matters, the school will provide you with detailed guidance.
(5) Scholarship support
Financial aid is crucial for international students. This school provides scholarships, but there are specific requirements. In order to excel in your studies, you may be eligible for one of two scholarship options. Keep a positive attitude! In order to excel in your studies, you may be eligible for one of two scholarship options.
1. Japan Student Service Organization (JASSO) Scholarship Program
2. Special Scholarships for International Students
School Main Services

In Japan, this school ensures that all students' needs and services are met. The school is enthusiastic about providing comfort for students to pursue their education, career, and future. The Adachi Education Group offers several services and complete facilities that support students' learning and teaching activities. Please review the following points.
| Services | Details |
| --- | --- |
| 1. Free Wi-Fi | Free internet access for all students studying at the school. |
| 2. The lounge | Student space to study, relax, or spend time. |
| 3. Library | A variety of reading materials to study and relax. |
| 4. Activity | Experience Japanese culture with cultural experiences and activities. |
| 5. Internship program | Get real work experience in a Japanese work environment. |
| 6. Language partner | Improve your communication skills with language partners. |
| 7. Accommodation for living | Help in finding the right room for you. |
Additionally, the school boasts a highly international atmosphere, robust communities, and much more. Rest assured, studying in this exceptional institution will be very convenient.
The Courses and Expenses at Adachi Education Group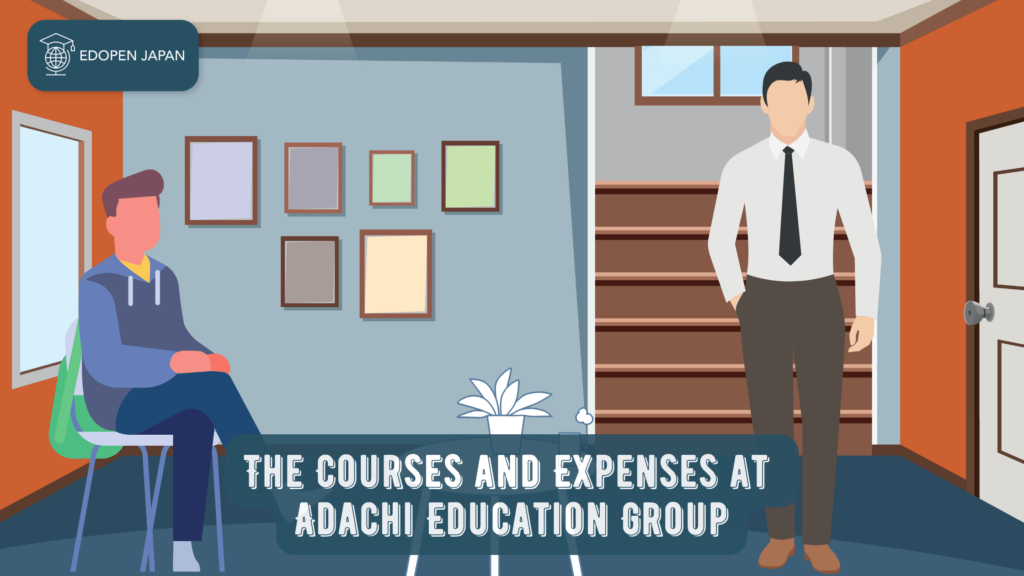 The Course
As the representative, we present an overview of the courses provided by the Adachi Education Group. The Adachi Japanese Language School in Tokyo is a long-standing language institution established in 1986 during a period of growing demand.
It's crucial to comprehend the norms of Japanese culture and society, as well as mastering the language itself, to prepare for further studies at technical schools, universities, and employment in Japanese corporations. By selecting this school, your future is much closer. Check out our three-course options available at Tokyo Adachi Japanese Language School below!
1. Business Japanese Course
2. Comprehensive Japanese Course
3. Vocational Studies Course
For more details on the highlighted courses, please click the button below. We hope you find all the necessary information.
The Course Expenses

As for course costs, we would like to provide you with succinct information. Firstly, it is important to note that the expenses associated with the course are subject to variation. This fluctuation is largely influenced by the duration and type of course you seek. Next, please review the following lists to determine the comprehensive expenses (Updated September 2023).
| Duration | Amount of Fee |
| --- | --- |
| 1. 6 months | ¥465,000 |
| 2. 1 year | ¥777,000 |
| 3. Also, 1 year 6 months | ¥1,094,800 |
| 4. 1 year 9 months | ¥1,254,100 |
| 5. 2 years | 1,411,000 |
Reviews

Referring to some of the information we have collected, the Adachi Education Group has received positive reviews and testimonials. So, what makes this school stand out? Reviewers have outlined the following advantages:

1. Teachers and staff are professional and kind.
2. The class is very interactive and practical.
3. The school provides very helpful assistance for living.

Furthermore, do you have experience learning Japanese or any other courses in this school group? We would greatly appreciate it if you would share your review with us directly by leaving feedback in the comments section below.
FAQ About Japan Vocational School and Studying Japanese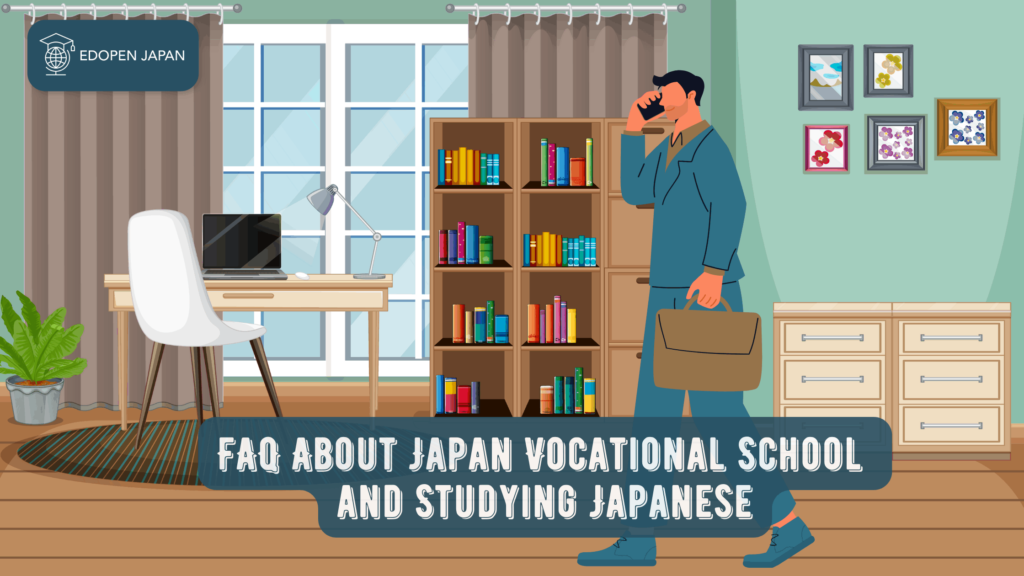 Please take a look at the FAQ we made special for you!
How do vocational schools work in Japan?
Vocational schools strive to furnish students with specialized skills, knowledge, and competencies needed for gainful employment.
How long is vocational school in Japan?
Many vocational schools offer diplomas that vary in length from two years to one, three, or four years, depending on the specific major and job requirements within the industry.
How much is Japanese language school in Japan?
Tuition fees are the highest expense for a 12-week program and can vary from ¥200,000 to ¥400,000 (about $1,800 to $3,600), plus living expenses, depending on the city and course program.
Where can I study Japanese in Japan?
It's simple – specify your Japanese language learning objectives, select your preferred Japanese city, and find the information you need on this website.
Hopefully, the FAQ above will assist you in selecting the appropriate school and city for your future endeavors.
Conclusion
In conclusion, kindly review the aforementioned points and share your feedback on the presented information. Your input is valued, and any comments or suggestions to improve our services are welcomed. We hope you gain useful insight about Adachi Education Group!