Have you considered studying Japanese in Tokyo or Osaka – two cities that are synonymous with Japan on the global stage? Tokyo, for instance, is the contemporary political, economic, and cultural hub of the country. Osaka boasts the same distinctions. This becomes even more meaningful when you can learn Japanese directly in these bustling metropolises. That offers a comfortable academic lifestyle. It must be enjoyable and an unparalleled experience.
To ease your mind, we would like to acquaint you with a Japanese language school that boasts two campuses situated in two major cities. This institution is known as Human Academy Japanese Language School. See below for complete details.
In addition, if you're currently seeking information on reputable and well-known Japanese language schools in Tokyo, please refer to our personalized recommendations below.
Read also:
Akamonkai Japanese Language School, Tokyo
SNG Shinjuku Japanese Language Institute
KAI Japanese Language School, Tokyo
About Human Academy Japanese Language School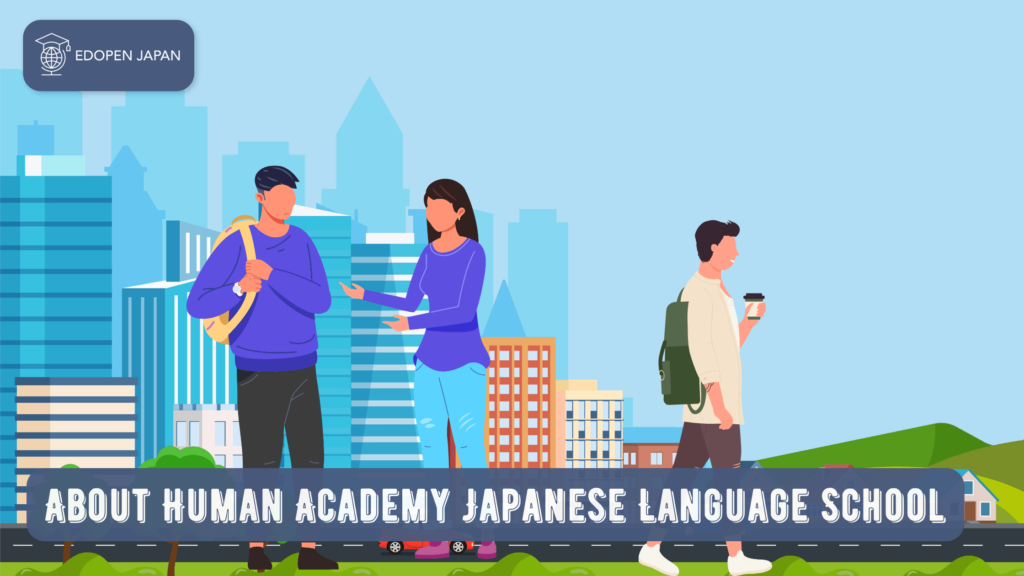 In April 1987, the Osaka campus of the Human Academy Japanese Language School, the Japanese language school for foreign students, opened. In addition, the Human Academy Japanese Language School opened on the Tokyo campus in April 1991. To this day, many people study Japanese at this school. Some of them even work in Japan to this day.
The school has 3 campuses: the Tokyo campus, Osaka campus, and Saga campus in Kyushu. The Association for the Promotion of Japanese Language Education has approved this school. The main goal of the Human Academy was to improve the international understanding and use of the Japanese language. This school actively contributes to playing an important role in improving the understanding of the Japanese language and culture.
The School Environment at Human Academy Japanese Language School
A pleasant school environment is everyone's dream. The Human Academy is very concerned about this. What can you get here? Please take a look at the following points:
1. The classrooms are well lit, clean, and have a nice decoration.
2. A spacious entrance area and convenient library to get any useful studying material, open even into the evening.
3. The supportive administrative staffs are always ready to help.
4. A computer lab that makes it easy for you to access information and many more!
The Main Features & Courses of Human Academy Japanese Language School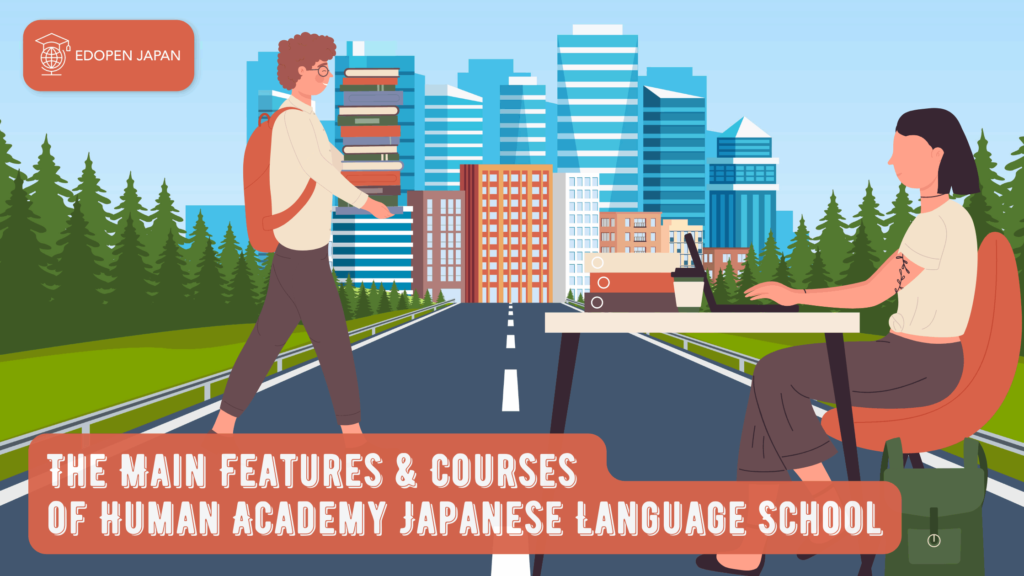 What are the advantages of this school? What kind of service can you receive. Please read the following important points carefully. If you enroll in this school, you will receive the following benefits:
| | |
| --- | --- |
| Main Features | Details |
| 1. Comprehensive guide | You will receive a detailed guide to your final destination. Whether it is to continue studies or to find a job in Japan. |
| 2. Interactive & cooperative classes | Here students will not just "listen" but are encouraged to actively participate in every learning moment. |
| 3. A variety of supportive courses | A variety of courses are offered to help you adapt to your skill level and the goals you want to achieve. |
| 4. Comprehensive Japanese cultural experience | Emphasis is placed on face-to-face interaction with Japanese people. Networking events are held regularly. Visits to schools in Japan. As well as many other interesting activities to introduce Japanese culture. |
The Courses at Human Academy Japanese Language School
In general, there are 2 main programs in this academy. They are the Higher Education pathway without a visa and the Learn Japanese more practical pathway with a visa. The details of the courses by each path are as follows:
| | |
| --- | --- |
| Courses | Details |
| 1. The courses for the higher education program (6 courses) | Graduate School Preparatory Course, Practical Japanese Course, Working Vacation Short-term Intensive Course, Preparatory Course, Short-term Course, and Elective Courses. |
| 2. The courses of Learn Japanese more program (8 courses) | Class lessons, Private lessons, Business Japanese, Special course for entrance exam preparation, Group lessons, Online school, JLPT N1 & N2 Special courses, Illustration and Drawing Design course. |
Furthermore, to clarify, we have provided in-depth information about the popular courses within each program. Kindly visit the following link for additional details.
(1) Graduate School Preparatory Course
This is a course, designed to assist those of you who wish to continue your master's or doctoral studies at a leading university in Japan. This academy will help you prepare for admission to graduate school. This includes determining your research topic, creating a research plan, and finding a research lab.
Not only that, but you'll also receive comprehensive course materials to support your postgraduate studies. You can even still contact the school if you are having difficulties after graduation. If you find it difficult to write a thesis, for example, in Japanese. Then they are ready to help you comprehensively. This academy is very active in helping its graduates to achieve the best qualifications in the fields that the graduates aspire to.
(2) Business Japanese Course
By taking this course, you can improve your Japanese language skills from an everyday level to a business level. This will help you communicate in Japanese in business situations. Especially for those who have the goal of working in prestigious companies in Japan.
Not only that, but this academy also has experience in teaching Japanese to many corporate employees. The course is aimed at countless employees and foreign executives. What skills will you practice here? Among other things, you will learn basic business etiquette and basic conversation. You will practice introducing yourself and having conversations in situations inside and outside the company.
Additionally, you will also learn expressions to ask permission or make requests from supervisors and co-workers. You will practice answering the phone and taking messages. You will also learn how to write accurate and informative emails, resumes, and notifications.
(3) JLPT N1 & N2 Special Courses
If you are interested in passing the JLPT N1 and N2, I strongly recommend that you take this course. What is JLPT and what are the benefits of having an N1 or N2 certificate. Please go here for complete information.
The Human Academy also offers this important course. The JLPT N1 and N2 Specialty Courses are designed to help students pass the N1 or N2 level Japanese Language Proficiency Test in a short period of time through intensive training. Answering techniques, test analysis, and the most important things for students to pass the test have been worked out by experienced teachers. Many have passed the JLPT N1 and N2 exams by taking this course.
The School Expenses & Support at Human Academy Japanese Language School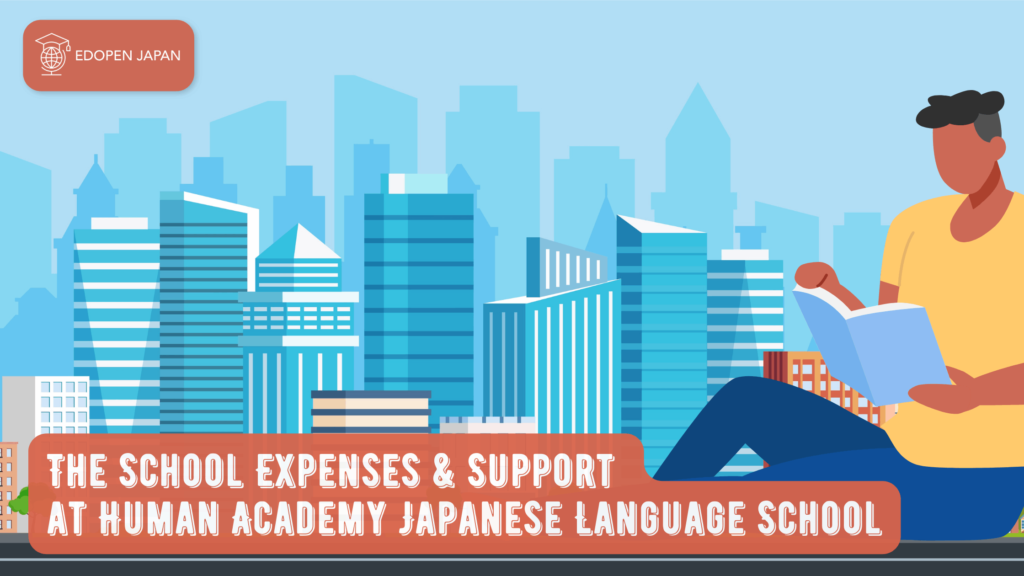 In general, there are 2 basic types of costs. They are the enrollment fee and the tuition fee. The enrollment fee is JPY 22,000 including taxes. As for the school fees, they vary. The amount of this tuition fee depends on the type of course taken and the duration of the study. If we take the example of a preparatory course with a learning duration of 1 year and 3 months, the cost is 987,250 JPY.
Accommodation Support at Human Academy Japanese Language School
At this academy, you do not have to worry about how to start a new life in Japan. The process before and after departure is completely managed by the academy. Starting from the visa application, to the departure, to the stay. Especially in terms of accommodation, the academy will introduce and guide you to various support such as how to get the best and most affordable apartments, and the like.
Reviews of Human Academy Japanese Language School
According to various sources on social networks that we have met, Human Academy has received good reviews. This academy is rated 4 stars and above. You can see what benefits the reviewers like below.
1. Very supportive and helpful teachers.
2. Friendly staff and very helpful.
3. Professional school and teachers.
4. Good school environment.
5. Good quality of learning.
What do you think? Please share your experience if you have learned Japanese at this school. We would be very grateful if you would share your story with us.
FAQ about Learning Japanese at Human Academy Japanese Language School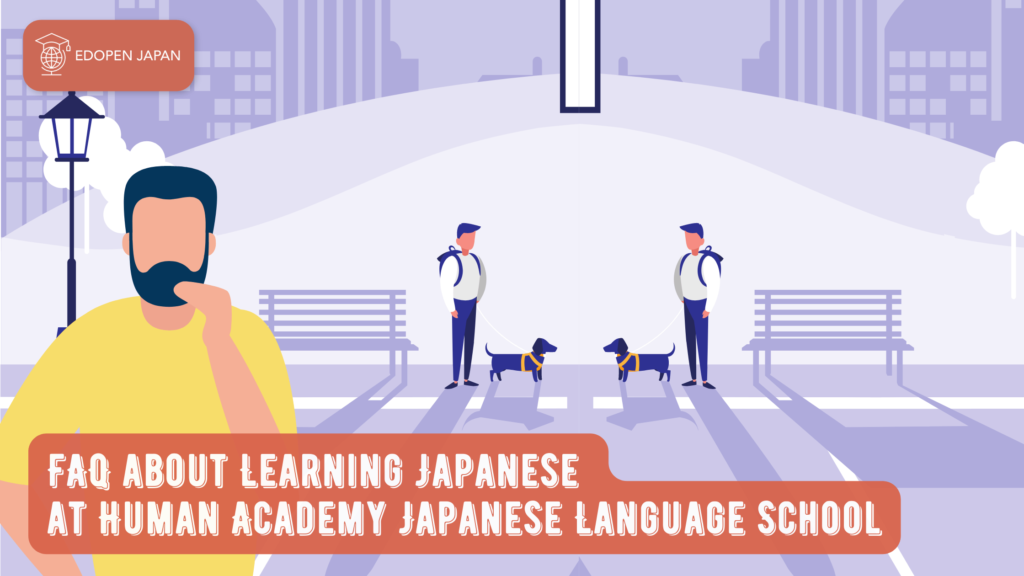 The following are questions you might have about learning Japanese at the Human Academy Japanese Language School. Please read our discussion below.
How much does it cost to go to Human Academy Japanese language School?
Please check our discussion above. All depend on the course type and duration selected.
Can I learn Japanese by myself?
Of course. However, to learn Japanese in a more sequential, comprehensive manner that leads to significant results, we highly recommend participating in intensive classes offered at Japanese language schools, such as the Human Academy.
Is 2 Years enough to learn Japanese?
Two years is a significant amount of time, especially if you are committed to intensive study at a Japanese-language school. Your results could be outstanding, and it may even be possible for you to attain JLPT N1 proficiency.
Do you have any questions about studying Japanese at a language school like Human Academy? We hope the information we provide is helpful.
Conclusion
In conclusion, we kindly request that you reconsider the above points. Please share your thoughts on the information presented. We welcome all feedback, including suggestions for future improvements. We trust that the information provided has provided you with valuable insights into Human Academy Japanese Language School.
Thank you for reading until the end and for your kindness. We greatly appreciate it. We hope you found the information we provided valuable and we look forward to your presence in our upcoming articles.