Japan remains a strong and stable third-largest economy after the United States and China. Living and pursuing a career in Japan is a dream of many young people today. However, to be competitive and succeed, mastering the Japanese language is essential.
On the other hand, developing one's proficiency in Japanese opens up job opportunities. Moreover, it is common knowledge that Japan boasts of world-renowned companies that dominate multiple industries.
Additionally, to expand your horizons, we will acquaint you with regions in Japan beyond Tokyo and Osaka, such as Okayama Prefecture. This prefecture is renowned for its delectable fruits and is home to Momotaro, the local icon and hero known as "The Peach Boy." Hence, studying Japanese in Okayama would be the optimal choice.
Therefore, in this article, we'll showcase a top-quality Japanese language academy that is highly sought-after by foreign students in Okayama. Read on to discover more.
To gain a comprehensive understanding and compare the top Japanese language schools, we also recommend exploring some of the best institutions in other major cities. We have compiled a list of links for your convenience.
Read more:
9 Best & Most Popular Japanese Language Schools in Tokyo
10 Most Popular Japanese Language Schools in Kyoto
9 Most Popular Japanese Language Schools in Osaka
A Brief Overview of Okayama Institute of Language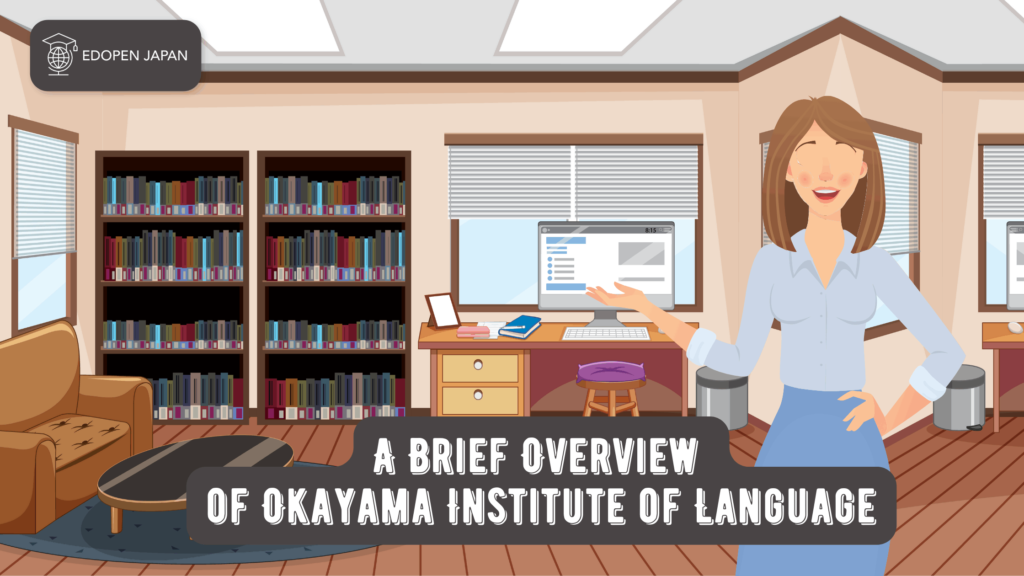 The Okayama Language Institute provides Japanese language instruction to cultivate a global mindset in young learners and establish connections on a worldwide scale. Situated in the city's epicenter, the institute draws aspiring students from around the globe. Additionally, since its establishment in 1992, the Okayama Language Institute has become one of the biggest Japanese language schools in both the Chūgoku and Shikoku regions.
Additionally, the institute provides a diverse range of courses that concentrate on enhancing specific Japanese language skills intensively and significantly. All individuals are welcome to study at this institution, either for college education or employment opportunities in Japan.
Furthermore, the Japanese language school offers various courses, such as short-term programs and work-study courses, tailored to students seeking concise lessons with specific objectives. Experience has demonstrated that students have achieved perfect scores on the JLPT N1 exam over the past four years, providing evidence of the institute's exceptional quality in education.
Institute Location
Okayama is an affordable and comfortable alternative to Tokyo. Cyclists will appreciate that the city is bike-friendly and that there are no transportation fees. The locals are hospitable and welcoming. Moreover, the Okayama Institute of Languages is conveniently located in the city center.
In addition, Okayama is often called the "sunshine country" due to its sunny weather and minimal risk of natural disasters such as typhoons and earthquakes. The school is conveniently located just 10 minutes away from Okayama Station by taxi or 15 minutes by train.
Student Demographics
This renowned institution has a highly diverse student body representing 20 countries and regions. Specifically, the majority of students hail from China, Vietnam, and Indonesia, with a smaller percentage comprising short-term students from Russia and Italy. Let's take a closer look at the percentages below!
| Country | Percentage |
| --- | --- |
| 1. China | 57% |
| 2. Vietnam | 19% |
| 3. Indonesia | 13% |
| 4. Europe & US | 3% |
| 5. Nepal | 3% |
| 6. Myanmar | 2% |
| 7. Other countries | 3% |
The Main Features and Services of Okayama Institute of Language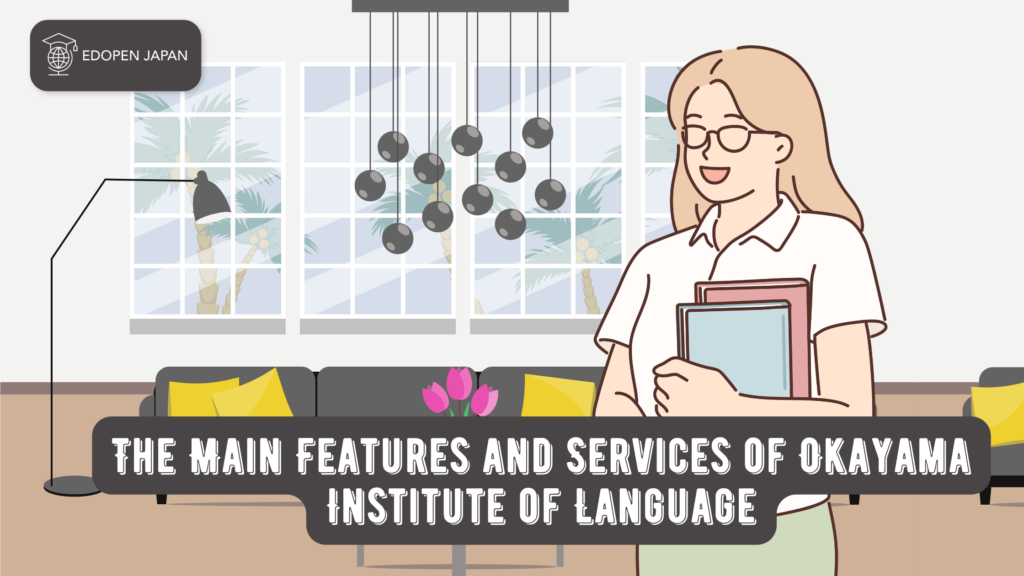 Institute Main Features
The Okayama Institute of Language has been providing exceptional services for over 20 years. The school prides itself on its experience, commitment, and unwavering dedication to quality. Therefore, prospective students can rest assured that they will receive the best possible education from the Okayama Institute of Language. The institute boasts a variety of distinctive features, some of which include:
Curriculum with structured courses designed to ensure steady progress in the acquisition of practical Japanese language skills (speaking, listening, reading, and writing).
Comprehensive guidance regarding further education. Preparation for the Japanese College Examination and the Japanese Language Proficiency Test (Level N1).
The opportunity to gain an understanding of Japanese customs and traditions through participation in cultural activities.
Institute Main Services
What support and services are available to you as a part of this institute? Take a closer look at the following offerings:
| Services | Details |
| --- | --- |
| 1. Post-graduation guide | The Okayama Institute of Languages provides academic and career guidance for those who wish to attend Japanese graduate school or college or work in Japan, advising them on school options, assisting them with resume writing, and training them for job interviews. |
| 2. Part-time support | The school offers support by posting available part-time jobs in the area and preparing you for interviews. So, it's possible to get a part-time job. |
| 3. Support finding a full-time job | From preparing you for job interviews to teaching you proper business Japanese, the school offers support when you're ready to enter the Japanese workforce. |
| 4. Multilingual staff | There is English-speaking staff to help you with any problems that may arise during your stay at the school. |
| 5. Wi-Fi | Free WIFI is available for students. |
| 6. Special learning rooms | Mingle with your fellow students or study last minute in the student lounge. There's a dedicated space for students to focus on their studies. |
| 7. School Library | There's a modern library with books and other resources available to students. |
| 8. Hall | There's a wide auditorium for all students. |
Additionally, this excellent school boasts amenities such as bike parking, a complimentary computer corner, and much more. This guarantees a convenient and comfortable studying experience.
The Courses and Expenses at Okayama Institute of Language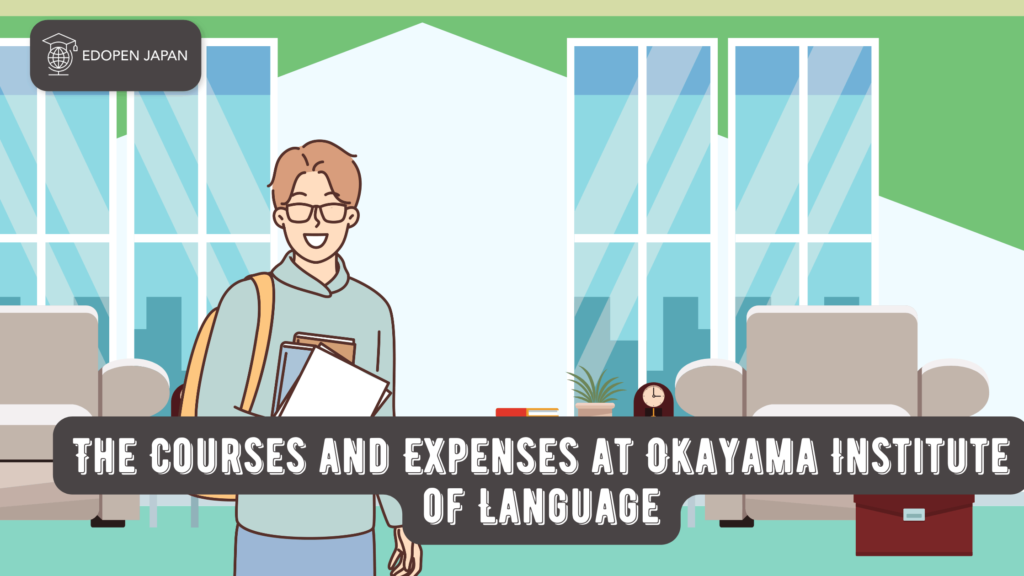 The Courses
There are multiple courses available at the Okayama Institute of Language. Please find information about the two courses below:
(1) Pre-college course
You can learn Japanese for 6 months to 2 years after obtaining a student visa. In addition to instruction on speaking, listening, reading, and writing in Japanese, you can also receive training on test strategies for both "The Examination for Japanese University Admission for International Students (EJU)" and the "Japanese Language Proficiency Test (JLPT)."
Feature of this course:
1. Carefully outlined classes tailored to the student's level.
2. Strategies for obtaining a high score on the Japanese-Language Proficiency Test.
3. One-on-one advice and career consultation with homeroom teachers and specialized staff.
(2) Pre-College Course for Non-student Visas
This program caters to individuals wishing to attend college or technical school in Japan or pursue employment opportunities there. Students study Japanese together with international peers with the same curriculum. Students then participate in recruitment fairs for colleges and technical schools as well as job fairs.
Additionally, students may opt to take preparatory courses at universities, colleges, and technical schools for specific subjects. Students interested in attending high school in Japan will be provided with Japanese language instruction and guidance for their entrance interviews).
Feature of this course:
1. Carefully outlined classes tailored to the student's level.
2. Strategies for obtaining a high score on the Japanese-Language Proficiency Test.
3. One-on-one advice and career consultation with homeroom teachers and specialized staff.
(3) Intensive Course
Students in this program will study Japanese alongside international students using the same curriculum. Periodic tests and mock exams will evaluate their language proficiency. Students will also participate in activities such as daily life orientation seminars, traffic safety seminars, and school field trips, where students can obtain the necessary information required for daily life in Japan.
Feature of this course:
1. Carefully outlined classes tailored to the student's level.
2. Strategies for obtaining a high score on the Japanese-Language Proficiency Test.
Further, to obtain more details about this long-term course, as well as other courses, please click the following button. We hope you find the information you need valuable!
The Course Expenses
For information about course expenses, please note that they can vary based on the course duration and type. As a representative example, here are the expenses for the Pre-College course in total:
The course duration and tuition in total for the Pre-college course as follows:
| Duration | Amount of Tuition (Total) |
| --- | --- |
| 1. 6 months | ¥411,000 |
| 2. 1 year | ¥751,000 |
| 3. 1 year 6 month | ¥1,091,000 |
| 4. 2 years | ¥1,431,000 |
Further, to obtain additional information regarding the specifics of this extended course and associated expenses for alternative courses, please click on the provided button. We hope you find the information provided to be useful!
Reviews
According to our research, the Okayama Institute of Language has received a rating of four stars or higher. So, what are the benefits of this language center? The reviewers have cited the following advantages:
1. Teachers and staff are very supportive.
2. The school location is convenient.
3. The classes are interactive, well-planned, and easy to understand.
Furthermore, what do you think about it? Do you have any experience learning Japanese at this institute? We would be very happy if you would share your review directly with us. In addition, please leave your feedback in the comment column below!
FAQ about Learning Japanese and Japanese Language School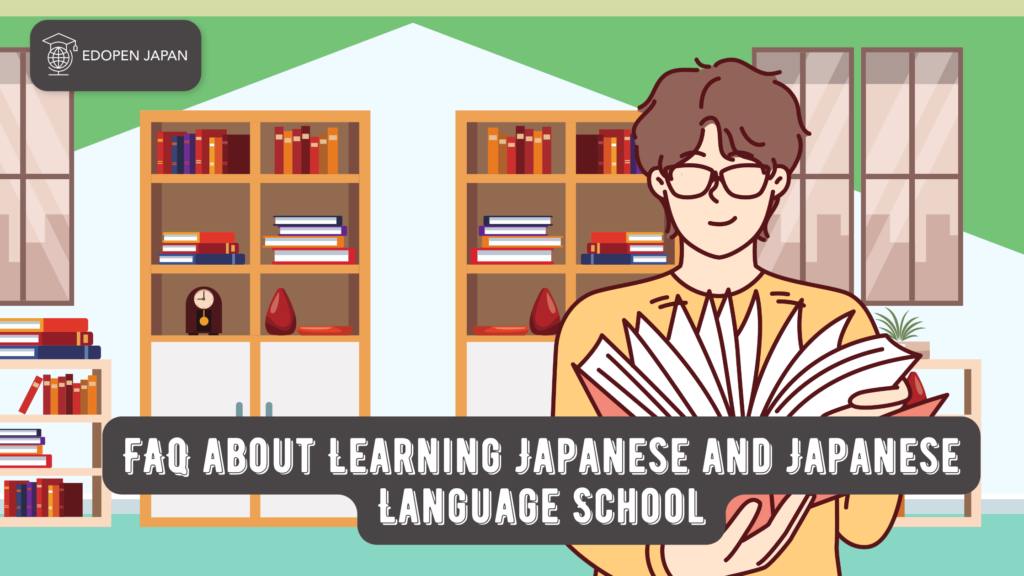 Below we have made some FAQs to hopefully help answer your questions about learning Japanese as well as the Japanese language school in Japan!
There are numerous ways to begin one's learning journey. Typically, novice students opt to immerse themselves in Japanese entertainment and cultural arts to gain a solid foundation. One could start by enjoying anime, J-pop, or manga, and subsequently dive into learning hiragana and katakana.
Is Japanese Studies hard?
Although Japanese is often considered a challenging foreign language, one's ability to learn it depends on the individual. Those who approach Japanese with discipline and seriousness can make rapid progress while still having fun.
Is Japanese Studies hard?
Start by learning hiragana and katakana, then move on to grammar. Learn some essential phrases and pay attention to flashcards. Practice speaking aloud and be disciplined in repeating and reviewing.
How much does it cost to study at a Japanese language school?
A 12-week language course usually costs between $900 and $1,800 (¥100,000 to ¥200,000). Monthly accommodation fees can vary from $180 to $450 (¥20,000 to ¥50,000). Although this may seem like a considerable sum, you may obtain part-time jobs and scholarships to offset expenses.
These are some of the FAQs you made, please take a good look at the points above and hopefully, it can help answer your questions!
Conclusion
In conclusion, we kindly request that you review some of the aforementioned points. We appreciate any feedback you may have regarding the information presented and eagerly look forward to receiving your comments and suggestions for future enhancements. We sincerely hope that you have gained valuable insights about the Okayama Institute of Language!