Every foreigner in Japan has numerous reasons, for example, to continue his/her studies, work, or because someone marries a Japanese person. For those who reside temporarily, both short and medium-term, then they must have a Residence Card. Especially if you are willing to live in Japan. After getting the Visa and landing safely, what is the first step you should take when you arrive in Japan? The first thing to think about when starting your journey heading to Japan after obtaining a visa is the Japanese Residence Card.
In Japanese, it is called Zairyu card. With this card, a person can legally live in Japan because they have obtained permission from immigration. If you want to live in Japan, of course, you have to go through many administrative processes. These are needed important documents that you must obtain to live in Japan. Those documents require the most first important that is a residence card. You could say zairyu card is a temporary ID card while in Japan. Therefore, if you have got it, it must be maintained as best as possible. It can't be lost or loaned to someone else. In this article, we will discuss things comprehensively related to the card.
Let's dive deeper to spend your happy time in Japan.!
1. What kind of residence card or zairyu card
The short explanation of Residence Card (Zairyu Card; 在留カード ) is an identity card for non-Japanese residents in Japan, and is issued by the Ministry of Justice (Hohmusho 法務省). Zairyu Card; 在留カード is embedded IC chip, replaced the previous alien registration card (gaikokujin-toroku-shomeisho) on July 9, 2012, This card is required to be held by most long-term residents who possess citizenship from a country other than Japan, when they are granted permission to stay in Japan, such as when given landing permission, permission to change their status of residence, permission to extend their period of stay, and so on. It is also required that a resident always carry this card with them to prove their resident status. It doesn't matter if you are in Japan for any purposes. This card contains information such as your name, last name, date of birth, nationality, and address. You can further check your visa status, expiration date, and record of your activities while in Japan
2. How to get a Japanese resident card?
Obtaining a Japanese residence card as well as a Japanese residence card requirement in Japan is very simple and the process can be completed upon arrival at a Japanese airport. If you are arriving in Japan from one of the following international airports: Narita, Haneda, Kansai, or Chubu, a residence card (Zairyu card) will be issued directly to you upon your arrival.
The fingerprint and photo are taken, and then the card is ejected. The Zairyu card has all the most important information printed on the front of the card as well as on the IC chip inside the card. your detailed information will be recorded on the Japanese residence card. After getting it. Within 14 days of settling in your new place of residence, you must go to the local municipal office with your passport and Zairyu Card. The office will ask for your new Japanese residential address, and the address will be entered into the database and printed on the back of the Zairyu Card. If you change your address, you will be asked again to go to the mayor's office to do this.
3. Requirements Documents
Not everyone could obtain a Zairyu card. Only people with special interests and have certain goals can have it, such as students, workers, apprentices, someone who is married to a Japanese citizen, or children who have Japanese descendants. If it's only for tourism, then they can't apply for this card. When making an application, one must prepare several required documents. This is mandatory to meet administrative requirements. These documents are:
Certificate of Eligibility (CoE) / Certificate of Eligibility issued by Japanese immigration as proof that a person may enter Japan for the purpose for which he is applying.
Application form
Revue stamps 4,000 yen
Photo
Passport
Other supporting documents, such as student certificates when in Japan for school, employment certificates, and so on
4. How important is a Japanese residence card
Humans can't be separated from mistakes and forgetting. So don't be surprised if sometimes there can be cases of losing Zairyu ka-do. You should keep in mind that this Zairyu ka-do is a mandatory card that every foreign student who stay in Japan for more than 90 days must hold. If you don't have this card or the temporary documents, you will be in trouble. The Japan residence Card benefits are for use such as opening a bank account, renting an apartment, or subscribing to a telephone package. and get primary health and insurance. You should always carry it with you so you can show it during identity checks. If you don't take it, you may have to pay a fine of up to JPY 200,000 and be sentenced to one year in prison, the most severe case. It may seem complicated but once you get a Zairyu card in Japan and register your details at the nearest municipal office, your life in Japan will be easier and will help make your life in Japan simpler.
5. What should you do if your Japanese residence is lost or stolen
In case lost residence card in Japan, or stolen, you must report it to the police (as theft) and then apply for a new card. The police will direct you to the nearest immigration office. Then you need to visit the nearest Immigration Office with your passport as your primary identity card. Furthermore, after following the process and cross-checking from the immigration to the police station. You will get a replacement card. However, it should be noted that. You may be asked to write a brief description (in Japanese) explaining how your card was lost or stolen. Ask a Japanese friend or relative to prepare this if you can't write Japanese. this is where you need to learn the braided language before leaving for Japan, because very few Japanese people are proficient in English, at least you can speak for daily needs or administrative purposes.
If your zairyu card is lost or stolen overseas, you must apply for a replacement at the nearest Immigration Office within 14 days of your return to Japan. an airline may ask to see your zairyu card before flying back to Japan. ask your friends or relatives to file a "Re-entry deadline certification application" (sai-nyu-koku-kyoka-kigen-shomeisho ) at the Immigration Office and send it to you by email or fax. Your partner will be your representative and will fill in all your detailed information that will be required by the immigration office in Japan.
6. Renewal of your Japan Residence Card
Most residency statuses allow you to stay in Japan for a period of between three months and five years. In case the Residence card expired in Japan, and if you wish to stay longer, you must apply for an extension at the immigration bureau in Japan before the expiration date of your current residence permit.
The application process is relatively simple, provided you still meet the requirements for certain residency statuses. It usually takes a few days or weeks to process an application, and you may remain in Japan during that time even if your previous residence permit temporarily expired.
They must renew it within 30 days from the expiration date printed on the card, after 5-7 years. 7 years for permanent residents and 5 years for Spouse or Children Japanese Citizens, persons with employment status as "Engineer", "Humanities/International Service Specialist", etc. Excludes "Entertainers" and "Technical Intern Training". More detail moving into this website http://www.immi-moj.go.jp/newimmiact_1/en/index.html
7. Zairyu Card Picture
Front view image of the Japan Residence Card or Zairyu Card is the following,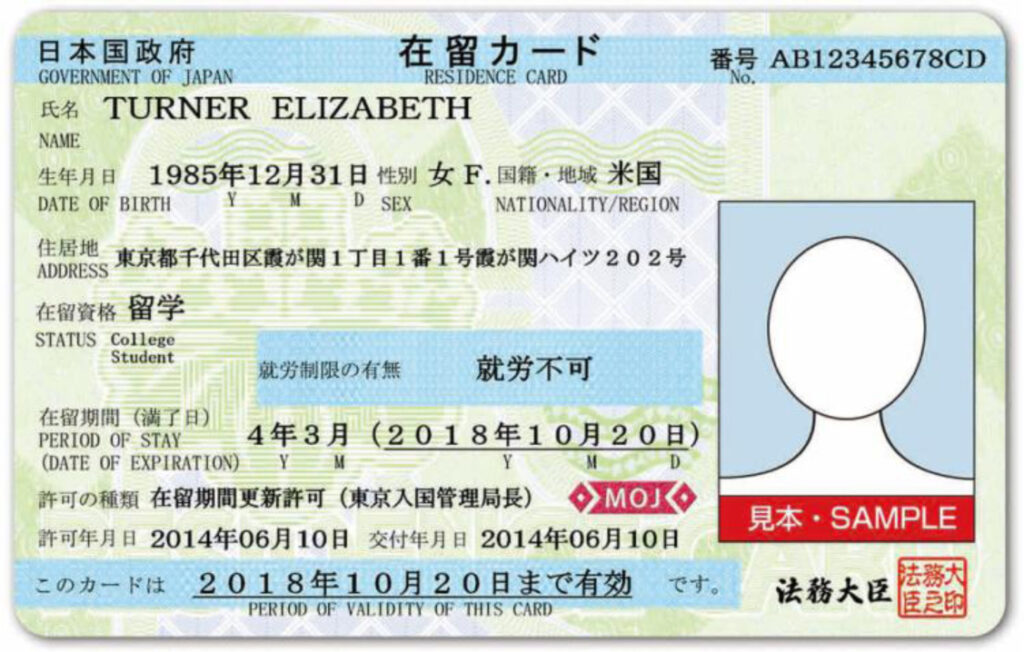 Moreover, the back image as follows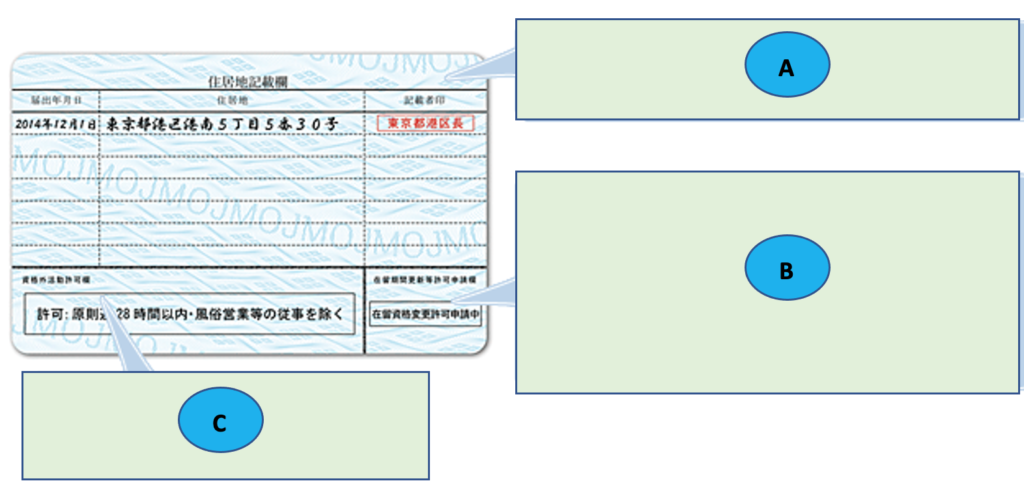 A part will be written as the new address after moving. Please always report your address to your nearest ward office or municipal city office.
B part indicates when the application for extension of stay or application for change of residence status is being processed.
C part shows permission details when receiving permission to perform activities other than those permitted by the previously granted residency status.
IN ADDITION, WE GIVE YOU THE FOLLOWING THINGS TO LOOK OUT FOR AGAIN!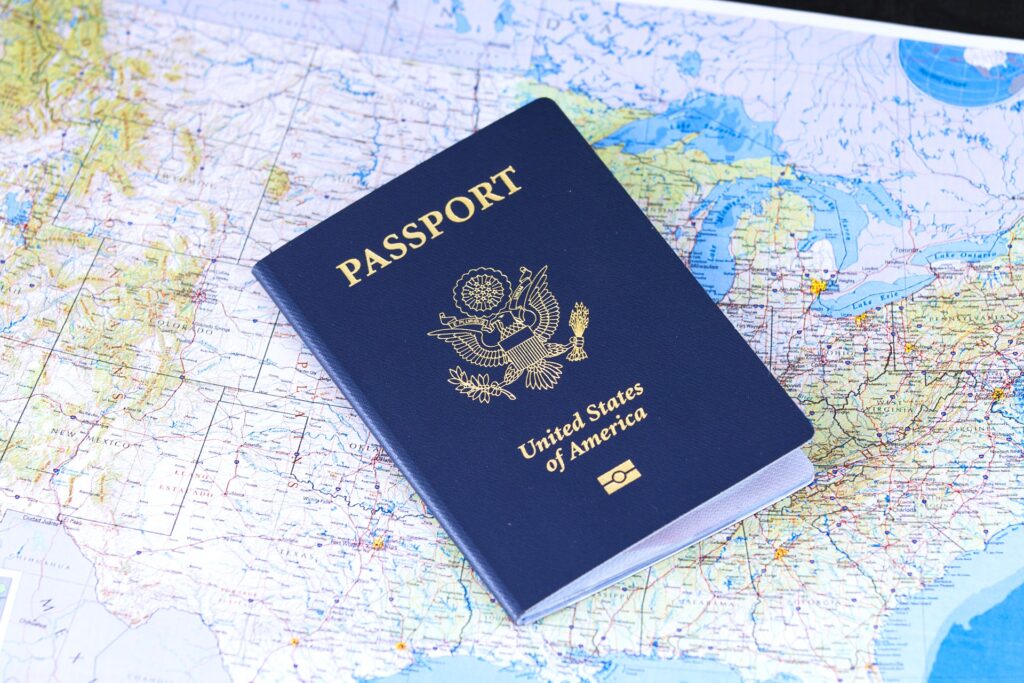 Zairyu card is an official card that a person can live in Japan for a long period. The importance of the Zairyu Card is similar to your passport. In this card, the information listed is a photo, personal identity, original nationality, address and in Japan, status and type of residence permit, card number, and expiration date that are extremely confidential for you. Seeing the importance and privacy of these data, here's what to pay attention to when having a Zairyu card:
Must Always Bring
As a foreigner in Japan, you should not forget to take your Zairyu card with you everywhere. Japanese immigration officers occasionally conduct random checks on foreigners on the street. So as not to be considered an illegal person, show this card to the officer. But, remember, do not carelessly show the Zairyu card before the officer shows their identity.
Don't ever lend it to someone else
Jangan meminjamkan kartu ini kepada orang lain apapun alasannya. Hal ini termasuk ke anggota keluarga sekali pun. Tindakan tersebut dianggap kriminal di Jepang. Selain itu, dengan menjaganya baik-baik bisa menghindari seseorang dari penyalahgunaan zairyu card. Risiko terburuknya bisa saja berurusan dengan hukum nantinya.
Report Loss SUPER ASAP and Immediately Create a New
Indeed, sometimes there are things you don't want to happen. If someone loses a Zairyu card, they must report it immediately and make a new one. The time to get a new card is about 14 working days. If you exceed this time limit, you will be subject to a fine of 200,000 yen and even jail time.
Report to City Hall If Changed Address
When receiving a zairyu card, make sure the address in Japan listed their matches the actual one. If you change your place of residence, you must immediately report it to the local city hall. The officer will replace the address on the card with a new place of residence so that the information is official and appropriate.
Report to Immigration If Changing Identity
Any changes must be reported to the local government. In addition to reporting to the city hall, information changes must also be notified to the immigration department. This change must be reported within 14 working days to the local immigration office.
Summary
When you live in Japan, Zairyu Card is your life card.
Please carefully bring and notice your japan residence card expired date and renew it intime.
Never lend it or even show it to someone else except Person in Charge of Certain Office such as ward, city, municipal, so on and carefully remember and watch what they do with your Residence Card.