Tokyo is known as one of the most expensive cities in Japan. From our staff experience as a working single adult in Tokyo, the expectations sometimes match the reality.
Being the central city in Japan, convenience and abundance of choices do come at a price. In this article, we will go over the cost of living in Tokyo from a single person's and a couple's point of view.
Please note that the figures provided are estimates only, and should be used as a guide only, depending on individual preferences and lifestyle choices.
In addition, if you are currently looking for the best places to study in Tokyo, please read our recommendations below:
Read also:
The Acceptance Rate of Waseda University
The Acceptance Rate of Tokyo University
The Acceptance Rate of Keio University

An Overview of Tokyo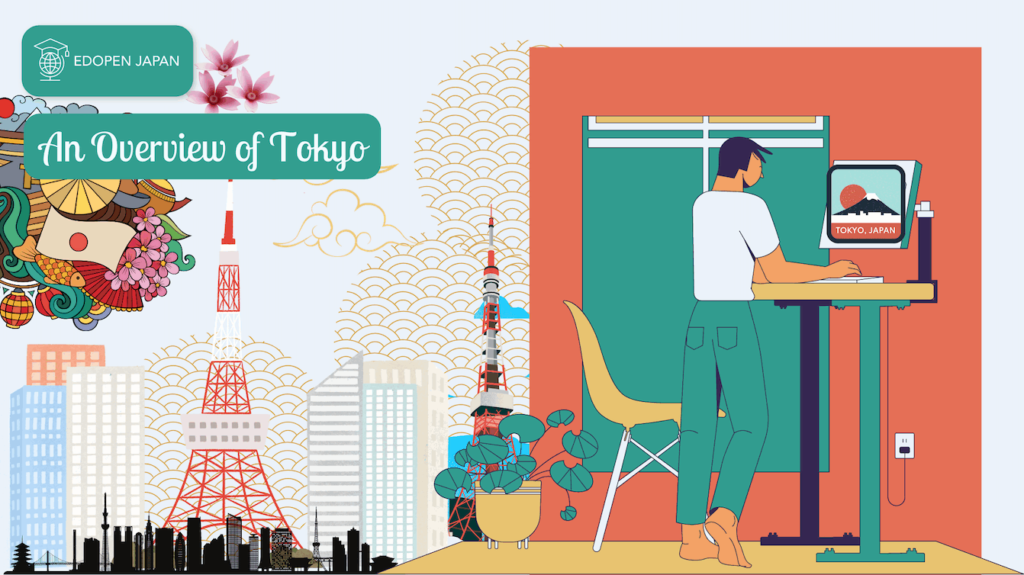 Let's start with a quick overview of life in Tokyo. Tokyo is the capital city of Japan. It is a city that many foreigners live in when they first move to Japan. There are many amenities available to the residents of this city.
An estimate of the cost of living for a single foreigner working in this bustling city ranges from ¥140,000 (USD 1213) and up. This estimate varies depending on individual preferences and lifestyle choices, but serves as a good guideline for those considering moving to Tokyo for the first time.
As a couple, this estimated cost of living range may be slightly higher at ¥240,000 (USD 2079) and above. Again, this is only a guideline and will vary based on individual preferences.
Average Salaries in Tokyo
Before we get into the details of the cost of living in Tokyo, let's talk a little about salaries. Salaries in Tokyo are known to be higher than in rural Japan. For an entry-level position, the salary can range from ¥200,000 (USD 1732) to ¥270,000 (USD 2339).
A mid-management position can range from ¥300,000 (USD 2599) to ¥380,000 (USD 3292), and so on. The higher the position, the higher the salary. This range is only a guideline and varies based on actual job contracts. Knowing the salary range can be helpful in estimating the cost of living when setting a budget for living in Tokyo.
The Cost of Living in Tokyo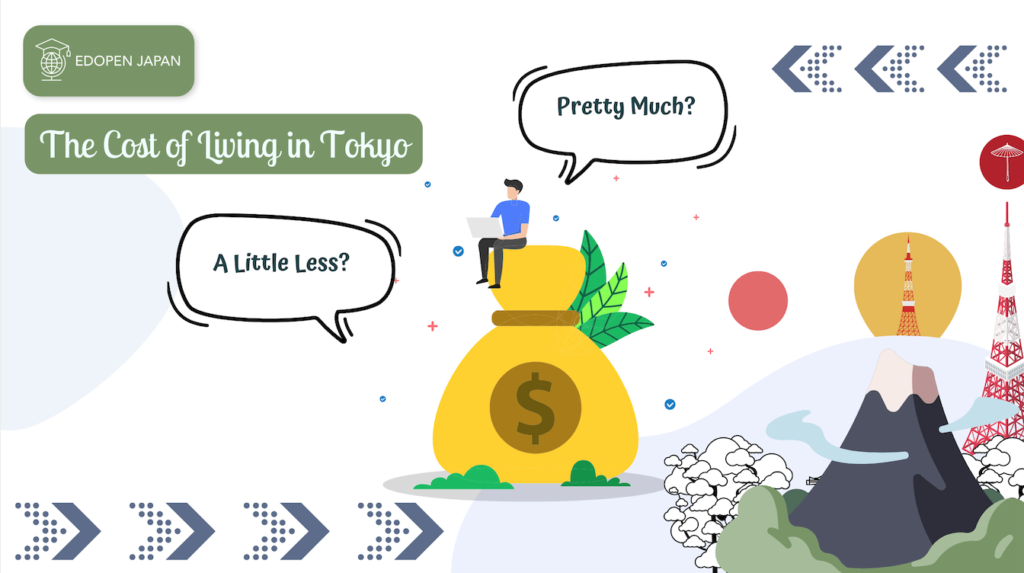 Now for the cost of living details! I have divided this section into 4 main categories: from rent to food costs. I have also included estimates for a single person and a couple.
(1) Rent
One of the most stagnant fixed variables in any individual or couple's expense budget is rent.
Depending on the city and the distance from the nearest station, the rent may vary. Living in the central areas of Shibuya and Shinjuku may be more expensive than living in northern parts of Tokyo such as Adachi-Ku.
Along with the location factor comes the apartment size factor, which also determines the rental price. The larger, the more expensive. Most apartments are unfurnished and come with some initial costs such as deposits and key money.
A standard apartment in Tokyo for a single person or couple is usually a room or kitchen unit that is approximately 20 to 50 m2. Utilities and internet are not included in the rent (based on the tenant's actual usage). In addition to the monthly rent, there is a management fee, which isn't too high (around ¥5,000).
As mentioned above, the initial costs are quite high and can be as much as ¥200,000 (USD 1730), not including the first month's rent. Make sure you have enough savings when you first sign a lease in Japan.
On average, a one-bedroom apartment in Tokyo costs between ¥50,000 (USD 433) and ¥150,000 (USD 1299), depending on the location. This room type does not include a kitchen, living or dining area, but usually has a small single electric or gas stove in the room for tenants.
(2) Other Renting Options
There is also the option of renting a shared house in Tokyo, which can be a popular option for those who want to make friends in a new city. The rent for a shared house is usually inclusive of utilities and internet. A house is shared by more than 2 roommates, and there are common areas such as the living room area and shower rooms that are shared.
The average price of an apartment in Tokyo ranges from ¥60,000 (USD 520) to ¥100,000 (USD 866). There is also the option of community apartments, which house more than 12 tenants and offer a variety of shared amenities for tenants, such as a gym and movie theater.
The average price of a public housing apartment in Tokyo ranges from ¥70,000 (USD 606) to ¥120,000 (USD 1040). A much cheaper alternative is to rent a dormitory-style room in a shared house, where the room is shared by 2 or more people. There is less privacy, but the rent is much lower, starting at ¥25,000 (USD 216).
(3) Notes with renting in Japan
When renting an apartment or shared accommodation in Japan, it is advisable to use a real estate company. There are a few English-speaking real estate companies such as GaijinPot Housing and RealEstate Japan. The real estate company will be able to advise and help you with your housing search.
(4) Transportation
Living in Tokyo is very convenient with a very well-connected public transportation system.
There are several train companies and various train lines such as the JR, Metro, and private lines such as the Tsukuba Express. A one-way train ticket costs from ¥198 (USD 1.72) and up. The further the distance, the more the train ticket will cost.
Monthly commuter passes are also available. On average, monthly transportation costs would be around ¥4,000 (USD 35) and above.
Driving a car is rare in Tokyo. Apartments come with limited parking spaces, so driving isn't really a popular choice. Owning a car also comes with a monthly commitment that depends on the car model, mileage, and frequency of use, making it easier for couples and singles to opt for the train option.
(5) Food
Meals! A favorite topic for many.
Tokyo is famous for its variety of food. A restaurant meal starts at ¥1,000 (USD 9) and up for a single adult. For a couple, a restaurant meal can cost from ¥6,000 (USD 52) and up.
Food can be a little more expensive than in the country. Shopping hours are a big advantage for consumers. Most prepared meals are sold at a discount after seven in the evening. Monthly food costs depend on the frequency of cooking and meal preparation.
Cooking is said to be cheaper than eating out. From a single person's perspective, the cost may be so similar that it becomes indistinguishable. That is why you may see many single men and women eating out after work. From a couple's perspective, cooking at home for two can save a lot more than eating out.
(6) Entertainment
There is a wide variety of shops and clothing lines to choose from in Japan. Shopping in Harajuku can be more expensive than in the outskirts of Tokyo. However, prices in retail stores are consistent and can make up a large portion of your monthly expenses.
Dining out with friends or going to the local karaoke bar also falls into this category. Socializing and exploring the city with friends is fun, but can be expensive. An estimate would be around ¥30,000 (USD 260) and up. Again, this depends on how much socializing, shopping, and cafe hopping the individual or couple does per month.
The Example of Expenses in Tokyo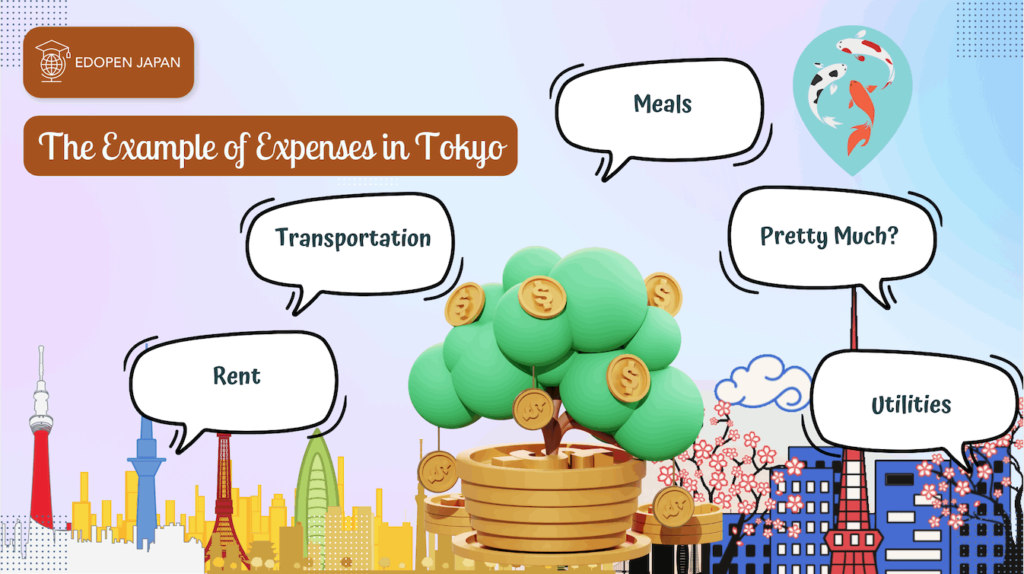 Let's take an example for comparison: A young professional in his late 20s works and lives in Tokyo. He rents an apartment in central Tokyo and often goes out with his friends. He hardly cooks in a month. His expenses could be estimated as follows:
Rent: ¥69,000
Utilities: ¥12,000
Internet: ¥4,500
Mobile bill: ¥5,500
Entertainment: ¥55,000 (¥5,500 per day for 10 days – weekends)
Meals: ¥50,000 (¥2,000 per day for 20 days)
Transportation: ¥4,000 (for the weekends)
Total: ¥200,000
This example is just an estimate. Expenses may be lower or higher depending on individual preferences. Since this example spends a lot on entertainment, meals, and rent, given that he lives in the central area of Tokyo, his expenses may be quite high for a single person in Tokyo (if he has a partner, the expenses for entertainment, meals, and transportation may be correspondingly higher).
Summary
The cost of living in Tokyo varies depending on lifestyle choices, location, and income. As a student, the cost of living may be lower if you live in a dormitory and receive cheaper meals from the school. Transportation costs may also be eliminated if you live within walking distance of most major areas in Tokyo.
We hope that we have covered the main areas when determining the cost of living in Tokyo. We also hope this article is helpful! See you next time.