Are you looking for the best Japanese language courses in London? Or, are you also looking for opportunities and want to work in a Japanese company in London? Where having an official certificate of Japanese language mastery is mandatory. In addition, we are here to help you find the best Japanese tutors in London.
Further, here we have summarized 5 well-known and trusted Japanese language learning centers in London. Although, you might have also come across various information related to this. Unfortunately, are they really useful and trustworthy? You definitely need a reliable and complete reference from us.
Therefore, the following 5 best Japanese language learning centers in London are the references you need the most. With a long history of providing extensive as well as growing Japanese language classes. And also, provides a wide array of Japanese language and culture exchange programs as well. These 5 greatest places should be on your list.
In addition, we also provide other options for those who want to learn Japanese with more flexible and personalized hours. Everything you need to learn Japanese and find the best Japanese teachers in London is in this article. Okay, let's get started!
About London
London is the capital of the United Kingdom. This historical city has long been one of Europe's great cities. It is sought after by many tourists on vacation and in search of the best universities in the world. Today, London is the largest city in Europe with over 7 million people. And the population is made up of many ethnicities. There are currently 200 different ethnicities living in London. Not only that, but you can also find 300 different languages from all over the world.
Furthermore, the City of London has a wealth of world history with 300 museums. Over 200 performance venues and over 250 galleries across the city. Around half of Londoners visit at least one museum or gallery every 12 months. If you visit the City of London you will be able to see the world-famous symbol, Big Ben, London Bridge, and even the famous borough market.
Ultimately, London is a leading global city that excels in the arts, business, education, entertainment, fashion, finance, healthcare, media, professional services, research and development, tourism, and transportation. Making it a great choice for travel, education, career, and housing for global citizens.
5 Most Popular and Highly Recommended Places to Learn Japanese in London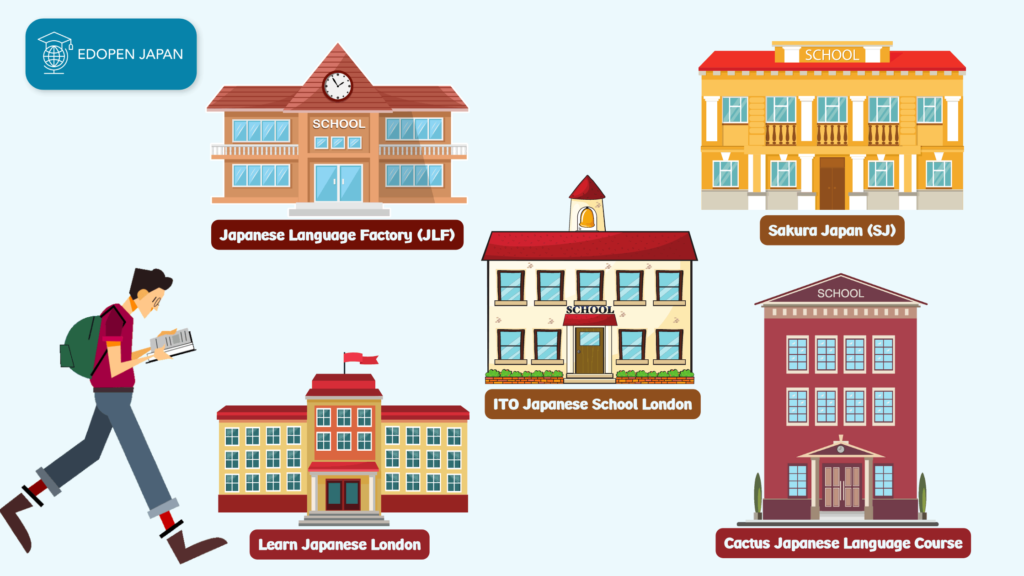 Here are the 5 most popular and highly recommended places to learn Japanese in London you absolutely need to know! Hope you find the best one!
1) Japanese Language Factory (JLF)
Ms. Terumi Kai founded the Japan Language Factory (JLF) in 2016 in London. She speaks several world languages. This course emphasizes offering those who can communicate proficiently in Japanese within 2 months intensively.
Further, JLF teachers do not focus too much on grammar but speak naturally like a typical Japanese person. Meaning JLF will train students to speak frequently with native Japanese teachers.
JLF will also teach students like a child who is able to absorb vocabulary every day. Therefore, this course emphasizes speaking Japanese every day and listening to native Japanese teachers more.
Moreover, JLF is not only a Japanese language school, here you also can learn Japanese speech. Unfortunately, since JLF is more about speed speaking practice, it does not offer classes for JLPT exam preparation. And for students who want to write Kanji, or read books and newspapers, JLF is not a good choice.
Address: Kemp House, 160 City Road, London EC1V2NX London, UK
Recruitment Term: Contact for Details
Number of Instructors: 6
Capacity: 121
2) Sakura Japan (SJ)
Sakura Japan (SJ) is a school run by Japanese natives with a high level of Japanese language teaching experience. The teachers also hold degrees in their respective fields. SJ emphasizes the focus on the interaction between students and teachers. This is very close to incorporating elements of cultural approaches and the character of Japanese society in general.
The school offers various courses such as Japanese language teaching, bringing each student closer by organizing social and cultural events. And now all students can take lessons directly through online content specially created by SJ school.
Further, to convince the progress of SJ, according to several sources, SJ gets 4.5 stars on average out of a rating of 5. This shows that students who attend this school feel fast about the service provided to their students.
Moreover, one interesting thing about SJ is that they are very active in sharing on social media. Such as on the Instagram. They often share their learning materials for free. Thus, everyone can download them and learn directly from this material. This material is made per situation when grammar and vocabulary are used in certain situations in Japan.
Address: 103 C Camley St, London, Greater London, England, N1C 4PF
Recruitment Term: Contact for Details
Number of Instructors: 9
Capacity: > 300
3) ITO Japanese School London
This school has been accredited by the British accreditation council (BAC). With a unique method, this school still offers a learning experience that is not rigid, comfortable, and fun. Where you will be able to get new experiences to mingle with other students who also come from all corners of the world.
Further, the school offers various content for the students. Such as a pure direct method with the Japanese only in your class, the interactive dialogue with lively conversation, speaking, reading, and writing skills.
In parallel, to making great progress, students will be guaranteed to have fun with a lot of student activities, at ITO learning is like playing. This school also wants to improve skills evenly. Each student will be monitored individually without having to overload students.
Address: 213 Oxford Street, London, W1D 2LF
Recruitment Term: Contact for Details
Number of Instructors: > 10
Capacity: 3-8 Students/Class
4) Learn Japanese London
Learn Japanese London's Japanese teachers are BA (Bachelor of Arts) qualified and have great experience in teaching Japanese. Further, in order to ensure quality, Learn Japanese London requires Qualified Teacher Status as well.
Moreover, classes are either 1-1 private or group classes. And the school is open for JLPT test preparation, speech competitions in Japanese and Business Japanese as well as training programs for those who are not native but want to become new Japanese teachers.
Further, the school accepts all levels of students, offering well-equipped, comfortable, and spacious study rooms. Equipped with a large number of textbooks that can be used to support student's learning, and ensure that this school promotes active and communicative methods between student and student conversations.
Address: in Central City of London
Recruitment Term: Always Available
Number of Instructors: –
Capacity: >4 Students/Class
5) Cactus Japanese Language Course
Cactus is a reliable and well-known language service institution. The school provides language teaching services including Japanese in the City of London. Moreover, for almost 20 years the number of students taught has reached 150,000 students with various languages from all over the world.
Further, this language institution has native speakers or at least bilingual teachers with C2 level CEFR with language/literature/linguistic teaching qualifications according to the language. In the case of Japanese, all levels of Japanese are available with a 10-week course. This course has 20 hours in total, 2-hour classes, and 1 class per week.
The class is also led by a Japanese native who has more than 20 years of experience teaching Japanese.
Address: Holborn – Russell Square School (Central City of London)
Recruitment Term: January, April, July & October
Number of Instructors: 1
Capacity: Small Size Only
How to Find the Best Japanese Tutors in London?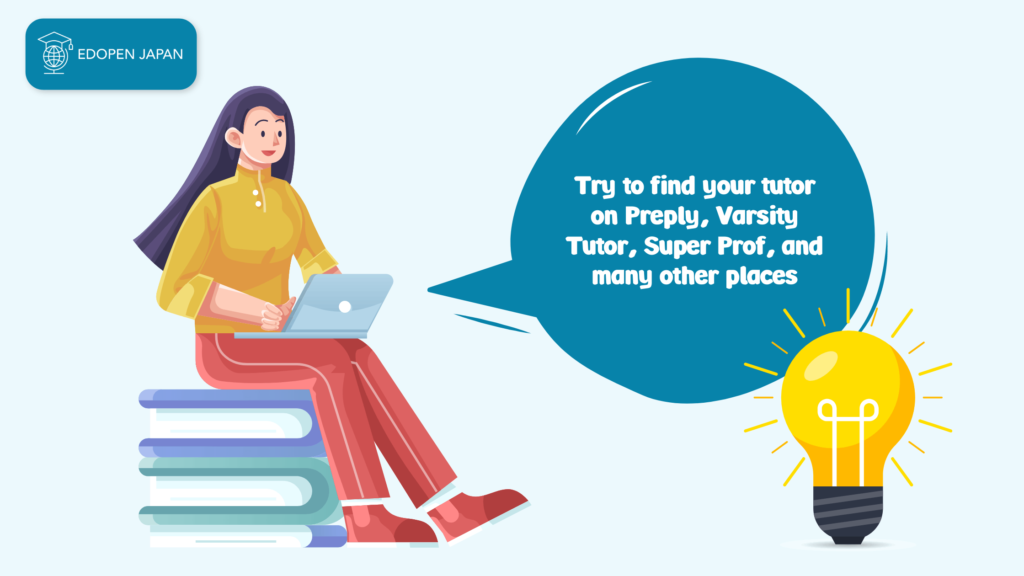 Above are the 5 excellent and highly rated places we recommend for you in London. In addition, we would also like to share another important alternative with you. This option is specifically for those of you who are looking for more personalized and flexible Japanese classes for your limited time in London. And you can still get the chance to learn Japanese directly with native speakers in London.
You can do this by studying directly with the best Japanese tutors in London. However, how do you find the best Japanese tutors in the historic City of London? You can find them at Preply, Varsity Tutor, Super Prof, and many other places.
We're also thrilled to be helping you find the best way to master Japanese. Don't forget to always follow the most comprehensive and reliable information that we have shared here. We will always give you the best. And we are happy to be part of your big journey to master Japanese in London, United Kingdom.
Conclusion
Finally, to wrap up this article, here are the 5 most excellent, highly reliable, and trustworthy places we highly recommend for you to learn Japanese in London. Do you also have experience learning Japanese at any of the places we mentioned above? Please feel free to share your experience with us below.
Japanese Language Factory (JLF)
Sakura Japan (SJ)
ITO Japanese School London
Learn Japanese London
Cactus Japanese Language Course
Lastly, we would like to sincerely hope that this information will be a useful and strong reference for you to find the best places to learn Japanese in London. Please contact us anytime if you need more information about learning Japanese, here. And, see you in the next article! Thank you for reading to the end! Have a great day and keep up the hard work in learning Japanese.