Are you a foreign student, recent graduate, or foreign professional looking to advance your career in Japan and are currently looking for the best way to prepare for the JLPT exam in Pune, India? If so, then you must be familiar with the term JLPT test.
Further, JLPT is one of the requirements to improve your career and education in Japan. The JLPT certificate is an official document that is recognized in order to certify a foreign speaker's proficiency in Japanese.
Then, in this article, we will discuss in detail what the JLPT is, how the JLPT exam in Pune (India) is conducted, what you need to prepare for, technical matters when registering, to tips you need to do to get a good or even a perfect JLPT score.
You no longer need to be confused about the JLPT exam, fees, exam locations, and other technical matters because everything you need to know about the JLPT exam in Pune, India is here. Alright, let's start the discussion below.
1. About JLPT (Japanese Language Proficiency Test)
JLPT stands for the Japanese Language Proficiency Test, a benchmark created by the Japan Foundation and Japan Educational Exchanges and Services.[1] The JLPT exams overseas are organized by Japan Foundation with the institutional local hosts in each country.[2] For the first time, the JLPT test started in 1984.
In addition, the JLPT exam is divided into 5 levels starting from N5, N4, N3, N2, and N1. Level N1 is the highest and the hardest level for Japanese language proficiency. As we all know that the JLPT test is very important for students and workers. JLPT passing results will be a reference for various parties in evaluating you. Such as when entering Japanese universities and vocational schools, applying for jobs in Japanese companies, and receiving salary increases or promotions.
Please also remember that there are two subjects tested in this JLPT: language knowledge, including vocabulary, grammar, reading, and listening. The duration of the test is not the same because it is adapted to the content and difficulty of each level.
Why is It So Important to Take JLPT for Foreigners?
There are too many to mention in detail the benefits of the JLPT Test Certificate for those who hold it. However, here we can highlight the biggest benefit and reasons why it is so important to take the JLPT test for foreigners, as follows:
Those who hold JLPT level N1 or N2 certificates will be awarded points by the Japanese immigration authorities to receive preferential treatment in Japanese immigration control as highly skilled foreign professionals when they wish to enter Japan.[3]
If you wish to become a professional in Japan, you must take the national examination. And this national examination requires candidates to hold a JLPT certificate. These professions include general practitioners, dentists, nurses, dental hygienists, physiotherapists, emergency medical technicians, and veterinarians.
Japan is famous for its nursing jobs, as there are many elderly people who need care. So, foreigners who want to become nurses in Japan must have a JLPT N1 certificate.
There is a great opportunity to get a scholarship for students who want to continue their higher education in Japan. Many Japanese companies offer larger scholarships from the Japanese government. However, most companies only offer scholarships to students who can speak Japanese on the condition that they have a JLPT certificate at N2 or N1 level.
Moreover, learning Japanese will pave the way for you to learn the wonderful Japanese culture. By mastering Japanese, you can enjoy knowledge books about technology in Japanese. For example, watch J Drama or Anime without subtitles, read any news about Japan and its culture, and many more. Everything will make you grow and learn many things about Japanese culture.
2. About JLPT in Pune, India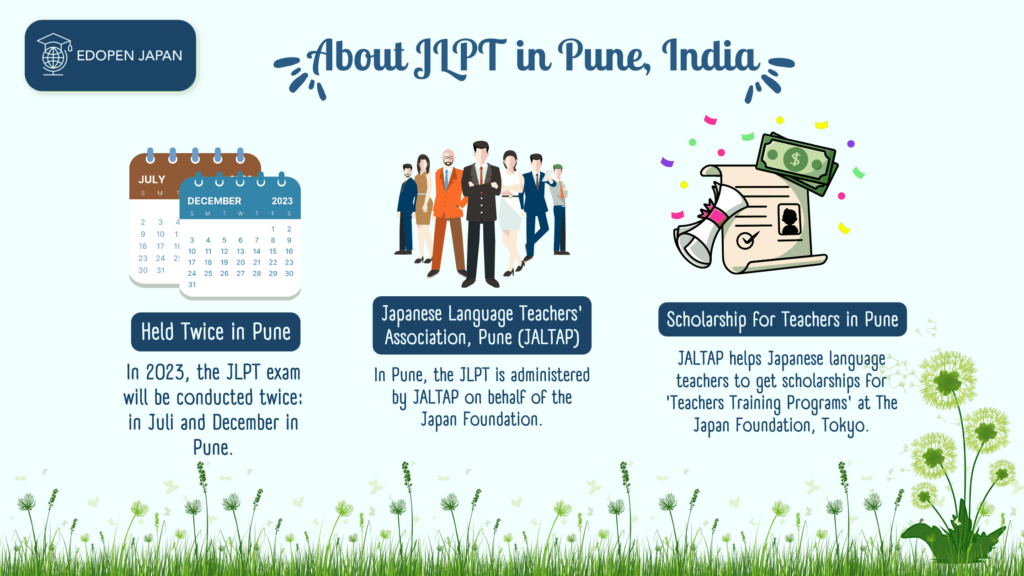 The JLPT exam in Japan is conducted twice a year, usually in July and December. Specifically, in India, the JLPT was held in 8 cities: New Delhi, Pune, Kolkata, Chennai, Bengaluru (Bangalore), Mumbai, and Karur. In 2023, the JLPT exam will be conducted in 7 cities apart from Karur twice: in July and December. Meanwhile, in Karur, the JLPT exam will be held only once in December.
So, make sure to keep yourself updated about the JLPT exam in Pune 2 times every year. However, please note that due to COVID-19 and various conditions, the JLPT exam may be canceled. You should always check the website of the local institution where your JLPT exam is being held.
In addition, you can also call or visit the office of your local JLPT test provider in your city for more information. In Pune for example, the JLPT is administered by the Japanese Language Teachers' Association, Pune (JALTAP) on behalf of the Japan Foundation.
Please don't choose the wrong local institution and city where you want to take the JLPT exam. Changes to local city and institution information, as well as your home address, cannot be changed once the application process is complete and payment has been received.
You will also not be able to receive a test voucher if your address is incorrect. You should always verify the information you enter during the registration process. If you encounter any difficulties during the registration process and more, please contact JALTAP immediately to confirm the problem! Please read more about JALTAP below!
About Japanese Language Teachers' Association, Pune (JALTAP)
The Japanese Language Teachers' Association of Pune (JALTAP) was established in August 1993 to promote the Japanese language in the Pune region. As well as to serve as an organization for Japanese language teachers and to improve Japanese language teaching skills for the people of the Pune region.
In addition, it also aims to improve the skills of Japanese language teachers outside Pune such as in Nasik, Satara, Aurangabad, and Nagpur. JALTAP also endeavors to establish a quality assurance system for the teaching of Japanese to its students and teachers. It further helps Japanese language teachers to get scholarships for 'Teachers Training Programs' at The Japan Foundation, Tokyo.
Moreover, this institution is officially appointed by the Japan Foundation as the host institution to conduct the JLPT test from year to year including this year 2023. One of the great achievements of this institution is to get the right to print a Japanese language learning guidebook from the Japan Foundation with the title "Nihongo Shoho (日本語初歩)" which is the first in the Pune region.
Further, it was difficult to get a Japanese language textbook. And for 16 years, this book became a handbook for students who were interested in learning Japanese and had sold thousands of copies.
3. General Info about JLPT Test in Pune, India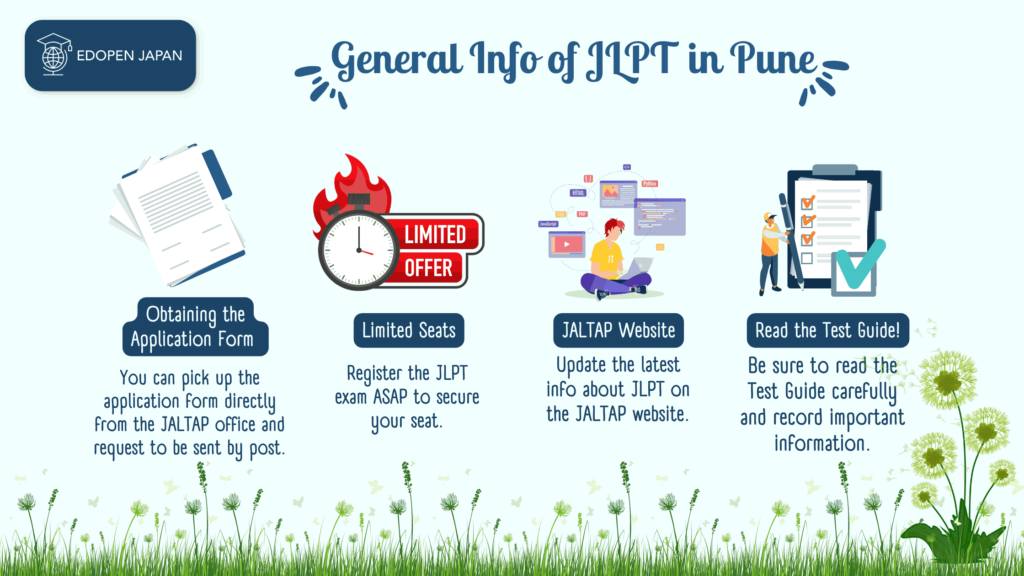 All the information you need to register for the JLPT exam in Pune, India is listed on the JALTAP website. However, as a reminder, here are a few things you need to keep in mind when registering for the JLPT exam in Pune.
You can pick up the application form directly from the JALTAP office and request that the form be sent to you with an additional courier fee.
Collect the original JLPT exam form (hard copy) that has been neatly filled with complete and correct details.
All information regarding documents and payment for the JLPT exam is listed on the application form.
The JLPT exam may be canceled if the government denies permission to conduct the exam.
You must register for the JLPT exam as soon as possible because there is a limited number of seats available. If the quota is exceeded, there will be restrictions and cancellation of exam registration in Pune.
Then you can check the more complete information on the JLPT website directly below. Don't forget to check this JLPT website for updates regarding the next JLPT exam in Pune, India.
Test Guide and Fees of JLPT Test in Pune, India
Information about general administrative procedures, test fees, and how to complete the application form is listed on the JALTAP website.
Before filling out the JLPT application form, be sure to read the Test Guide carefully and record important information so that you don't forget to update information that may change as a result of the Covid-19 pandemic.
The cost of the JLPT exam in Pune, India is also listed below. Please note that the JLPT exam fee can only be paid online.
| | | | |
| --- | --- | --- | --- |
| JLPT Levels | Fee for Form | Exam Fee | Total Fee |
| 1. JLPT N1 | 118 | 1652 | 1770 |
| 2. JLPT N2 | 118 | 1652 | 1770 |
| 3. JLPT N3 | 118 | 1298 | 1416 |
| 4. JLPT N4 | 118 | 1180 | 1298 |
| 5. JLPT N5 | 118 | 1062 | 1180 |
If you have any questions about taking the JLPT exam and payment, you can contact JALTAP directly by email or visit the JALTAP office.
4. How to Register for the JLPT Test in Pune, India?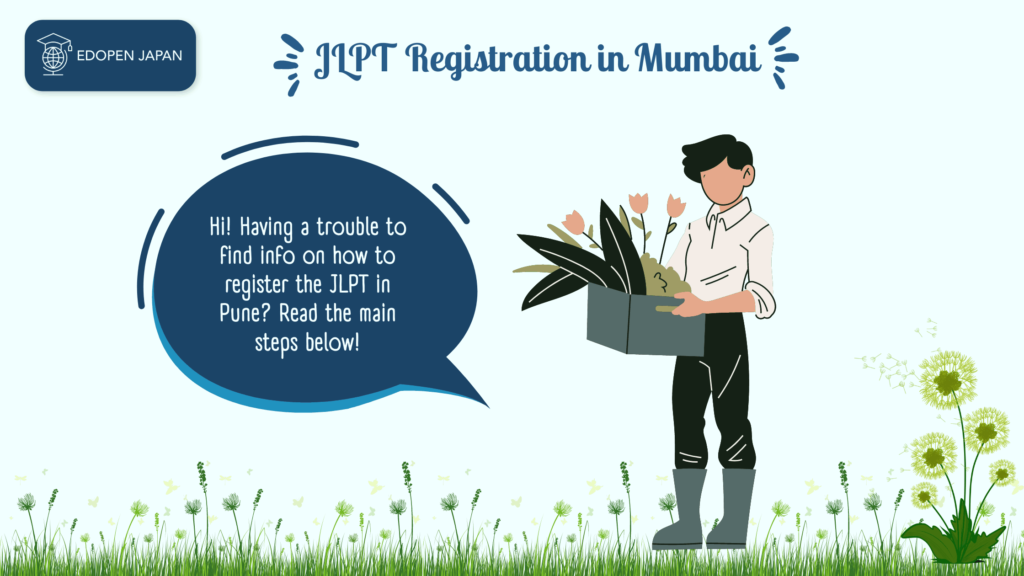 There is a slight difference in how to register for the JLPT exam in Pune. The registration can only be done by requesting and sending the form directly to the JALTAP office. Next, to register for the incoming JLPT exam in Pune, there are also several steps that need to be taken as follows:
Please request the registration application form only by courier with different delivery charges depending on your address.
Please send your completed application form to the JALTAP office by any postal courier before the scheduled date.
Clearly written forms will be accepted.
The information you provide will be the information that will be written on your JLPT certificate. Please make sure that the information you provide is correct and clear.
Make sure you send all documents required.
In addition, please note that there will be no refund of the JLPT test fee once it has been paid unless a natural disaster occurs and the covid-19 situation worsens. Therefore, the JLPT test is stopped and decided not to be held, please note that the form fee will not be refunded for any reason.
The Important Note
Please note and remember some important points for prospective JLPT 2023 test participants, which are designed to ensure the smooth running of all elements involved in the July edition of the JLPT 2023 test:
There are no exceptions regarding the Covid-19 pandemic. It all depends on the government's permission to conduct the 2023 JLPT test in the Pune region, if the government allows it, the JLPT test will still be conducted, but if it does not get permission, the JLPT test cannot be conducted.
Candidates who do not comply with the rules and regulations issued by the government and JALTAP will not be allowed to take the test even if they have paid the fee.
There will be a limitation of participants from the quota set if the government orders to limit the participants during the COVID-19 pandemic.
Make sure you are not in a state of covid 19 symptoms. If you are experiencing these symptoms, you should not come to the test venue and are advised to quarantine yourself.
Follow all rules, social distancing, masks, and primary health checks at the test site.
Also, please make sure the payment is correct as there will be no refunds, including multiple payments made by prospective participants.
5. The Best Place to Learn Japanese and Prepare for the JLPT Test in Pune, India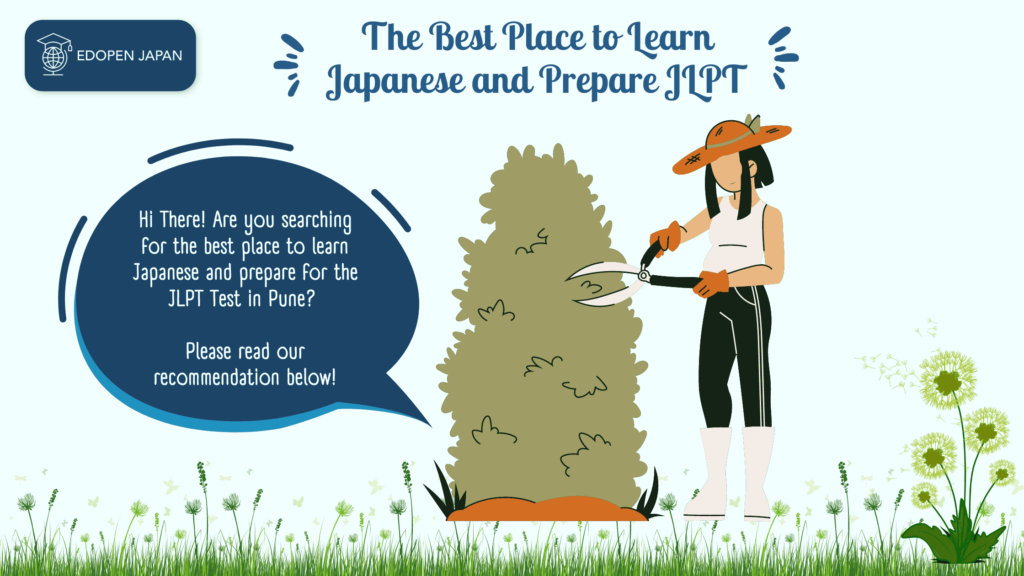 In addition to understanding the technicalities of taking the JLPT exam in Pune, you also need to make sure that your preparation has been good so far.
For this reason, if you are still confused about how to prepare for the JLPT exam in Pune, we would like to recommend the best place to study Japanese in Pune. You can also join the JLPT exam preparation program in Pune with intensive professional and certified teachers. The price offered is also very affordable.
Please read more about the best places to learn Japanese and prepare for the JLPT exam in Pune below.
One Indispensable Way to Boost the JLPT Score
Along with intensive JLPT exam preparation at the best Japanese language school in Pune, we also want to share one of the tips that are also important for you to do to boost your JLPT score to be good or even perfect.
To be able to get good and even perfect JLPT exam scores, you need to practice JLPT exam questions every day intensively. Well, for that you need to choose the right and appropriate book according to your needs.
If you are preparing for the JLPT N4 exam, please read the following book recommendations that you should consider for practice test questions!
Conclusion
Alright, that was all the information about the JLPT Pune exam. We are very proud to be a part of your journey to prepare for the JLPT Pune exam.
We would appreciate it if you would share your JLPT exam experience with us below. If you have any inputs, opinions, or questions regarding the conduct of the JLPT exam in Pune or other regions, please share them in the comments section.
Thank you for reading to the end. See you in the next article!
References
1 "Message from Organizers". The Official JLPT Website. Retrieved 19 March 2023.
2 "Organizers". The Official JLPT Website. Retrieved 19 March 2023.
3 "Advantages of JLPT". The Official JLPT Website. Retrieved 19 March 2023.
4 "About Us". The Official Website of JALTAP. Retrieved 19 March 2023.