Japan has the third-largest economy globally, and Japanese is among the top 10 most spoken languages worldwide, with 128 million active speakers. Additionally, possessing Japanese language skills can enhance the quality of your resume, leading to improved job prospects and personal fulfillment.
As a result, numerous non-native speakers are keen on mastering Japanese. An illustrious career and the prospect of settling in a secure country is the aspiration of many. Therefore, we present to you one of the top 10 Japanese language schools – ECC Kokusai College of Foreign Language. Enrolling in this institution could be your optimal choice to begin your Japanese language journey. Kindly continue reading below for more information.

You can also explore some of the top-rated Japanese language schools in major cities throughout Japan to broaden your knowledge below!
Read More:
9 Most Popular Japanese Language Schools in Osaka
10 Most Popular Japanese Language Schools in Kyoto
10 Great Places to Learn Japanese in Nagoya
A Brief Overview of ECC Kokusai College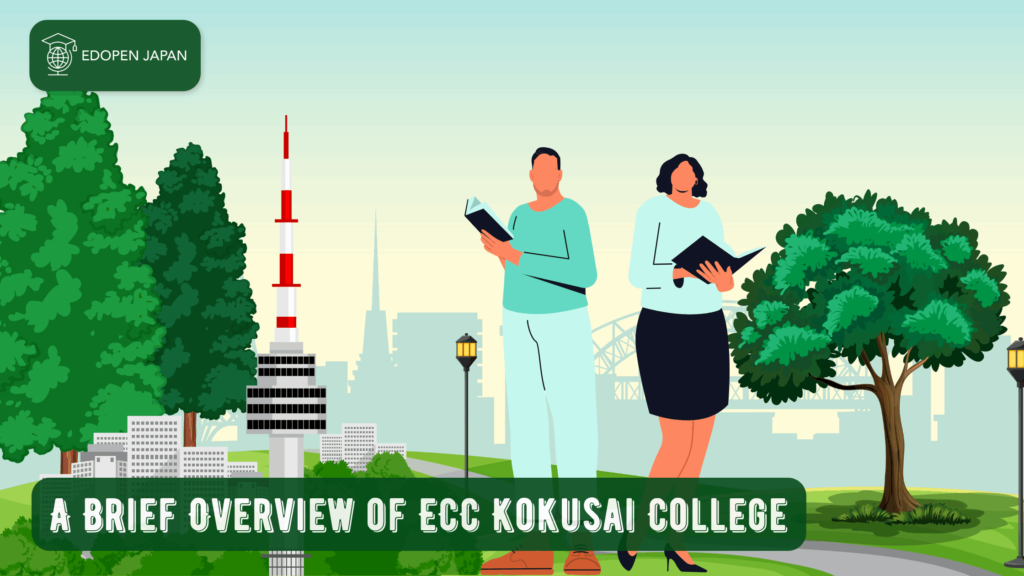 Founded in 1962, the ECC College Group, which includes ECC Kokusai College of Foreign Languages, is one of the premier vocational schools in the western United States. Students can pursue careers in business, travel, hotel management, game programming, game CG design, IT, systems engineering, and the beauty industry while also studying Japanese.
Additionally, ECC Kokusai College of Foreign Languages offers rigorous, advanced courses taught by distinguished teachers. This school provides a unique opportunity through the Buddy Program. International students are paired up with Japanese students to engage in conversation and discuss various aspects of Japanese culture.
Additionally, the school is open to students of all levels, providing opportunities to improve their practical skills in writing, vocabulary, grammar, reading, listening, and speaking. The school provides abundant opportunities for practical training both in and out of the classroom, including group projects that involve engaging with the community. These courses equip you with useful skills alongside an official certification. Additionally, the college offers counseling to help students select suitable career paths and courses.
College Location
The college is situated in Osaka, the third-largest city in Japan which boasts a population of 2.5 million. It serves as the heart of the Kansai region, allowing for quick access to nearby cities such as Kyoto, Kobe, and Nara – all within a 30-minute radius. Its convenient location is only an 8-minute walk from JR Osaka Station, making for stress-free commuting. Osaka is perfect for those looking for a well-rounded experience beyond Tokyo. Its inhabitants are known for friendliness and sociability. Thus, if you want to make numerous Japanese friends, this city is ideal for you.
Moreover, you will have ample opportunities to engage with Japanese students and enhance your Japanese language proficiency. The school's objectives are to foster the growth of the student's skills, global perspectives, and leadership qualities by teaching foreign languages. Consequently, the school aims to facilitate greater interaction and comprehension between Japanese people and individuals from other parts of the world.
Student Demographics
The ECC Kokusai College is a top-tier vocational school with a Japanese campus located in Western Japan. It boasts an impressive student body with over 1,000 international students hailing from 34 different countries in addition to 2,800 Japanese students. Below, we present the student demographic breakdown of the ECC Kokusai College.
| Country | Percentage |
| --- | --- |
| 1. China | 40% |
| 2. Taiwan | 31% |
| 3. Several Asian Countries | 22% |
| 4. Europe | 5% |
| 5. USA | 2% |
The Features and Services of ECC Kokusai College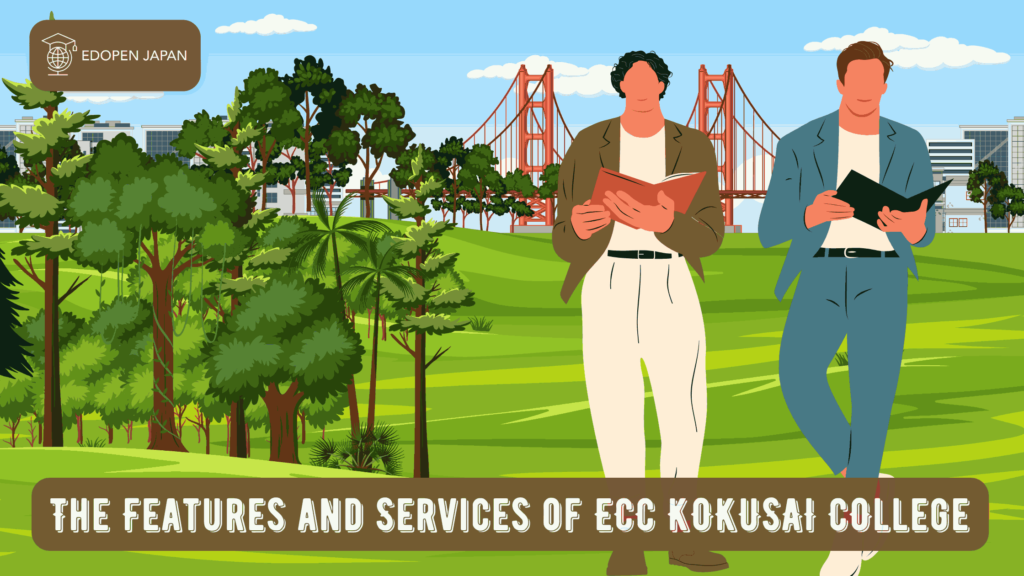 College Main Features
At ECC Kokusai College of Foreign Languages, students acquire practical Japanese language skills, which include grammar, reading, listening, and speaking by applying them in authentic real-life situations. The teaching methodology goes beyond the traditional approach of rote memorization. Additionally, regardless of the student's level, be it elementary or intermediate, they learn using the same teaching method. Students can opt to enroll in either of two courses, Honka (Regular Course) or Senka (Communication Course) based on their specific preferences. Subsequently, once they reach an advanced level, they can choose based on their future goals.
Here are the key points for you:
Students can acquire authentic Japanese that is useful in practical situations.
Thoroughly learn the 4 skills (reading, writing, speaking, and listening) through practical training.
The upper-level curriculum is developed according to the student's goals for the future.
In addition to ECC's distinctive method of studying practical Japanese, ECC's goal is to help you learn practical Japanese. To express your own thoughts and ideas. You can efficiently learn practical Japanese suitable for various career paths while participating in an increasingly global society.
Specific Features of ECC Kokusai College (1)
Moreover, we provide an overview of the specific features of the ECC Kokusai College of Foreign Language below for a deeper understanding:
(1) Conversation tests to improve communication skills
Each student will have a five-minute one-on-one conversation with the teacher to assess their mastery of the Japanese language learned in class. Conversing is the most effective way to learn a language and will assist you in improving your communication abilities.
(2) The skills for living in Japan
The initial challenges for international students entail shopping, transportation, and navigating governmental systems. In fact, many foreign students arrive at ECC with limited knowledge of Japanese and thus experience difficulties initially. ECC provides numerous practical courses, including conversation exams and activities with local Japanese individuals who assist students in real-world scenarios.
Specific Features of ECC Kokusai College (2)
(3) Acquiring communication skills
However, interacting with Japanese people becomes easier with practice, especially given the numerous opportunities provided by ECC. The main issue was communicating with Japanese individuals due to their vague responses, making it challenging to interpret their true intentions.
(4) Practice the skills you need to be an international person
It is vital to understand the distinctions between Japan and your home country. Living in Japan has provided me with a fresh perspective on values. For instance, through ECC's buddy program, students can immerse themselves in Japanese culture. Additionally, at this college, you can connect with Japanese individuals who share your aspirations and forge lifelong friendships.
(5) Actively pursue the career path you want to follow
There are different rules in Japanese society. This can sometimes be confusing for international students. But instead of their families being far away, they have the support of teachers and classmates to talk to about anything. This college will prepare students for the JLPT and EJU, correct their resumes, practice job interviews, and more. So, they are thoroughly prepared to enter Japan's unique society.
College Main Services
The ECC Kokusai College of Foreign Language is a vocational school of Yamaguchi Gakuen, attracting many Japanese students. Additionally, the college hosts various interactive events with Japanese students, such as the Buddy Program, which facilitates Japanese communication practice on a daily basis. Interested in learning about the college's services and facilities? Read on!
| | |
| --- | --- |
| Services | Details |
| 1. Various volunteer activities | Students can actively participate in various volunteer opportunities with Japanese residents and Japanese students through ECC Group's Center for Social Action & International Exchange. |
| 2. Welcome beginner | Students can develop strong Japanese language skills from the beginner level. |
| 3. Practical textbook | Using the textbook "Dekiru Nihongo," the ECC provides lessons to learn practical Japanese used in real-life situations. ECC also takes mastery of the language seriously so that students can improve their good Japanese. |
| 4. JLPT support | JLPT elective courses are available from the intermediate level. |
| 5. Intensive tutoring | With tutoring from specialized teachers, students can be made to pass the college entrance exams they are targeted for. |
| 6. Career counseling | ECC offers various career counseling services to students seeking jobs in Japan so that they can learn the skills needed to find a job, such as how to write a resume, how to find information about job postings, and how to behave in Japan when looking for a job. |
| 7. International staff | The staff speaks several languages: Chinese, Korean, English, Thai, and Vietnamese) and will assist you with your studies in Japan. |
| 8. Convenient study room | Here you can mingle with fellow students or do some last-minute study in the student lounge. |
| 9. Wi-Fi | Free Wi-Fi is available for students. |
The Course and Expenses at ECC Kokusai College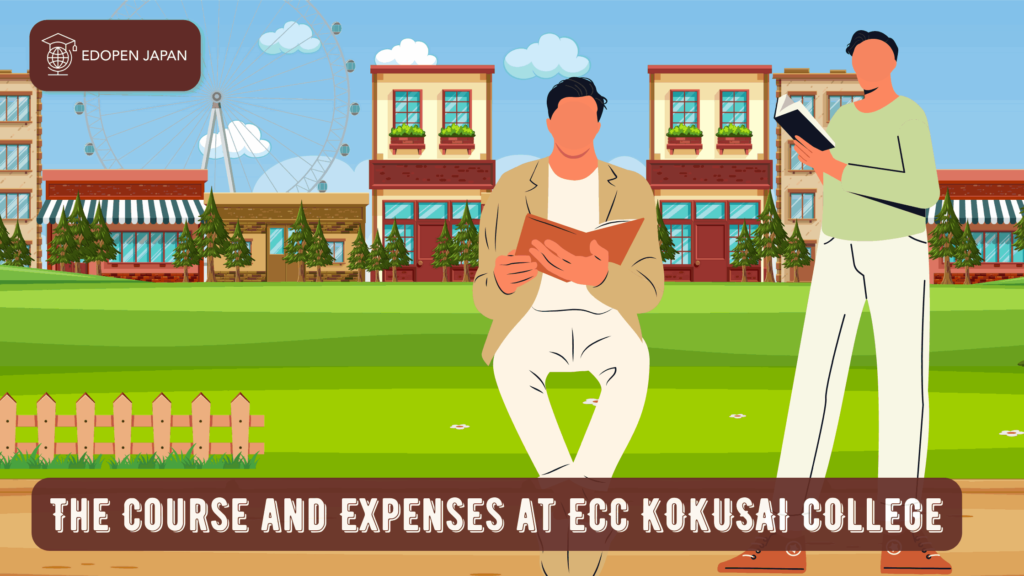 The Courses
At ECC Kokusai College, we discovered a unique and valuable aspect of their courses. They not only prioritize the EJU and JLPT tests, but also offer tailored courses catering to the desires and abilities of international students. These classes not only teach the Japanese language, but also help students develop their global careers. The beginner course covers the basics of the Japanese language, while the advanced course focuses on university preparation. Also, ECC Kokusai College of Foreign Language offers highly useful courses like global business and hotel courses.
In addition, students can take undergraduate, graduate-level, and university preparation courses. The Japanese Language courses offered by the ECC Kokusai College of Foreign Language are listed below:
1. Long-term course (Japanese comprehensive course)
This course doesn't adhere to the traditional Japanese language education of memorization of characters, vocabulary, and sentence patterns. Instead, it focuses on accumulating knowledge that centers on conversations relevant to realistic situations while establishing grammar, vocabulary, and phrases. The emphasis is on practical Japanese that allows you to use it. The course spans over a year (1-2 years) and you can even apply for a student visa.
2. Short-term course
The program enables you to study for a duration of fewer than twelve months. This program is ideal for individuals who are in Japan temporarily on working holiday visas, as permanent residents, or those staying for a brief period. You can enhance your Japanese proficiency effectively through the courses provided in a short span of time. If you want to continue with your studies, you can apply for a long-term program and carry on studying. Since it's not a program for obtaining a student visa, the application process is uncomplicated.
3. Private course
In this course, the school will tailor the curriculum and learning materials to your preferences. The schedule will also be customized to fit your needs. Additionally, the teacher will provide a lesson that is appropriate for your Japanese proficiency level, and utilize a teaching method that aligns with your specified learning goals.
The Expenses
As for course expenses, here's a brief overview. Costs vary depending on course duration and type. For more details, please review the following points:
| List of Fee | Amount of Fee |
| --- | --- |
| 1. Selection | 20,000¥ |
| 2. Admission | 50,000¥ |
| 3. Tuition | *Please click the link below to get the exact amount |
| 4. School Event | 5,000¥ ~ 10,000¥ |
| 5. Life Safety | 8,000¥ ~ 10,000¥ |
| 6. Teaching material deposit | 30,000¥ ~ 60,000¥ |
Review
According to our research from various sources, ECC Kokusai College receives three stars or more in the following areas:
Supportive teachers.
Supportive and very kind staff.
Intensive and interactive class.
And not only that, the ECC Kokusai College is always striving to improve its quality. Therefore, this significant step will enable the college to continue actively serving as a bridge for international students to enhance their Japanese language skills and build successful careers in Japan and abroad.
FAQ About Studying Japanese and Japanese Schools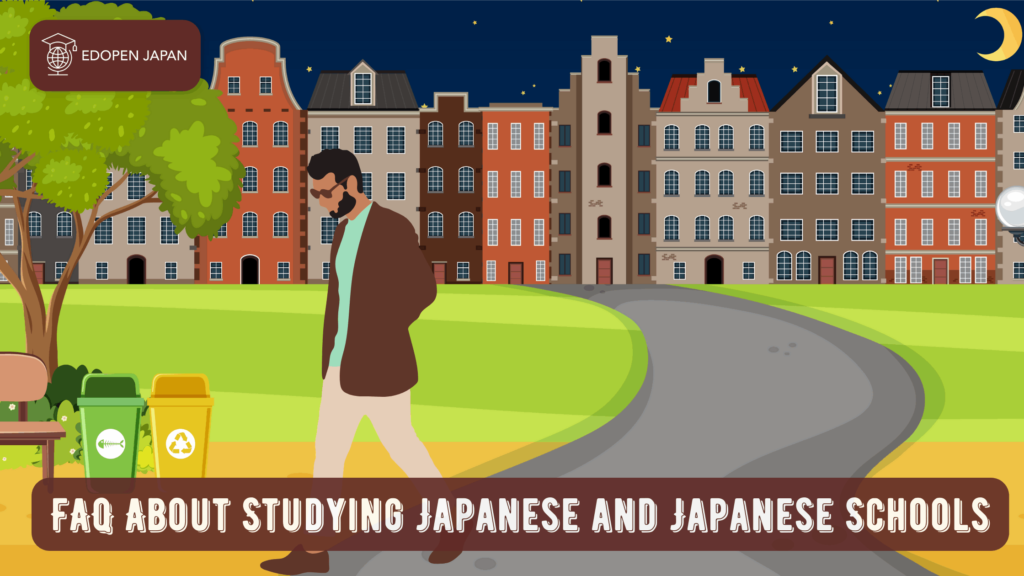 We have compiled a list of common queries about studying Japanese and attending Japanese language schools that many potential international students may have. Give it a read!
Where should I start studying Japanese?
Japanese has three fundamental components: learning the Hiragana, Katakana, and Kanji alphabets. To begin, it is best to focus on Hiragana and Katakana.
Is 1 year enough to learn Japanese?
There is no set timeline for mastering Japanese, as language acquisition is a lifelong pursuit. However, it is possible to achieve a basic to intermediate level of proficiency within a year of dedicated study.
Is it worth going to Japanese language school?
We highly recommend that you learn systematically and be guided by professional teachers. Join friends from around the world who will add to your learning experience. This can only be accomplished by attending a Japanese Language School.
Which institute is best for Japanese language?
There are numerous Japanese language institutions that provide comparable programs and benefits, including ECC.
These FAQs aim to be a quick reference for some of your questions. Hopefully, they will prove useful!
Conclusion
In conclusion, I invite you to reconsider the aforementioned points. Kindly provide feedback on the presented information and leave any comments or suggestions for future improvements. We hope you have gained valuable insights about ECC Kokusai College of Foreign Language.